Google releases Android 8.1 Developer Preview, Beta program updates arriving soon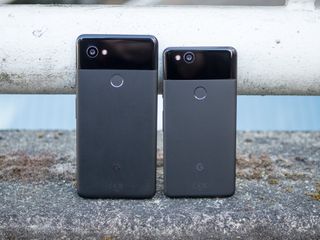 Just in time for some of us to get settled in with Android 8.0, Google has announced that the Android 8.1 Developer Preview is now available. The latest software is available for testing on modern Nexuses and Pixels — that means the Pixel 2 XL, Pixel 2, Pixel XL, Pixel, Pixel C, Nexus 6P and Nexus 5X are all listed here.
You can download the factory image for your device from Google's developer page if you want to have that software right away. If you need a refresher on the steps, follow our helpful guide on manually updating your Pixel or Nexus!
Update: It looks as though many people are having issues with the manual update process on the Pixel 2 and Pixel 2 XL, likely due to a bad file upload. We're having the same issues here — it may be a good idea to wait this one out for a bit rather than trying to force it.
If you don't want to go through the process of getting things updated manually (we wouldn't blame you), you can enroll in the Android Beta Program and wait for the update to be pushed out. The Beta Program is also great because future updates will be sent to you automatically, and you'll even be placed onto the final version of Android 8.1 when it's released. The Beta Program is live for older Pixels and Nexuses, as well as the Pixel 2 and Pixel 2 XL.
Per the Android 8.1 Developer Preview website, Google says we'll be looking at once more DP release in mid-November, followed by a final release of Android 8.1 by the end of the year. Google says this first Developer Preview release is of "beta" quality, and says the associated APIs are already final.
Android 8.1 isn't going to mark any huge changes in interface, but it should clean up issues and bugs with the initial Oreo release. It's also set to enable the use of the Pixel Visual Core on the new Pixel 2 and 2 XL, which is a dedicated multi-core processor just for image processing — we'll see how that plays out once we get the software loaded up.
Andrew was an Executive Editor, U.S. at Android Central between 2012 and 2020.
New Pixel 2 Xl is not showing up on my Google account devices anyone else's new pixel listed?

"At the time of writing the Beta Program is only live for older Pixels and Nexuses, but not the latest Pixel 2 and 2 XL." You have to flash it at this point - no OTA. For what it's worth, I was able to (re)enroll my OG Pixel, but nothing has been sent to me yet.

I just added my Pixel 2 XL to the Android beta. I had to log into the Google Play store on my computer's browser, install an app to my phone and then go back to the beta program and my Pixel 2XL showed up as an availble device for the beta program

It worked for my 2XL after trying your trick. Thanks!

Check the dev page again... For Android Nexus/Pixel: Nexus 5X, Nexus 6P, Nexus Player
Pixel C, Pixel, Pixel XL

There are factory image downloads for the new Pixel 2 and 2 XL, which would lead you to believe that at some point the phones would also be added to the Beta Program.

I hope that means 8.1 is getting pushed out to the new Pixels in November!

It would be nice if they worked a little harder on getting 8.0 functional, especiially bluetooth, first.

What about the release of the 8.1 Developer Preview indicates that they aren't working hard on fixing problems? This is exactly what this program is for.

I'm only suggesting that they put the focus on making the existing software functional at a basic level before putting effort into new functionality. Based on the Bluetooth performance of 8.0 on both my now returned Pixel XL and my new Pixel 2 XL, that basic element required a hell of a lot more development and testing before release, let alone before working on anything else.

No issues on my Pixel 2 XL Bluetooth with my car or even airpods. On the original Pixel XL I always had issues automatically connecting to my car Bluetooth but haven't had that issue yet with Pixel 2 XL.

I am not sure if you are trolling or not... The fixes for the 8.0 bugs are released as 8.1.... That's how versioning works...

I'm not trolling. Whatever fixes are done will be in 8.1 when it is released, sometime within the next two months. I hope it is great. My perspective is that 8.0 broke an element of my phone's basic functionality when released in August. This is the case with hundreds of people posting in the Pixel User Community, all with slightly different but significant Bluetooth problems. They are a subset of the people with similar issues. They shut down the comment threads for weeks. That is just unacceptable. The breath and scope of the problems indicates something very wrong with their testing. Over the last couple of months, there's been one work around that restored some of the functionality I was missing - found by a user, not Google. Then the October update came out. It apparently fixed a few of the issues for some people. It broke some functionality for me - my FItbit stopped notifying me of calls, texts and calendar notifications. I'm not and will never be in a beta program. I need my phone to work. I've bought all but one Nexus/Pixel since the programs started and never have had a problem like this. I naively assumed that when the Pixel 2 and 2 XL came out that the problems would be, by and large at least, solved. Instead, my Pixel 2 XL had all of the same problems that my Pixel XL did and, in addition, Google Assistant doesn't work over Bluetooth and there is no voice input at all over Bluetooth. Again, this is the case with tons of people posting in the community. The good news is my Fitbit notifications are coming through - because the 2s don't have the October Security Update. My comment was somewhat flippant, but my point was that they should focus all of their time and energy on providing basic functionality to the people they took it from, and maybe some on communicating with them and providing some level of customer support - which has been atrocious - before they work on anything else. I understand that there can be parallel paths. As a loyal customer, I'm just pissed and I won't wait much longer for resolution.

Can android central do a new article with potential dates for Oreo updates for current 2017 flagship phones?
I'm sure it will take a few days to get a hold of contacts from manufacturers and major carriers, but it would be nice to have a idea of when these updates may occur and what type of improvements they will have for the devices.
This may be tough but I believe most all of us android enthusiasts are getting a bit tired of never knowing these answers and potentially always way behind on current software. Now before everyone with a Google device, pixels etc.. Responds with the "obvious answer." There are many if not the majority of the Android base that has a LG, Samsung, HTC or other flagship device that deserves a better upgrade guarantee and timeliness in regards to updates. At this point of my time with Android (7 years now) its really one of my only gripes I have. Thanks for any info guys.

Your guess is as good as acs'

I'm baffled by Google's response or lack of response on the Pixel 2Xl. I have the phone and I like it. But the screen is unacceptable. I've never had a screen like this. And issues keep piling up.. Google's public response is sad... No word on anything. Just that they are investigating.

Give them time. It takes a long time to come up with excuses not to recall and replace the display panels.

They did respond. Relax, this is mass production it takes time.

Just got the prompt to download 8.1 on my 2 XL. How are you all with the same device liking it so far? I've had my phone a week and have no burn in.
Android Central Newsletter
Get the best of Android Central in in your inbox, every day!
Thank you for signing up to Android Central. You will receive a verification email shortly.
There was a problem. Please refresh the page and try again.