Nest users are getting free Nest Hubs and Nest Minis for upgrading their plans [Update]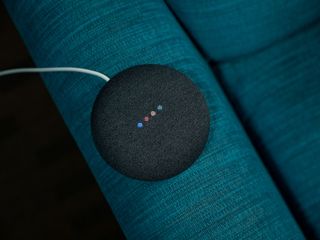 (Image credit: Nirave Gondhia / Android Central)
What you need to know
Google is sending out promotional emails to Nest Aware subscribers.
These offer either a free Nest Hub or a Nest Mini to those who've upgraded their plan to the company's newest subscriptions.
Unfortunately, some users are reporting that their codes aren't working.
Update: The previously defunct Nest Hub codes are now working, with Google sending out a fresh batch of emails to users assuring them that a fix is in place, and that their codes should work now.
Finally rolled out earlier this month, the new Nest Aware subscriptions make things a lot easier (and less expensive) if you have multiple Nest devices around the house. Helping you take advantage of that all-you-can-eat buffet, Google is even sending out emails to those who've upgraded to the new subscriptions with an offer for either a free Nest Hub or Nest Mini.
The offer is available till August, though you will also need to be living in the U.S. to avail of it.
Unfortunately, as our friends at 9to5Google report, many (if not all) of the Nest Hub coupons are not working. Our own Phil Nickinson received one such email (to the right), albeit for a free Nest Mini. These codes, it seems, are working, and he's soon to be the proud owner of (yet another) Nest Mini. And he didn't even need to pay for shipping.
The defunct Nest Hub codes are likely just an error on Google's part, which we expect the company will fix anytime now. When it does, we'll update this article and let you know.
Just received an email from Google stating that there had been a problem with the codes, but it's now resolved. Mine worked now.

So what dictates who gets a Hub code versus who gets a Mini code? I haven't received an email yet, just curious.

I received an email from Google about a week ago offering me a Nest Mini for being a YouTube Premium subscriber. I ordered it the same day at $0 cost, but it has not shipped yet. I contacted Google Support yesterday and they informed me that there is a delay because of the demand. Will check my order again today to see status. Update: Just checked, and has not shipped yet. It was ordered May 29th, 2020 at 8 am. Order placed: May 29, 2020
Not yet shipped
Delivered by Jul 1 –2
Nest Mini (Charcoal)
$49.00
Qty. 1 Nest Mini (Charcoal)
Android Central Newsletter
Thank you for signing up to Android Central. You will receive a verification email shortly.
There was a problem. Please refresh the page and try again.