Google Play Music adds genre radio stations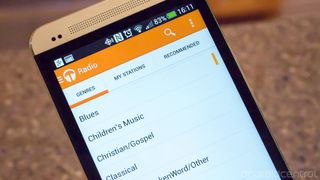 A new update is rolling out to the Google Play Music app today that brings new radio station options based on music genres and improvements to the download queue menu. The new radio stations can be selected based on dozens pre-defined genres, and play with just one tap from the Radio menu of the new app.
You still have the previous options of making stations based on artists and songs or choosing from recommended stations based on your listening history, but genres are a much-needed addition that is available on other music services already. This is just one more reason for people to take a look at Google Play Music All Access, although we tend to think there's plenty to love already.
The update to version 5.2.1204L also includes the option to pause, resume or cancel downloads that are ongoing, for those times when you don't need to spend the bandwidth or battery. You can grab a download of the latest version of the app from the Play Store link above.
Android Central Newsletter
Get instant access to breaking news, the hottest reviews, great deals and helpful tips
Andrew was an Executive Editor, U.S. at Android Central between 2012 and 2020.
Still no SD card storage, still not switching from Spotify. Posted via Android Central App

sd card support is coming soon. wait for it http://www.androidpolice.com/2013/07/23/apk-teardown-google-play-music-v...

It can be done if you're rooted Posted via my thumb(s) and the Submit button

Did it without root Posted via Android Central App

I went to activities like the article, but I get no option to choose SD. Posted via my thumb(s) and the Submit button

Do I need a subscription to access good, current songs, or are all the songs I see on here from the 80's the only ones available?

Finally. Now if I could just go from one device, to another and pick up on the same song. Posted via Android Central App

Yeah that would be nice...and how about it actually "learns" what I like based on thumbs up/down like Pandora does??? I guess I'm not putting much pressure on them since I've used it exclusively, and cancelled my Pandora account, ever since it launched...but still annoyed that the radio is not "smart".

+1 to immediate Pandora cancellage. Too bad I was only 2 months in to this years subscription. Posted via my thumb(s) and the Submit button

Yes, that is the only feature that I like better than Pandora. But like you have have Google All Access since it first came out, and haven't looked back since.
I'm thinking Google will add more features as they go along. Posted via Android Central App

I don't get why I need a credit card number to just start Posted via Android Central App

to start G music all access?? because its a paid subscription.

Honestly, why not the honor system- I promise I will mail a check every month! Posted via Android Central App

Checks? People still use those?

Best comment of the evening. Posted via Android Central App on the Samsung Galaxy Mega.

I would like to carry on using Radio and All Access but when i try and renew it i get error processing purchase and server error on the browser version...

1. the UI on this app for on device music absolutely sucks. unintuitive and confusing and not very user friendly. give me a quick "Shuffle Play All" button. give me an easy "Delete Song" button. this app STILL sucks. see Rocket Music Player by JRTStudio for a great UI design.
2. $9.99/month? F that. i'll stick with Pandora for FREE.

If Pandora meets your needs, it's great. But the two are not comparable in any way. Pandora does not allow you to choose what song you're going to hear, and that's important to many people. Pandora is about music discovery. All Access is that and more. No slam against Pandora, they just aren't in the same space at all. Spotify, Slacker Premium, and other similar services are fair comparisons, and they're the same price.

no shit. my #2 point was simply stating that $9.99/month for this service is not worth it for ME. i'd rather send that money to my mutual fund every month. i actually prefer Pandora because i don't want to play DJ or have to think about choosing music. i'd rather just pick a genre and have someone play DJ for me - and for free.

Do you have someone cut up your steak for you as well?

I agree I won't give Google my money until the app has improved significantly with some no-brainer features. Hopefully they'll add the dark theme back as an option. Bring back save to SD, with encryption would be fine for me. Get simple stuff like album art correct geesh!

I found more new music on GPAA in 2 days than I had on Pandora in 6 months. Posted via my thumb(s) and the Submit button

play song Professional from album Kiss land on your pandora. pandora and GPAA is totally different service. dont be ignorant. you have no idea what you are talking about. in Pando you have no control over what you play.

not fan! but i do like Crew Love!

Finally! I can find more and more artist to add to my library! Definitely a worthy reason to keep paying 8.99 a month!

Can someone please help me figure out the block explicit feature for the radio. I have it enabled but profanity still is heard on many of the songs. Is anyone else having this problem?

1. Stop being offended by profanity. That's silly.
2. Don't listen to artists who have explicit lyrics.

Good advice. Thanks. Hahahah. Yea right

If you had signed up back in June, you were locked in at 7.99 a month. Unlimited music on my PC and phone, including offline play, yeah, I'm keeping it. Posted via Android Central App

This is a great addition to music. Just wish that you could use play credit for subscriptions and devices and partial payments when not enough credit. Until that gets figured out play credit seems pretty incomplete. Posted via AC App on HTC One GPe

Updated..still not getting any Radio tab....I'm in India..will it come here.... Posted via Android Central App

Now release the iOS version... My iPad is lonely. Posted via Android Central App on the Samsung Galaxy Mega.

Now if Google music could make their service actually work for lg phones that would be great Posted via Android Central App

I loved (love?) Google Music All Access...but then they REMOVED an every album (four albums) except ONE from an artist I listened to. Then removed a single album from a different artist I listened to. These were both simply artists I got from All Access, not my own collection. I called Support and they said nothing could be done - probably some licensing thing. After that experience I started wondering why I am paying a monthly subscription for music that can be taken from me at any moment's notice. :-\ Might go back to just keeping my own music and not relying on streaming, like I did before All Access was announced. But, I do think the access is pretty cool to discover new music.

Genres? There are about 20-30 only. What about Hardstyle, dubstep, drum'n'base, etc? :-(

I got the update on my Samsung Galaxy Note II. But I don't see All Access Radio as a option. Can someone help me... Posted via Android Central App

Love my 7.99 price plus me and my fiance both use my account and genre stations was the only reason I still used slacker sometimes now once they add pin to SD card I'll be all set Posted via Android Central App

Still a couple issues. 1: The interface is inconsistent.. There's plenty of room up there, how about a home button to get back? Sometimes swiping does it, sometimes swiping removes a song from a playlist.. oops. 2: Dreaded "No storage" bugs. I can understand if I was trying to download something, but it's ALREADY THERE on my device. What are you trying to do, exactly? And I have hundreds of MB free anyway.
Android Central Newsletter
Get instant access to breaking news, the hottest reviews, great deals and helpful tips
Thank you for signing up to Android Central. You will receive a verification email shortly.
There was a problem. Please refresh the page and try again.