Google Play Movies now offering UHD content in the UK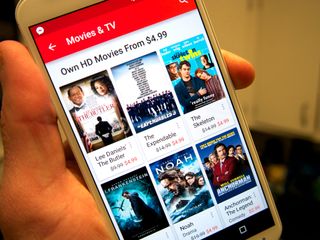 Google brought 4K UHD content to its Play Movies service for the U.S. and Canada last year, but it hasn't expanded that content much further until now. Starting today, users in the United Kingdom can finally join in on the 4K revolution and purchase movies in ultra-high definition (though at a premium over 1080p, of course).
In Google's support page, HDR is mentioned a number of times for U.S. users, but it's important to note that that's not coming to the UK (at least, not yet). To watch UHD content, users will need a Chromecast Ultra or "some models of Android TV," as well as a 15 Mbps download speed. Of course, you can also view your content on your computer through the Purchased section on YouTube — and any UHD content can be played back at lower resolutions, as well.
Of course, the biggest problem with 4K content is that most people still don't have a way of viewing it, with 1080p TVs still commonplace in most households, and most computer monitors and smartphone displays topping off at QHD. Luckily, Black Friday is right around the corner, and TVs are always some of the most heavily discounted items — so why not keep an eye on the deals?
Learn more about Google Play Movies and TV
Hayato was a product reviewer and video editor for Android Central.
I see it let's me buy it on my Note 8, does that just mean it won't play on it? And if it does play, does it play it in 1440p or does it go down to 1080p?

Oh, Google, why are you deliberately killing 4K on Android phones? Yes, it's an overkill, but it's a beautiful overkill. Time for native 4K on the phones!

It's a start, but they need to follow Apple's lead and give free upgrades to those who bought the HD version.

True. And also stop charging 30 bucks for them when you can get them on Vudu for less.

They're only an extra £1 in the UK (eg. Spider-Man HC is £14 HD, £15 UHD).

Lucky you. They want damn near double over here.

15Mbps is enough bandwidth to deliver 4k content? I thought Netflix required 25Mbps? And while I'm at it doesn't UHD discs have a bandwidth of 108Mbps?
Android Central Newsletter
Thank you for signing up to Android Central. You will receive a verification email shortly.
There was a problem. Please refresh the page and try again.