Google Play Movies can now display HDR content over Chromecast Ultra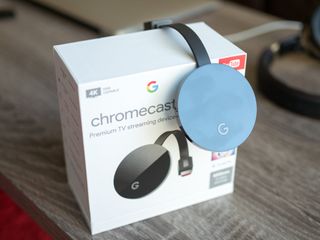 (Image credit: Android Central)
Did you wonder why you spent more on that Chromecast Ultra almost a year ago? It wasn't just for the 4K resolution support but the promise of greater things to come.
Well, today, that greater thing is HDR support. According to Google, 4K content that is also encoded with HDR (high dynamic range) will automatically begin playing on TVs that support both standards — as long as you're in the U.S. or Canada. Google says of the update:
While all the pieces have to line up for HDR content to play — you need the right TV, the right Chromecast, the right movie and to live in the right country — this is just the beginning of more vivid, lifelike content over Chromecast.
Chromecast vs. Chromecast Ultra: Which should you buy?
Daniel Bader was a former Android Central Editor-in-Chief and Executive Editor for iMore and Windows Central.
I wonder if it's HDR10 support only. At last I checked, the only OEM supporting Dolbvision was LG, and I seriously doubt they'd let that slip to the Chromecast to be used on competing Samsung and (haha) Sony sets.

Dolbyvision is available to any OEM who pays the licensing fee. LG has absolutely no say in who can get it.

Vizio also supports dolby vision.

What if you cast to an Nvidia Shield?

If you use a Shield to cast, you have native HDR10 support...so yes. Again, you have to find content that supports it though - to date, the only 2 providers I've seen push HDR content are Netflix and Amazon...

My bad - I forgot Youtube supports HDR as well. If you'd like to see it in action - search for HDR to SDR and check out some of the Samsung and LG sample videos. Word of warning - it'd behoove you to have a wired connection for both as these videos are all native 4k streams - on wireless connections (at least not great ones) it renders the videos practically impossible to really awful looking.

Nvidia Shield has Google Play Movies installed on it. No need to cast to your Shield to use play movies.

it is showing HDR on the Google Play Movies app on my LG OLED with WebOS 2.0

I think all LG TV's "apps" support HDR10/Dolby natively - I know Netflix content has shown up as "HDR" since I got my B6 late last year. Is there any Google Play content that's been shipped with HDR? There's plenty of 4k content (not good content, but content none the less) - but I hadn't noticed any HDR stuff yet!

he sent me a pic of Kong Skull Island: http://imgur.com/2rVf185 correction - he is using the Nvidia Shield on the tv, not the LG OS

Awesome! I hope they go back and update some other 4k titles that (on UHD at least) are HDR enabled. Thinking about titles like crouching tiger, Labrynth, Logan, the new Xmen - if it exists on UHD-BR, it should be possible to get these titles HDR enabled to stream (not that physical media isn't vastly superior, it is, but I'd like to get some of these features streaming - even if it's not perfect)!

Off-topic, but I can't help but ask how do you like the B6? I'm about to order an E6, and two B6's.

I like it a lot. I'd have gone E6, but didn't need the sound bar - I believe they're ostensibly the same panel. It's great for gaming now that they've got a true HDR+Game mode enabled (with measured response times under 25ms) - and I like it for movies. I have a b6 and a Samsung Ks9000, I like them both equally for different reasons. The ks9k definently gets brighter at it's peak and looks terriric for games - but OLED certainly helps in dark areas and I get better gradiants (especially in move HDR content). I do enjoy OLED for it's lack of color banding in rich color scenarios though - so I don't think you can go wrong either way!

Thanks for the details. We decided last night to go with 3 B6's thinking the builtin sound of the E6 would be ultimately disappointing over time and the B6 looks better. They'll be used mostly for movies and tv and we generally prefer plasma to LCD LED, so OLED's a good fit.

Bottom line - you can get a cheaper and better discrete soundbar down the line - I think you made a good choice! If you're going to mount these - make sure to get a mount that tilts - remember, OLED, true blacks and lots of reflectivity - having a mount that you can angle a degree off of center can cut down on how much you're going to look at yourself during dark scenes! Also - totally take advantage of all the preset modes - I have four for each input - Daytime, Nighttime, HDR and Game (and then a 5th, HDR Game, for the Ps4 pro and Xbox One S) - the settings stick - so as you're watching content across a day - you can easily flip between modes that are appropriate to your viewing room!

And here all I want is them to get uhd support for my Galaxy s8+.

Um, you can't have UHD support for a 1440p device. UHD is 2160p...twice the resolution of the Galaxy S8 :)

Nice to see this! Setting up a family member's place with OLED 4k HDR tv's now and have chromecast ultras for each.

I think they should have supported Android TV users such as NVidia Shield customers. Really, their customers who can afford to buy $30.00 movies, are probably buying the more expensive, faster products, not the $30 chromecast dongle.

Nvidia shield does support HDR natively - so no problems there...

My regular cc works better than the ultra

It is working on my 2017 Sony x900e

Damn. Lucky fellows across the Atlantic. Feels like there are 2 vastly different Google(s). One for North America and a handful of other countries (Australia, etc.) and one for the rest of the world. Hell, Im still hoping for adequate Google StreetView to pop up where i live (EU country), let alone Google Now/Home/Assistant, Google Wallet, Youtube Red, Pixel phones, etc...
Android Central Newsletter
Get the best of Android Central in in your inbox, every day!
Thank you for signing up to Android Central. You will receive a verification email shortly.
There was a problem. Please refresh the page and try again.