Google Play gift cards officially land in the UK, Tesco and Morrisons on-board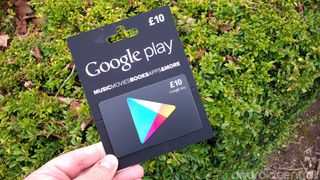 There've been plenty of hints at Google Play gift cards landing in the UK since shortly after the U.S. launch. Today, on the service's first birthday, Google has announced that UK consumers will be able to buy the cards in £10, £25 and £50 denominations, with "all" Tesco and Morrisons stores stocking the cards "in the weeks ahead."
The cards work just the same as they do in the U.S. -- buy one, scratch to reveal its code, and redeem on the web or via the Android app. The amount is then added to your Google Play balance, and can be used to buy music, magazines, books. movies and apps -- but not hardware.
The news of the launch follows reports of Google Play gift card sightings at Tesco stores in recent days.
It'll take some time for Google's offering to catch up to Apple's widespread iTunes gift cards, but having two major supermarkets on-board at launch has to be a plus. More details in the presser after the break.
Update: Google's put together a retailer finder page (opens in new tab) allowing Brits to track down local stores stocking Google Play cards.
Google Play gift cards now available in the UK
We're pleased to announce that Google Play gift cards will be available in the UK from today [Wednesday, March 6 2013].
Gift cards make it even easier to buy apps, games, books, movies, music and magazines from Google Play, Google's one-stop-shop for all your digital entertainment needs.
Over the coming weeks, gift cards will go on sale in all UK branches of Tesco and Morrisons.
The gift cards will be available in denominations of £10, £25 and £50, and can be redeemed against digital contntent purchases on Google Play, including music, magazines, books, movies and apps.
With Google Play, you can buy books, apps, games and music, and rent or buy movies, on the device of your choice – be it a computer, Android phone or tablet. All of this entertainment is available across multiple devices – buy a book on the web, for example, and it's instantly available on your phone or tablet.
Consumers can access, purchase or rent this digital content in a variety of ways:
On Android devices: Android phone and tablet users can click on the Google Play store app to shop for books, movies, apps, games, magazines, devices and music. All content can be "pinned" to the device for offline use without a data connection;
On the web: Users of Chromebooks, PCs, Macs and all other computers can access their digital content online through the web version of Google Play (play.google.com).
And now users can pay via Google Wallet or by redeeming a Google Play gift card.
Alex was with Android Central for over a decade, producing written and video content for the site, and served as global Executive Editor from 2016 to 2022.
It's a shame they won't let people purchase hardware with there credit after all cash is cash no matter how you dress it. These cards are a great way for people to put a bit towards a new device when they can. As I don't purchase books music or magazines it makes these cards fairly redundant as I've already purchased several hundred apps, there are very few that I tend to purchase these days considering my nackered old tegra 2 device isn't supported in most of the new high end games.

retailers take a cut of these sales so using it for hardware is a real lose for google. on the other hand google get a cut on apps and other sales.
how hard is to buy a device using your credit card.

For an adult with a credit card purchasing a device is simple, but I was thinking more along the lines of kids receiving google play cards from multiple people, say for Birthday or Christmas. This would be beneficial in multiple respects helping them to understand that just because it's credit on an account it still needs treating with the same respect parents should be instilling on them about cash.

Love my job, since I've been bringing in $5600… I sit at home, music playing while I work in front of my new iMac that I got now that I'm making it online.(Click Home information)
http://goo.gl/ZID2G

Any way to purchase them online in the works?

Hi, sabret00the. There is a way to purchase them online. There are some online services who will send you the code of the card via email within a few minutes. MyGiftCardSupply.Com /Tesco/Best Buy/Amazon uk etc. Just try it once and choose your favorite one. Thank you.
Android Central Newsletter
Get the best of Android Central in in your inbox, every day!
Thank you for signing up to Android Central. You will receive a verification email shortly.
There was a problem. Please refresh the page and try again.