Google Photos now lets you recover storage by compressing full-resolution photos to high quality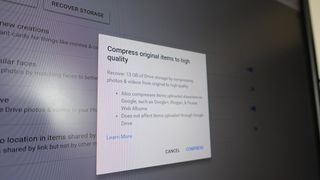 If you've opted to backup your photos in Original Quality (which retains the resolution of the image) on Google Photos and are now running low on storage, Google is letting you recover some of that space by converting the full-resolution images to the default High Quality setting via the Google Photos web interface.
Storing full-resolution images counts against your Google Drive storage quota, but compressed high-quality uploads come with unlimited storage. And if you're just looking to free up space on your phone, the latest update to Google Photos now notifies you of images that are already uploaded to the cloud and are utilizing the built-in storage on your phone.
Interested in checking out how much storage you can reclaim? Navigate to Google Photos from the link below and hit the "Recover Storage" button.
Source: Google+ (Google Photos)
Harish Jonnalagadda is a Senior Editor overseeing Asia at Android Central. He leads the site's coverage of Chinese phone brands, contributing to reviews, features, and buying guides. He also writes about storage servers, audio products, and the semiconductor industry. Contact him on Twitter at @chunkynerd.
lol If only this showed up yesterday when I wiped my photo storage and re-uploaded at high quality. Oh well lol

Haha oh no Sony Xperia Z2
Nvidia Shield
Xperia Z3 Tablet Compact

I needed this SO BADLY a few weeks ago. When Google killed the bonus year of storage i had been enjoying. I spent a good amount of time and effort downloading all my photos going back years and then re-uploading them all to Play photos at the reduced and unlimited size. Wow ... I really wish I had known this was coming.

Me too. A few photos got uploaded in my account as Original Quality and chewed up 15% of my total available free storage. I wiped out 15,000 files in Google Photos and am in the process of re-uploading them.

I'm confused, isn't Google Photos unlimited until something like 16MP? I thought if automatically reduced the file size after that. Posted via the Android Central App

It isn't all magical, it will follow your settings. So uploading a 3 MB 8 MP photo with setting set to "original" will take up 3 MB of space. But of you set it to "high" it will do some compression but keep it 8 MP, for free. And this is true up to 16 MP, beyond that they cut it down to 16 MP. The old setting was 1024 pixels or original size. So in my case I had around 8 GB of 8 MP photos that I now can "downgrade" freeing up that space for other stuff.

Thanks, I was never understood how the 16Mp limit worked.

If I choose high quality does Google Photos also compress video or photos only? I don't mind compressing my photos but I would like my high resolution videos to stay high resolution.... Posted via the Android Central App

Videos are scales down to 1080p, so that only affects video on higher resolution. You could always back up at 1080 and move the original from phone to computer manually.

Only if you select that option, which I believe is on by default. However you can still back up photos and videos in full resolution of you want, just like you can do with services like Dropbox, Microsoft One drive, etc. But then you only have so much storage. Google gives you 15 GB but you can buy more. I have some storage that I've unlocked from promotions, but then I also pay $1.99 per month for 100 GB. I like to keep full resolution versions of what I upload, so it's worth it to me.

You can choose whether you want to upload the "high quality" (aka 16MP) versions, with some tweaks to save Google money on storage, or "original quality" where the exact original file is uploaded.

If they offered lossless compression (i.e. like JPEGMINI) at the same resolution you took the photos in, then this would be killer! But I really don't want to commit my photo collection to lower quality, smaller images... forever.

Then ... just upload at Original Quality.

¯\_(ツ)_/¯ Perhaps you missed the point? Some of my jpgs are 4-6mb each, and running it through something like JPEGmini drops it to under 1mb without any quality loss or resolution downgrade. This allows you to basically save at "original quality" but at a fraction of the space and 1/5th the time to upload.. Wanting to save many steps, I'd prefer that Google offer the same, rather than a lossy compression.

Its also patent pending so Google would have to pay I'm sure. I think Google's goal here is to save a few dollars.

Use Amazons unlimited everything for $60 a year which works out to about 5 bucks a month. Back up all your originals to Amazon and use Google photos as your app to search and show off photos you want people to see. Amazon is terrible at discovery, interface and showing off pictures but perfect for long term storage of your original masters if you need them.

In Canada, it's not that cheap and I need to have a Prime membership before they give me unlimited (at an extra cost). Without prime, the rates are more than Google Drive :(

I just want them to update Google Photos so that it stops backing up folders that I have told it not to.

Then just go into your settings and turn those folders off.

I assume he's already done that, and that's what he meant by "...I have told it not to." I had a similar problem for a while. No matter what settings I toggled, Photos kept backing up images from my Untappd device folder. One of the updates along the way fixed that for me, but who knows what other little bugs are still out there?

Yeah that's what I meant, sorry for the confusion. I only have like one folder set to be backed up, and yet all of them get backed up. It's really annoying.

And I should mention this has happened on multiple phones.

Would like to have them add support for folders. Don't want a pile of pictures, just want to use my current folder structure.

THIS. Posted via the Android Central App

Too little too late...
They still do not offer a clear migration path from Picasa web albums (aka Google+ photos) to Google Photos. Also they have no support for uploading folders as albums, you must rearrange it again on the Web.
This is a mess and a nuisance. I've ditched then and moved to Flickr. Posted via the Android Central App

YES?!! i have my pictures divided by folders, each month is a folder. How could I move to GooglePhotos? today Im at onedrive, very easy to manage and move files around

Why would you take the time to organize photos into folders by month when the date is included in the photo's exif data and every photo album program and service out there allows you to sort and filter by date? I understand why people want to keep albums by topics or event or subject and then get annoyed when Google Photos doesn't keep those (though, it does somewhat by how it analyzes and categorizes for searching your photos)... But putting photos in folders by date truly is a complete waste of time!

Local album to cloud album would be an extremely nice feature. Or could we say it is a missing feature. Posted via the Android Central App

Yes I've been waiting for that for as long as Google photos has been around. Pretty cumbersome having the photos go all in one batch of a folder each month rather than an album that we create. It should be synced seamlessly with the cloud if we create a folder in in the cloud or on a device. Everything should mirror one another. Posted via the Android Central App

Exactly! Hopefully with the attention Google is giving this product they will change that. Posted via the Android Central App

You can upload a whole folder. It even asks you what you want the folder to be named. They already gather the meta data from the photo and group them by date. Why then do it by folder also?

Yes! You guys are in my brain! I just lost some storage due to the ending of a free trial and I've been trying to decide what to delete.

I need to he'll me with Rivacy Protecton password,Tecno Y6. Tnks.

Yay! Finally! I've contacted Google about this and they assured me the technical team knew about the problem. There had been no way to find which photos were uploaded full size. I'm glad to see this! Posted via the Android Central App

I guess this version is no available for the priv? Posted via this great phone called "priv"?

It seems like taking pictures and then backing them up at a lower resolution just to save a few bucks is a short term gain. Once that resolution is lost...it's gone forever. Seems worth it to spend a few bucks to get the storage space you need. Heck...I Think if you just go buy a chromebook you get like 1TB of storage or something.

This only gives you 1TB for 2 years Posted via the Android Central App

After not paying attention to my settings on Google photos/picasa/Google plus back up over the years.....having at times backing up at full resolution... I had about 80 GB of photos on my g drive.... I pay for 100 gb. I did the "compression" ftn last night, as it was up last night, boom it says I have 99gb available in my g drive. Very cool! Got back a lot of storage for my g drive... Of course, all my photos are backed up at full resolution from my phone and DSLR, etc, on my networked nas drives, but.... Having them on the web, in the event of a catastrophic event is awesomeness. Posted via the Android Central App

Exactly what I needed. I only have a gigabyte left for storage.lol Posted via my first Android phone.

Use high quality storage for all photos and videos on Google photos. Google photos is best for discovering old photos or searching for pictures you want to show off. I store all my master 4K videos and 24MP DSLR dng raw photos using Amazon's unlimited everything cloud storage. Amazon's interface and search leaves a lot to be desired but it's good for long term storage of your master files if you ever need the higher quality originals for print or post processing.

This worked perfectly. It recovered 15gb of storage putting me under 7GB used and now I can save $2/month that I was paying for additional storage.

Sadly there doesn't seem to be a way to compress the pics that are already in google drive. Any ideas as to how to do that without deleting them and reuploading to google photos?

Many thanks for this! Was researching the whole net without any straightforward solution. This just makes it so easy
Android Central Newsletter
Thank you for signing up to Android Central. You will receive a verification email shortly.
There was a problem. Please refresh the page and try again.