Google Pay Send now starting to replace Google Wallet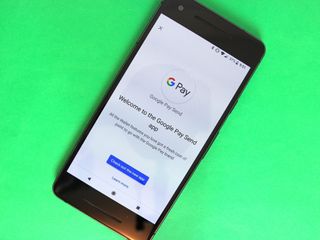 Earlier this week, Google announced that it was finally ready to say goodbye to Android Pay and replace it with Google Pay. The end goal of Google Pay is to offer all of the functionality of Android Pay and Google Wallet in one single app, but in the meantime, we get to mess around with the v22 update to Google Wallet that rebrands it as Google Pay Send.
You'll see a splash screen after getting the new update to remind you of the name change, but aside from a new paint job, all of the core functionality remains mostly the same.
The main page offers easy access to send/receive money with a full history of your past activity below it, a bell icon near the top right shows any notifications you have, and your hamburger menu on the left lets you access your payment methods, settings, and more.
Google Pay Send brings a blue/white paint job to replace Wallet's green/white one, and in addition to this, now allows you to set reminders for recurring payments. You can access these by going to the Reminders tab from the hamburger menu, and here you can choose to create a reminder to either request or pay money, choose how much it's for, how often you want to be reminded and on what day/time, and create a note for yourself.
Along with popping up in the Google Pay Send app, you'll also see these reminders in Google Home, Google Calendar, and Inbox.
The v22 update is rolling out to the Play Store now, but if you haven't received it yet and want to start messing with Google Pay Send right now, you can download the APK file here
Download: Google Pay Send (free) (opens in new tab)
Joe Maring was a Senior Editor for Android Central between 2017 and 2021. You can reach him on Twitter at @JoeMaring1.
So, knowing Google, we'll soon see a new app called Google Pay Receive, with the same content, but focused on receiving money rather than sending. /s

You put /s, but I don't see anything in your comment that doesn't seem totally plausible knowing Google lol.

That's exactly why I explicitly put the /s. Without it, the sarcasm would be far too blurry for many to even notice. Who knows, maybe without the explicit /s, in a couple months in their research Google could take my comment seriously as a sign of need for Google Pay Receive. /nots

Then they'll merge it into Google Pay after a few months.

The interesting thing is that, after the update, the icon in my app drawer is still called Wallet. If Google is going to change the app to Pay Send, wouldn't it make sense to--I don't know--actually change the name of the app to Pay Send.

That's because you are an early adopter. It's not officially out yet on the play store. Once it comes out through the store it will change. Just like the icon stills how's Android pay after you install the Google play apk.

This is actually (at least I think) a really cool feature! Instead of just changing Android Pay and Wallet to Google Pay and Send out of the blue, the old apps remain in the app drawer until you open them for the first time and are introduced to the "new" apps with the new looks. I think it worked really well and I like it for the majority of users who aren't paying attention to this kind of stuff before it happens.

Before the change to Android Pay, I used the Wallet app often (I even had a Google Wallet MasterCard). It was great. I don't get why the features of Wallet were ever split into two different apps, but hopefully the consolidation goes smoothly, unlike the switch to Android Pay which left my Chase card unsupported for a while despite not having mobile payment issues when it was previously connected to Wallet.

To bad this update broke it for me. Have a stock s8+ and it's telling me that my phone is rooted so I can't use it!!

Lucky you I can't use this in the UK

I think I'll still with Samsung Pay until Google Pay supports TD Bank.

According to the official list of supported banks, TD Bank is supported. Not sure if that's just for credit cards or for both debit and credit. But TD Bank is on the list. And according to TD Bank, they support Android Pay (Google Pay). https://www.tdbank.com/personal/androidpay.html#
Android Central Newsletter
Thank you for signing up to Android Central. You will receive a verification email shortly.
There was a problem. Please refresh the page and try again.