Google Now on Tap update lets you manually select text, search images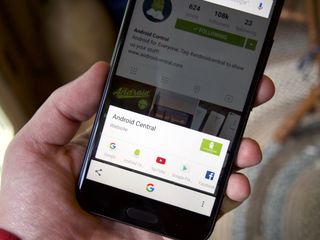 Google is rolling out some changes to Google Now on Tap that should make the feature much more useful. With the latest updates, you'll be able to manually tap to select which portion of the screen you'd like more information on.
Says Google:
Perhaps just as notable is that Now on Tap can also now identify content in images. And not only can you use the feature to nab more information about a photo you stumble upon in an app or on the web, but you can also use Now on Tap in real time with your camera app:
For those who were a bit underwhelmed by Now on Tap since it launched with Android 6.0 Marshmallow, these additions should go a long way towards making the feature that much more useful.
As Google notes, word definitions are only available in English at the moment, but will land for other languages in the coming weeks.
Can't believe that it took this long. Posted via the Android Central App

You should work for google then! They sure can use you!

I know, I know, I'm in the gigantic minority here...but I use Now on Tap about once a week, give or take a little, and it's incredible. It works for me any time someone in a group-chat says something I don't know about, and suddenly, I have access to everything revolving around the subject and more. So, bring on the improvements, I'm ready!

I agree. I may not use it every single day, but it is useful when I do use it a few times a week. Posted via the Android Central App

On tap is super useful. Posted via the Android Central App

Now I'm wondering if this will apply to Android N beta also.

I would think that this feature would come from a Google app update and should run on anything 6.0 and up.

It does. Only thing is, changing the DPI scaling option in n beta screws up the custom selection. Posted via the Android Central App

I've found now on tap to be extremely useful for going from an address sent via text to navigating a route in Maps. But I've also seen NoT miss incredibly obvious actionable information like phone numbers. I'd imagine these changes will make a big difference in that regard. Anything that makes me have to copy and paste text less (which is still really clumsy in Android) is well worth it. Posted via the Android Central App

I got the update (S5 running MM) It's a hit and miss https://imgur.com/BpYBkAW Posted via the Android Central App

IT'S ACTUALLY USEFUL AT LAST! Posted via the Android Central App

But how do you press and hold the home button when it is software and not visible in the camera app?

Slide from the edge and the buttons will appear... Surely you know that or you wouldn't be able to get out of the camera app. Posted via the Android Central App

Am I the only one that only uses Google now on tap as a quick way to get screenshots without the UI cluttering it...? Posted via the Android Central App

Wish it was still a swipe up for Google Now and have the long press for Now on Tap. Posted via the Android Central App

Yes, I miss that too. It had a whole api that could be used for other things, it's rendered a whole load of apps useless. Posted via the Android Central App
Android Central Newsletter
Get the best of Android Central in in your inbox, every day!
Thank you for signing up to Android Central. You will receive a verification email shortly.
There was a problem. Please refresh the page and try again.