Google Now on Tap offers in-app translation, QR code scanning and more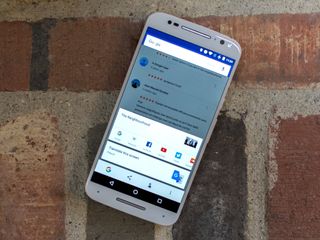 Google has rolled out a few interesting improvements to its Now on Tap feature. You can use Now on Tap to translate text on any screen, including apps, with just the tap of a button. You can also use it to uncover new facts about your interests, and search by image has gotten a boost.
From Google:
While Chrome will instantly translate any webpage you come across, Now on Tap allows you to translate pretty much any screen, including apps. Just activate Now on Tap on the page to be translated, then hit the "Translate this screen" button.
Discover offers a new way to learn more about the things you love. When you activate Now on Tap while reading an article about astronomy, for instance, tap the new Discover button to get a stream of photos, news articles, and videos about NASA or space exploration.
Finally Now on Tap support for QR codes and barcodes lets you get useful information on the items you want to buy. Building off of the recently-released object recognition feature, which also uses your camera, you can open Now on Tap while using your camera to automatically scan QR codes and barcodes in your viewfinder. Now on Tap will then generate a number of helpful cards.
These features are rolling out to Now on Tap already, but it could take a little time for them to arrive on your phone.
Does Google Translate need to be installed for the Now On Top translation feature?

These are worthwhile additions,glad to see them. Posted via the Android Central App

Awesome features. It's insane that it took until mid-2016 for Google to bake QR support directly into Android.

Google does have Google Goggles since 2010 which has the OR code support. But it hasn't been updated since 2014.....
Android Central Newsletter
Get the best of Android Central in in your inbox, every day!
Thank you for signing up to Android Central. You will receive a verification email shortly.
There was a problem. Please refresh the page and try again.