Google Maps gets real-time speedometer feature in multiple countries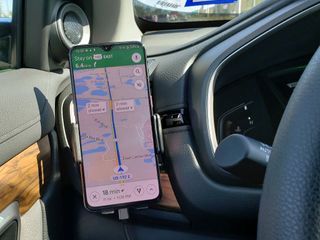 What you need to know
The speedometer feature is rolling out to Maps in several countries.
Even if your country is on the list it may not be available on your phone yet.
Currently works in Maps but is not available on Android Auto.
If you liked when Google added the ability to view speed limits and the locations of speed cameras last week, then get ready for some more good news.
Google is now rolling out a feature that will show your current speed while navigating within Maps. Combined with the new speed limit and speed trap features, you should have everything you need to get from Point A to Point B while avoiding speeding tickets.
The new speedometer option is the latest feature to make its way from the Waze app to Maps, and is a very welcomed addition. In order to use the speedometer, you'll need to first enable it from the Navigation settings within the settings menu.
Once enabled, your current speed and the speed limit will appear in the bottom-left corner in the app during navigation. Unfortunately, this feature is not yet available in Android Auto yet.
Like most new Google features, the speedometer appears to be rolling out in stages. So far it has been confirmed in these 10 countries.
Argentina
Australia
Belgium
Brazil
Canada
Czech Republic
Portugal
Sweden
UK
U.S.
However, just because your country is on the list doesn't mean you'll have access to it. Regardless of being in the U.S., it still hasn't shown up on my phone yet.
If only cars came with a built-in speedometer...

I know, right? What's next, cruise control?!

It was showing for me this morning in the stand alone Android Auto app on my phone, but I'm guessing because it uses the Android Google Maps on my phone as the back end.

I'm happy to see this feature is finally coming. I was on vacation in northern Michigan last weekend and I swear there's only 1 speed limit sign in the entire upper peninsula. I had no idea what the speed limit was most of time... I wish I could've just looked at my Goog map to find the speed limit.

I like having the speed limit on the screen as well, just for those unmarked areas... Like the UP!
I took a 3 hour trip through Ohio yesterday, and they are pretty strict.

I just want reliable speed limits displayed on the map. I've been on some roads that have them, but most don't. If Windows Mobile could do it, why hasn't Google?

Windows Mobile didn't do it, HERE did it, and still does. Along with off-line maps.

Yet they removed bus directions in San Francisco. Used to show how to get around on SF Muni.

Still waiting for speed limit to be displayed here in UK

+ India
On Google Maps Beta 10.18
Speedometer active

No speed limits showing in Western Australia. Only speedometer

Can anyone with this feature please post what version of google maps you're running.
Android Central Newsletter
Thank you for signing up to Android Central. You will receive a verification email shortly.
There was a problem. Please refresh the page and try again.