New 'driving' home screen shortcut gives Google Maps a jump-start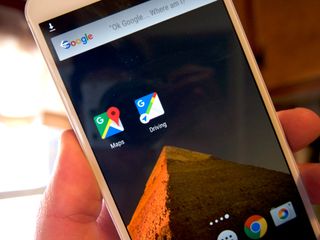 A new update to Google Maps is aimed squarely at making getting driving directions less of a hassle thanks to a new "Driving" shortcut that can be added to your home screen. Aside from providing quick access to navigation mode, Google says that using the shortcut will automatically serve up ETAs on frequent destinations like home and work, along with suggested destinations based on your recent search history. From Google:
Google is hoping that this one-tap access will make it easier for users to gauge whether they should go ahead and hit the road home, or maybe take a detour to a spot they've shown interest in checking out. We haven't yet received the update on our devices, but it should be rolling out over the coming weeks or days. When it does arrive, you'll be able to add the Driving shortcut to your home screen through the widgets menu.
Source: Google
This might actually be useful, sweet.

Will this be any different from the Navigation icon Google Maps used to have back in the KitKat days? I have been able to keep and still use that icon thanks to Nova Launcher backups. Posted via the Android Central App

I tried the navigation icon recently and it launches the destination input interface. I was hoping it bring up may location in map view like waze.

What happened to Google navigation giving a choice of routes? Seems to have disappeared along with the option to pick an alternative once your route is selected Posted via the Android Central App

When you map a trip, the recommended router is selected and highlighted. If there are alternate routes, they should appear on the map in gray. Tap a gray line, aka the path of the alternate route, to select and get information about the alternate route.

They still show up me (grey).

Just go ahead and say it. You can check whether to drive home or go to the bar first and wait it out Posted via the Android Central App

I say wait it out. Posted via Nexus 6 running on any data plan I want

that is always the correct choice...

I'm interested to see how much better or different this is compared to the Google Maps widget that allows you specify a specific destination for map or navigation (which has been around forever).

I hope there is a public transport option, I'm guessing there isn't as these piecemeal additions are not though out very well in general. For example Google NEVER remembers my car location (and that is by Google "design", I'd say stupidity). Don't tell me car parking works for you, I know it does, I also know it doesn't for everyone, that's the stupid part.

Oh yes please. Google needs more "driving" mode options for its apps for those of us without Android Auto. Posted using SwiftKey on my LG G4 via the Android Central App

Man, with all the freaking ads on the mobile site I can't even tell where the article starts or ends. Ridiculous.

I know it's not the correct fix, but seriously, you can only read this site on the app. Even the full site on a computer makes my eyes bleed. Pants

Get app it's that simple. Posted via the Android Central App on my Frost Nexus 6P

I sometimes use my iPhone 6s Plus. Posted via the Android Central App

" the shortcut will automatically serve up ETAs on frequent destinations like home and work, along with suggested destinations based on your recent search history" Doesn't Google Now already do exactly this?

That's exactly what I thought. It's bloody useful, saved me getting stuck in 40 minutes of traffic just the other night. Posted via the Android Central App

The new Driving Mode update provides route suggestions and times when you connect to your car's Bluetooth system. This is useful (in a different way) than getting route times pushed to you via Google Now when Google Now doesn't know where/when you want to be at your next destination. For example, if I'm at a movie, I don't find Now's route suggestions/times to drive back home useful. I'd rather get those suggestions when I'm done with the movie and back in my car. On the other hand, in the morning, I prefer Now's push notifications telling me when I should leave the house to make it to work on time.

I was hoping this would have some of the lost functionality of my moto x. I miss it automatically reading my messages when I'm driving over Bluetooth.

Tried Tasker? Via the Moto X Classic

So they are slowly adding more Waze functionality into maps. That seems like a good idea as long as Maps is feeding traffic data back to Waze.

I don't see why should I use Google Maps instead of Waze.
Home screen shortcut? come on..

I think this will keep the screen alive when you are not actively navigating which is something Waze already does. Maps will not currently do this, according to Google (and my own observations).

Ok, got the update this morning. Placed widget on home screen, & when I tap on it, it just opens the maps app. What am I missing. Posted via the Android Central App

You have to jump through some hoops to enable it.
1) go into the Maps app/settings and sign out of Google Maps.
2) restart Google Maps, sign back in and go to navigation settings. Enable driving notifications (not sure if this is needed) and add driving shortcut.
3) When you touch the driving shortcut, it enables driving mode. I confirmed today that it does indeed keep the screen alive when using Maps as a display and not for navigation. Prior to this update, my screen would time out unless navigating. I contacted Google about it and they confirmed the screen timeout issue unless navigating.

You don't have to do all that now. Just go to navigation settings & enable the driving shortcut. Must have been a server side update, because earlier that setting wasn't there. Posted via the Android Central App

That certainly could be. I side loaded the new app since I was still on the prior version and didn't have an update waiting on me yet.

Still happy with maps 6 and several shortcuts for home, work, parents etc all in one folder on my launcher. Seconds after opening you click on the time and you see the complete road and the alternative roads button.
Couldn't work any better Posted via the Android Central App

I'm guessing this is rolling out slowly because I still haven't gotten the update.

Has using this been a big drain on battery?
Android Central Newsletter
Get the best of Android Central in in your inbox, every day!
Thank you for signing up to Android Central. You will receive a verification email shortly.
There was a problem. Please refresh the page and try again.