Google Keep makes its way to the iPhone and iPad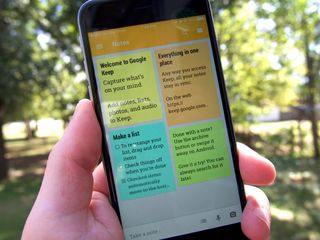 Google released its Keep note-taking app for iPhone and iPad today, adding yet another Google app to the company's slate of cross-platform offerings. If you're familiar with Keep on Android, there won't be any surprises here. According to Google's description of the app, as well as its look and feel, it unsurprisingly offers up the same familiar interface and set of features. From the App Store description:
Capture, edit, share, and collaborate on your notes on any device, anywhere.
Add notes, lists, photos, and audio to Keep.
Organize your notes with labels and colors.
Set and forget. Get reminded about a note at the right time or place.
Record a voice memo and have it automatically transcribed.
Grab the text from an image to help you quickly find that note again through search.
So, if you have a friend or family member that was an avid Google Keep user and made the unfortunate decision of switching away from Android, they can now get that experience back. And, as always, the Android faithful can find Google Keep on the play store (opens in new tab).
Check out Google Keep on the iTunes App Store (opens in new tab)
FINALLY!! 1ST and good for Google and apple Posted via the Android Central App

It's about time! Just wonder what the hold up was with this app coming to iOS.

As Android users, we should care because? Posted via the Android Central App

Not every Android user only exclusively uses Android.

Because we all have family and friends that use iPhones and Google keep is awesome dreaming of electric sheep

Because I have an iPad too? That's the beauty of the google ecosystem. It works wonderfully even if I want to be cross platform. I stay away from Apple's iCloud (even though I have a macbook air and an iPad) for exactly this reason. Posted via the Android Central App

Some our friends have iPhones... Can share notes and add them for any note taking activities

Some Android users use others platforms as well. You can do that and not be arrested you know.

I'm an Android user, but I'm also an iPad and an iPhone user. I care about this. I've been using Keep in the browser, which kind of sucks.

My brother switched to IOS and says he misses this app, because like me he used it every day. So this is great news for him, and I'm sure for lots of people who are on multiple platforms. Posted via the Android Central App

Been a long time Android fan for years, but I've been wanting to try the new iPhone 6s plus out and give iOS a fair spin. My only real hesitation was Google Keep not being available, looks like I'll now be walking into T-Mobile tomorrow to see about picking one up!

That was your only hesitation....? Lol.. Wow. You never learned Android I guess.

I wish Google Keep had a task tie in to Google calendar. Posted using SwiftKey on my LG G4 via the Android Central App

With this, i must give ios a try now. Posted via the Android Central App

Second comment like this.. Wtf?

Maybe you're just being needlessly facetious.

They want full Google tie in on another platform. No big deal Posted via the Android Central App

I don't see it in the App Store.

Omg finally! Posted via the Android Central App

Not showing up in App store for either.

Never really used Keep. Tried it for a week after it launched, it didn't really have that many organizational features which made it feel cluttered. Has it improved in that regard at all?

Not really, you're not missing much. Having said that, I use it quite a bit but only cos I can't be bothered. I hate shopping. Posted via the Android Central App

It's a great app for those quick things you to remember: 5 items at the store but I don't want to mess with my grocery app that has other things marked that I need for a bigger trip. A quick short term to do list, That thing I heard about while I was out and about and want to look up more information about later. It could use more organization but it does have good search capabilities.

It's only good for very simple reminders and list-making. If you need lots of organizational features, skip Keep and go with Evernote. Posted via the Android Central App

When will they bring it to Windows Phone? Posted from my Samsung Galaxy S6

Probably never. Posted via the Android Central App

Google Keep is awesome for list sharing like Groceries an ToDo's.
Two people can type on the same note simultaneously
Still need OneNote for the documentation. Posted via the Android Central App

Yay, I really love Keep and it would be the only app that I would miss on iOS :-) Actually since I really like the idea of 3D Touch, I might get an iPhone and still keep my Google thingies close ;-)

Funny timing on this announcement. I was trying to decide whether to use Keep, Evernote, or OneNote a w article back and a few weeks ago Google announced that Keep was one of the apps no longer required to be packages with Android. I took that as a sign that Keep would soon be another one of Googles abandoned projects, but this contradicts that idea. Posted via the Android Central App

Nice... I will be trying this out. Posted via the Android Central App

Great! I use both iOS and Android. KEEP is one of those necessary apps. Funny that this is introduced just after IOS 9 made major changes to its Notes app. APPLE always lagging.

My friend jumped to iOS from android. He showed me the iOS Keep app. It has ads on the bottom and wouldn't load his lists. It doesn't seem to be as functional as the android version.

Having trouble keeping a internet connection on my android LGL15G and WIFI sometimes turns off ? Posted via the Android Central App
Android Central Newsletter
Get the best of Android Central in in your inbox, every day!
Thank you for signing up to Android Central. You will receive a verification email shortly.
There was a problem. Please refresh the page and try again.