Google just added its logo to Gboard's spacebar and people are losing their minds [Update: It's gone]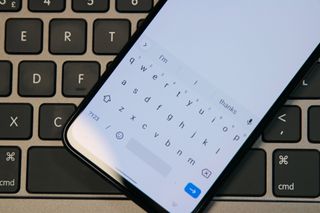 (Image credit: Android Central)
What you need to know
The spacebar in Gboard for Android now has 'Google' branding on it.
Users on reddit as well as Google's Android Help forum are criticizing the search giant for the move.
In addition to the 'Google' branding to the spacebar, the latest Gboard update also removes the Google Search button.
Update: It looks like the backlash to the change was severe enough that Google's re-thought the whole thing. Members of the Android Central team, as well as folks on the Android subreddit, have noticed that the Google logo has now been removed from the spacebar.
Google's Gboard is one of the most popular keyboard apps for Android, thanks to its smart features and an intuitive design. Google is now rolling out two major changes to Gboard, both of which seem to have annoyed a large number of users. Many users have taken to reddit and Google's Android Help forum to voice their displeasure over these changes.
Gboard for Android now has the Google logo on the spacebar, while the Google search shortcut has disappeared. Google reportedly began adding its logo to Gboard roughly a month back, although the change now appears to be a lot more widespread. Since it appears to be a server-side change, there is nothing that users can do to get rid of the Google logo. Even if you roll back to an older version of Gboard, you will probably still see the Google branding on the spacebar.
According to some users, however, the change isn't visible if you have multiple languages enabled in Gboard. So if you find the Google logo to be highly distracting and annoying, you can try adding at least one more language to Gboard.
The addition of Google's branding on the spacebar could possibly have something to do with the disappearance of the "G" search button. As noted by the folks over at 9to5Google, the "Google" logo on the spacebar is now the only visible Google branding on Gboard.
Android Central Newsletter
Get instant access to breaking news, the hottest reviews, great deals and helpful tips
Yeah I noticed that... Doesn't really bother me, but I do think it's a bad move. The ""A" key types an a... The "B" key types a b... The "backspace" key goes back a space... But the "Google" key doesn't Google things. This is compounded by the fact they removed a Google key that DID Google things at the same time lol.

Agreed. The change doesn't bother me, but it not doing the same thing, even when long pressed, does.

It wasn't completely noticeable at first but a slight hold and swipe up on the Google Key is triggering voice search.

I guess some people just have too much time on their hands so they complain about this. I'd hate to be with those people when something important happens.

At a time like this, don't go changing stuff to slap your company name in more places. It confused my elderly mother. She called me to find out how to get rid of it. Luckily by that time Google reversed their stupid decision. We already know we're using Gboard. Put the G (search function) back if you're afraid we'll forget.

Yeah, this popped up yesterday for me. Doesn't bother me at all. I don't see the big deal really.

I have multiple languages set up so mine says the current language on the spacebar. I don't think I would personally mind it but this is definitely a weird choice.

I guess this is what's important when you run out of stuff to do

Yeah, I kept trying to long push it expecting it to do something magical....It magically made me annoyed.

I haven't seen the change as of yet. Mine still looks the same with no logo.

I don't like being a doing billboard of ads

Reminds me of the Note 2 with Verizon on the home button years ago.

I just looked at my Swiftkey keyboard, and the spacebar has Swiftkey on it. Never noticed, or cared, lol.
Hmm, I think I'll play with theming my keyboard today.

Exactly., been on SwiftKey forever. I much prefer SwiftKey, as well.

I prefer a keyboard that's not branded on the space bar. I don't like SwiftKey for this reason.

I missed it! Damm! Shows what happens when you only update twice a week. Can't complain now.

I use three different languages on my Gboard, so have been spared and not seen that the Google logo had been added to the spacebar. Not sure why they did that. It's not like it's hard to miss what keyboard you are using... What I like from the latest update, is the little arrow on the left-hand corner of the keyboard that allows users to either display or retreat all the functions at the top (emojis, GIFs, settings) even when the prediction words appear while typing ... Not a bad addition...

I hadn't noticed either until I saw this topic. I've never used the Google search option from the keyboard so that's no loss for me. But I do like the little arrow option that's taken it's place. Thanks for pointing it out.
Oddly, the space bar no longer has Google on in today? But I don't care either way.

Looks like it's gone now. However the Google search button that was on the top left is gone now.

Looks like it's gone now. However the Google search button that was on the top left is gone now.

I tried multiple times to like Gboard (on iOS and Android) but keep returning to SwiftKey. For one, the desired prediction seems to be always second pick, plus it won't remember email address when you start logging in...
I don't care for the search built in...give me better predictions and autocorrect.

I'm using the Samsung keyboard and it's not on here.

The Google logo is gone, but the search function is still there, you just have to put it back
Android Central Newsletter
Get instant access to breaking news, the hottest reviews, great deals and helpful tips
Thank you for signing up to Android Central. You will receive a verification email shortly.
There was a problem. Please refresh the page and try again.