Google I/O registration open April 8-10, will choose random applicants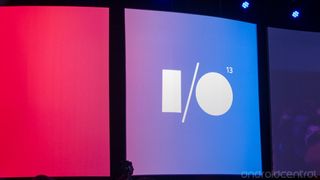 Good news for folks who have been shut out of the Google I/O developer conference in past years. This year, things are going random. As in no more first-come/first-served, sold-out-in-60 minutes schemes.
Here's the deal: You'll be able to register from 5 a.m. PDT April 8 to 5 p.m. PDT April 10. Google will then choose applicants at random, and send ticket confirmation emails thereafter. It doesn't matter whether you registered first, or last.
Google I/O takes place June 25-26 in San Francisco. General admission tickets are $900. A limited number of academic tickets will be available and cost $300.
Google's new Google I/O website is also live. And it's glorious. As it's done in previous years, many of the tracks will be streamed live, so you won't miss out if you can't be at I/O. Plus there will be "extended" events around the world, so you can watch with friends.
Source: Google Developers
Ed. Note: Google's announcement initially said registration would be open April 7-9. We've edited to reflect the correction.
Get the Android Central Newsletter
Instant access to breaking news, the hottest reviews, great deals and helpful tips.
I'd rather watch it live. Seems like it's going to be like winning the lottery in order to go. That being said, I can't wait to see what Google has for us this year! Nexus 5...enough said

I wish they would only allow developers or press to go. Seems like most people try to go just to get free stuff and aren't actually interested in learning in the developer sessions.

Why even let the press in? It's a developer conference, not a press conference.

Good point.Maybe just give out press invites to the opening keynote. Then the press can report about all the new stuff announced but not take up developer slots in the classes.

Thats partially why they are changing to this sign up scheme. They had spoken about not allowing the people who go for the purpose of getting items to resell, they kept track of that stuff. I'm not a developer, but I am a student and was hoping to go to get some real knowledge while there and to learn from the other developers who are already making it big in the play store.

No offense, but if you want to learn, a Google I/O is not the place for you to be. There are tons of websites and information on the Internet that would be more than adequate for you to start with. Google I/O is about introducing new APIs and doing hands-on labs with these new APIs. It's not a forum for learning beginners how to program. I didn't mean to let it come out this harsh - what I mean is: if you wanna learn, there are plenty of free places. You won't learn much at a Google I/O if you're not an experienced programmer.

How much are tickets usually? Posted via Android Central App

I think I remember seeing something like $7-900 past years.

900 for everybody, 300 for academic discount. This is because google i/o isn't for everybody, just for people that heavily invested in gogle ecosystem Posted via Android Central App on my Nexus 7 2013

If only they also held a simultaneous one on the East Coast. I can't fly out west just to see an event. Unless they hand out free chromebook pixels.
Posted via Android Central App

With a $900 general admission price, unless you live locally you're going to shell out more to attend the event than you'll get back in giveaways, even if they did give away a Pixel. Factor in airfare, accommodations, food, and incidentals. It's not worth going just to experience some Google swag "Oprah" moment. If I went, it would be to actually learn something. I'm quite sure that's the intended purpose for the developers who are the target audience.

+9000 to the last two sentences. Posted via my "Gift from God" Note 3, my "Blessed" iPad Mini 2, or my "Risen" Asus ROG"

Yes. If you wouldn't be able to [legitimately] claim attendance as a business expense, then you probably don't belong there in the first place. I sure as hell don't belong there, so I'll be very content to just watch a few cherry-picked live streams.

+1 Same here. I can't wait to stream it! Posted via my "Gift from God" Note 3, my "Blessed" iPad Mini 2, or my "Risen" Asus ROG"

Just one more way for Google to exert control over 'free' and 'open' Android. Slash S Posted via Android Central App using an LG G2.

^ That's got to be the most stupid thing I've heard all day!! Posted via Android Central App

Please tell me you saw the "slash s?" It's clearly sarcasm, lol. Posted via my "Gift from God" Note 3, my "Blessed" iPad Mini 2, or my "Risen" Asus ROG"

This is good news (death to the scalpers and freeloader douches), but *verified* developers and press still should have been given priority, even if that meant paying more than "general admission" price for the random ticket to secure a spot.

i hope Google has more to reveal than just for developers. What about the future of Google Fiber and Glass? Or how about finally opening up your own physical store for once? You can't stay shut off from the real word forever Google.

For a 3 day conference that's a good price.....

"In Google We Trust" Posted via Android Central App

Ditto it should only be for verified developers...it's a *developer conference*, isn't it?
It's not "schwag day" or "press day". Hope they're smart enough to block people who register w/ a gazillion email addresses :-P

Only certain ppl will be choose for the ark I'm going to reference movies all week Sent from my Nexus 7 2013 or iPhone 5