Google Home is even more useful with support for new services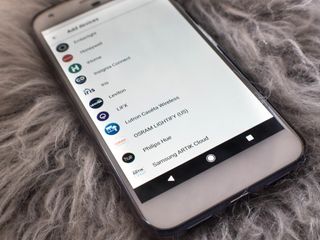 There are so many different smart home startups out there attempt to do their part to contribute to the ever-growing ecosystem of connected devices. And the Google Home, which is meant to be used exclusively inside your dwellings, now supports a few more standards to make it easier for you to control those third-party products.
Originally discovered on two different Google Support pages by Android Police, it's now plainly stated that Google Home supports iHome, Leviton, Emberlight, and Samsung Artik Cloud connected devices. This means that a whole host of smart plugs, smart switches, and outlets are now supported by Google Assistant, so you can shout out Okay, Google! to start commanding the different devices around your home. Note that if you use the Samsung Artik Cloud, the Legrand smart hubs are currently the only product supported.
Curious to try the functionality for yourself? The services are now available in the Google Home app (opens in new tab).
Florence Ion was formerly an editor and columnist at Android Central. She writes about Android-powered devices of all types and explores their usefulness in her everyday life. You can follow her on Twitter or watch her Tuesday nights on All About Android.
How about sonos integration? Any word?

As soon as Sonos adds support for Google Cast you'll have your integration... Until then you'll need a Chromecast Audio.

Back in January, the new CEO Patrick Spence said it was coming. That's the last they've spoken of it.

Does it integrate with their own service Google Apps yet? :::: rolls eyes ::::

Patience my man, patience. Google is working on it.

How about White Rodgers Sensi thermostat support?

I've had a WeMo smart plug on GH for a month now? You should be fine!

Wemo Light switches work too - I've got three and they're great. I think it's just Wemo Lights that aren't yet supported.

Sure just like the bixby. I got better things to do than yell at the walls .

I can't see any real use for this app, because I can't really see the need for network addresable lights and switchs and other such toys. There is Zero savings to had here. You'll waste more power maintaining wifi connectivity than you would save by turning lights you mistakenly​ left on.

It's actually pretty good at giving you cooking directions once you speak to it properly​. Timers are great, random questions , laying out your day, traffic. Playing a movie on the TV. Very helpful and nice not to be distracted by the phone.

You obviously have NO idea what you are talking about. You do NOT speak from experience, and make a stupid attempt at an argument. Get a clue before engaging your keyboard.

I'll stick with Amazon Echo because if I say "ok Google" 2 phones and a tablet will come to life.

More people have Android phones than iPhones. And definitely more Android phone owners use Google home than Apple users. Google Home was developed by employees who carry Google phones lol. Obviously they thought of that before Google home ever came out. If Google home hears you then it takes priority over your phone or watch. I own all three.

You can say "Hey Google" and the devices won't fight over your voice, only the Google Home will sense it. And I have to ask: you carry around that much equipment with you at all times?

I have two. They work well enough most of the time but they have been wonky. If I have music playing on both of them (grouped) and change playlists via the home app on my phone, playback only resumes on one. I'm thinking they need a major update. That's what gives me hope. Google stuff tends to improve so long as Google keeps at it. Like OnHub and the Chromecast.
Android Central Newsletter
Get the best of Android Central in in your inbox, every day!
Thank you for signing up to Android Central. You will receive a verification email shortly.
There was a problem. Please refresh the page and try again.