Google Home can now be used as an intercom with Broadcast feature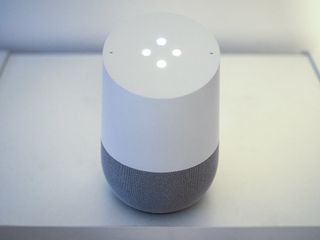 Alongside the Pixel 2, Pixelbook, and all of its other hardware announcements, Google also used its October 4 event to unveil a host of new features coming to its Google Home speakers. A lot of these were simply said to be "coming soon", but the new Broadcast feature that was announced is officially rolling out now.
You might have had a home intercom system if you grew up between the 70s and 80s, and that's exactly the kind of functionality Broadcast offers. Simply tell your Google Home, "Ok, Google, broadcast" and then whatever message you'd like, and your voice will then be played on all Google Homes connected throughout your house.
For example, you can say "Ok, Google, broadcast it's time for dinner" to get everyone's attention that it's time to eat without having to holler up and down flights of stairs – something every parent has likely had to do once or twice.
You can use Broadcast for all sorts of messages, but for common, everyday things, Google Assistant will play a charming message rather than your voice. For example, saying "Ok Google, broadcast it's dinner time" will play a dinner bell sound on your Google Homes.
In addition to using Broadcast while you're home, you can also use the feature on your phone with the Google Assistant to do the same thing. If you're just getting out of the office and want to let your family know you're on the way, get your phone, say "Ok, Google, broadcast I'm on the way home", and your message will be sent to all of the Google Homes back home.
Broadcast is rolling out now to users that have Assistant on their Google Home and phones set to the English language in the United States, United Kingdom, Canada, and Australia with more languages scheduled to come out "soon."
Get the Android Central Newsletter
Instant access to breaking news, the hottest reviews, great deals and helpful tips.
Joe Maring was a Senior Editor for Android Central between 2017 and 2021. You can reach him on Twitter at @JoeMaring1.
That is cool. It will also be creepy to get a random unannounced broadcast if you're home alone.

Just tried... Doesn't work yet for me away from home.

Doesn't work for me in Australia yet

Was 'coming soon', now 'coming soon, really'. Why can't any tech article ever talk about something that works at the same time I get to read the article?

Because that is how rollouts work. A news site wouldn't be very useful if they waited until everyone already had something to report on it.

So, uhh.. an Intercom is a two way communication device. Broadcast really isn't an intercom.

No, it's more like group messages. Think about it. One person broadcasts one thing, you can broadcast a response. And so on, do not do this at Grandma's.

The broadcast feature is nice but it really needs 2 way communication to catch up to Amazon.

It will be awesome when you can broadcast those messages to other google assistant users whether it's through a phone or home device. We are really starting to see the beginning of the many things google assistant can do

It would be great if you could just use the phone as a home device 100%, not just sometimes.

Doesn't work for me on either my phone (Pixel 2 XL), or from Google Home to Google Home. Both Homes I have are updated to the latest firmware too. Maybe there's a rollout coming.

This is pretty cool I squeeze mi Pixel 2 XL and say broadcast its dinner time... The notification plays on my home and my home mini my only concern is the volume is very low...
I am not able to find any volume settings in the home app, any suggestions?
I have increased alarm volume but that did not do it...

'more languages scheduled to come out "soon."'... I've waited over four years to talk to my phone in Swedish. Apple did it over two years ago... Google is supposedly the best language company out there, WHAT'S UP!?

Most of the time, they don't seem to care. It's such a US-centric company that they don't realize there's an entire world out there. Only when they're in trouble with the EU or something along those lines do they seem to realize that the US is not the world.

Seems silly they didn't enable direct intercom features. I sure it will come in time but that would be more useful in most cases.

So broadcast only.. no one to one yet? I'm thinking about getting my kids each an echo dot in their room but if Google Home has it I might hold for them.

It would be cool if you could use the Home as a baby monitor.

Kept trying this only because I wasn't sure when it would be working. Thanks for the official word AC :)

Wish you could specify which google home you want to broadcast to if you have multiples.