Google is giving social networking another try with Shoelace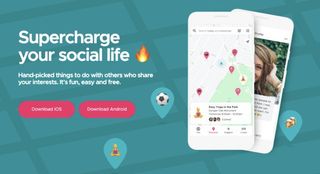 (Image credit: Google)
What you need to know
Google is trying out a new hyperlocal social networking service called Shoelace.
Shoelace will be used to help you plan activities or events for your friends and meeting new people.
It is currently only available in New York City and requires an invite.
Google may have shut down Google+ back in April, but its new app Shoelace (opens in new tab) shows it hasn't given up on social networking. If you were hoping for a G+ replacement, then you'll be disappointed, Shoelace is a hyperlocal social network designed to help you meet up with people in real life for events.
With Shoelace, you can create a listing for an event or activity and invite friends or strangers to join in. It will also suggest events that you might be interested in joining.
Shoelace is launching first in New York City and available for both Android and iOS devices, but you're going to need an invite if you want to try it out.
This latest attempt at social networking comes out of Google's Area 120, an in-house incubator for experimental projects. Area 120 is responsible for giving us the Smart Reply feature seen in apps such as Gmail.
Could Shoelace be their next hit? Maybe, or maybe not, because this isn't the first time Google has attempted a hyperlocal event-based social network.
Back in 2011, it launched the short-lived Schemer. Much like Shoelace, it started out as invite-only and was used to help people meet up for live events and activities. In fact, it appears much of Schemer laid the groundwork for what is now being called Shoelace. However, the service never took off and it was shuttered in 2014.
Perhaps 2011 wasn't ready for hyperlocal social networking and 2019 is the right time to try. Only time will tell.
Goodbye, Google+: How Google's social network changed my life
Android Central Newsletter
Get instant access to breaking news, the hottest reviews, great deals and helpful tips
Terrible name, also i think Google has created a bit of a self fulfilling prophecy for itself... People won't join because they expect it to be cancelled, and because no one will use it, it will be cancelled. The effect gets compounded as the cycle continues.

Yep nail on head. How many Google services do even loyal fans/users truly trust? Other than the core services I wouldn't put all my eggs in any of their baskets. Google Photos/Drive for example is great but I still pay an extra subscription to Microsoft OneDrive to back up all my media and files...just in case

It;ll be canceled in a year

I'll give it 3 years - then poof -

"Could Shoelace be their next hit? Maybe, or maybe not" It will be their next thing until they decide to not support it anymore and then let it go to pasture to die.

I just wish that Google would be able to purchase WhatsApp from Facebook...

It doesn't sound like a very good idea but who can tell what will be a hit. Nah this is going nowhere.

I guess you can tell it will be nothing since you proclaimed it is going nowhere. ;-)

It is only my humble and somewhat bewildered opinion. Did you have a point?

Man remember when they had a very similar item called Google+ back in the day? Google just needs to stop, but I am sure they will kill this off a year or two down the road anyway.

Checked calendar. Not April 1. WTF?

This is only good for certain things. Hobbies or lifestyle events. For example finding cigar events in your area of you are a cigar smoker.

No thanks. They'll put their unethical MLfairness bot on it, and destroy it with their politically motivated censorship.

Brought to you from area 120 who created smart reply, any one use smart reply in gmail?
Android Central Newsletter
Get instant access to breaking news, the hottest reviews, great deals and helpful tips
Thank you for signing up to Android Central. You will receive a verification email shortly.
There was a problem. Please refresh the page and try again.