Google is focusing on 180-degree video for VR headsets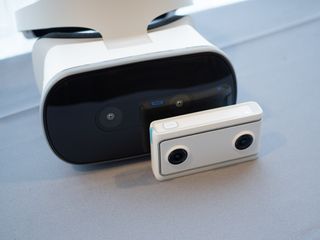 For several years now, 360-degree cameras have been seen as the best way for consumers to capture something for VR. It started with Photospheres, and slowly the cost of multi-sensor fisheye sphere cameras came down enough that it was reasonable for people to pick them up for fun. And it's true, you can have a lot of fun capturing a 360-degree photo or video to share on Facebook.
Sharing on Facebook or streaming live to Twitter are very different experiences from recording something that is fully enjoyable in a VR headset. To do that well, you need depth. To capture depth, at least in video, you need a second camera to act as the other eye. This year Google is working with multiple manufacturers to make capturing for VR in the less common 180-degree format much, much easier.
Meet VR180
Lots of VR events are recorded professionally now with special 180-degree cameras, including NFL and NBA games through companies like NextVR. These cameras fully immerse the viewer in what is happening directly in front of them, but there's typically nothing going on when you turn around with the VR headset on. The advantage here is you can sit still and become absorbed in what you are watching, instead on constantly being on the edge of your seat in case you need to turn around to follow the action.
Google has worked with several camera manufacturers to offer several options for VR180 capture later this year, offering a special app that works with many of these cameras out of the box. This new VR180 app will make it easy to connect to the cameras and share what you've captured quickly. These cameras are all designed to be held almost like a phone or rested on a tripod, and when you hit record everything on the sensor side of the camera is recorded. This allows the camera operator to hide a little, eliminating those awkward super up-close selfies and constant shots of the knuckles of whoever is holding the camera.
You can expect to see these cameras later this year:
Lenovo Mirage Camera
This camera is designed to be highly portable and very easy to use, with single-button activation for photo, video, and live broadvcasting. Wi-Fi Direct is built in so you don't need to connect to your phone to upload or share your photos or videos, but you can and the connection will be faster and more stable than Bluetooth. If you do choose to connect to your phone, you'll be able to use Google's new VR180 app to act as the viewfinder.
Lenovo boasts this camera weighs in at just 139 grams, and small enough to fit in your pocket. Expect to see it on shelves in Q2 of this year for under $300.
YI Horizon VR180 Camera
The second consumer-focused VR180 camera working with Google makes it easy to interact with the new VR180 app for quick sharing and livestreaming. This camera is expected to be available later this spring, and we'll add more details as we get them.
Google is also working with LG, Panasonic, and the Z Cam K1 Pro for a few different options for every kind of videographer, all expected to be ready later this year.
Get the Android Central Newsletter
Instant access to breaking news, the hottest reviews, great deals and helpful tips.