Google Fiber to expand its 1Gbps Internet and TV service to San Antonio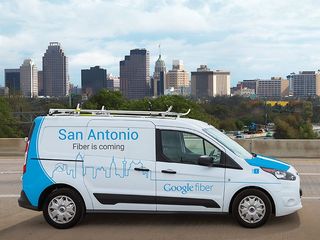 (Image credit: Google)
Google will expand its Google Fiber service to the 1.4 million residents of San Antonio, Texas. It will be the biggest city yet to receive Google's 1Gbps Internet and TV service.
Google states:
Google Fiber is currently available in Kansas City and Provo, Utah and recently went live in parts of Austin, Texas. Google plans to expand the service to Salt Lake City, Nashville, Atlanta, Charlotte and Raleigh-Durham in the future.
Source: Google
Fiber is years away from my town, we are one of many cities that is limited to one choice for "decent" speeds.

CymytI live in the country,and my only choice is a 1.5m dsl line

I'll be wearing adult diapers and looking forward to Bingo night by the time they get this rolled out to San Diego. Posted via the Android Central App

I don't understand why google wont expand to high population cities.
This is the first fiber city which has a population of over a million.

There's a lot of political red tape they have to go through. I remember years ago they were trying to get it here in a small/medium size Indiana town, and government officials shut it down quickly. Posted via Android Central App

Exactly, everyone complains about Internet and cable service having little or no competition in their cities. Look no further than your local politicians. Posted via the Android Central App

This! Texas also has superb cell coverage in most areas on most carriers because you can put up towers fairly easily and upgrade your networks when needed. HD voice on ATT for instance in DFW kicks **** Posted via my Galaxy S6!

Because a couple bigger carriers, cable powers and other special political entities have special interest to keep prices high.

All the politicians have to do is loosen the restrictions and not accept the kickbacks. It's on them. I have Comcast in my area, I'm sure Charter would love to be able to get in the door. http://www.wired.com/2013/07/we-need-to-stop-focusing-on-just-cable-comp... I'm sure there are opposing views but something to think about. Posted via the Android Central App

How can I get a job installing this? Posted via the Android Central App

Really wish they would expand to Dallas area. It's such a huge market I'm sure it would be well worth the investment Posted via the Android Central App

Google fiber is just available in few streets in Austin, and we're talking about expansion. They will go and launch in one street in San Antonio again Posted via the Android Central App

A lot of the reasons for choosing a area for installation, comes down to existing infrastructure and politics. Unfortunate realities. Posted via Android Central App

I hope this spurs more innovation in other providers.

I see what you did there MIC DROP

The fact is Google Fiber is a very small service and always will be. There is too much money and politics preventing them from ever becoming a nationwide service everyone could have access to. It;s kind of annoying when people compare Comcast or whoever to Google Fiber when the scale of each operation is so extremely different. It's like comparing Japan's internet to the US. The area alone makes the comparison unfair.

+1 Posted via the Android Central App

Come to NY and I'll switch instantly Posted via the Android Central App

Wait, how is San Antonio bigger than Atlanta?

San Antonio's population is three times that of Atlanta's. A lot of people don't realize how big San Antonio is, and how fast its growing because when you think of Texas, you think of Houston and Dallas as the large metro areas. San Antonio is catching up quick, through Posted via the Android Central App

It's true Atlanta city limits is smaller than San Antonio's, but the metro area has twice the population. There are 13 people who say they live in "Atlanta" for every one in the city limits. That's why Fiber is coming to 9 different municipalities in Atlanta - because that's how the region is structured. That being said, I added up the population covered by San Antonio city limits to those 9 cities and it's 1.4M to 718k.

Because San Antonio annexes everything, or use to. I am from there. I think if you look at metro area, Atlanta is larger. So much building and growth going on in DFW right now, that fiber will have to get in line. Not to mention fios and u-verse have a hold on local markets and do not allow competition. Posted via my Galaxy S6!

Our city, San Antonio, is the 2nd largest in the State , many people don't know that.

Atlanta is actually a pretty small city unless you include the metro area. I lived there for 7 years and still live less than an hour away.

The traffic in A town is not small! Posted via my Galaxy S6!

Oh trust me I know! I lived in midtown, and half the time Marta was faster than driving.

Dallas and the suburbs, please! Please, please, please!

Hey Google: I have your perfect toehold for the DFW Metroplex: Arlington TX. Tie it in with the Rangers and Cowboys and make it a thing posthaste!

I live an hour away from San Antonio! I have horrible 1.5mbps Internet in my rural area!

I wish it were coming to Houston! That being said, I noticed Comcast putting in fiber lines near my home. Looks like 2 Gbps Gigabit Pro is coming soon! Posted via the Android Central App

I doubt it will, considering the hold Comcast and AT&T Uverse has on Houston overall. Tis the reason I'm seeing nothing but ads for their respective fiber services. Cynicism Evolved

The sheer size of Houston is the problem. I'll be getting 250 Mbps or 1 Gbps service though once Comcast goes live here in Energy Corridor. Supposedly that'll be before the summer ends. Posted via the Android Central App

Yes!!!! I love living in this big hot city. Bring It!!!!

Awesome, just after I move from there. Well, not many seem like Nebraska, so looks like I'm stuck with Cox for the next 100 years :-) Posted via the Android Central App

It'll never come to Duluth, MN despite the city size of around 87k. I'm happy with my 60 Mbps charter connection though. LG G2
Nexus 5
Android Central Newsletter
Get the best of Android Central in in your inbox, every day!
Thank you for signing up to Android Central. You will receive a verification email shortly.
There was a problem. Please refresh the page and try again.