Google doesn't have to make big changes for the Pixel 4a to be great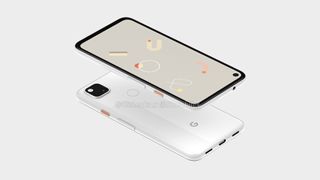 (Image credit: 91Mobiles / @OnLeaks)
Google's somewhat-odd staggering of its phone releases, with months between the flagship-level Pixel and the mid-range "a" version, introduces an interesting dynamic. We all have lots of time to analyze the latest high-end Pixel and wonder what features and design elements will be carried over to the cheaper model. This year, with the Pixel 4 and 4 XL being rather divisive in their value proposition, lots of people have immediately shifted to wondering what Google can bring to the table in the value segment with the Pixel 4a.
But here's the thing: Google doesn't really have to do much, or make a bunch of changes from the Pixel 3a, in order for the Pixel 4a to be a success.
As a mid-range phone with a reasonable price, the Pixel 3a is already focused on value and not being on the bleeding edge of specs and features. By design, if you're selling a phone for about $400, you're going to have compromises — and buyers don't expect to get everything. And that gives Google (or any other company) the leeway to be strategic about what to upgrade from generation to generation. You don't have to upgrade the screen, cameras, speakers, processor, memory and storage all at once — you can pick one or two to focus on, and that's plenty, so long as the upgrades are notable.
The Pixel 3a and 3a XL (opens in new tab) are already great, even now several months on, and that means Google really doesn't need to feel the pressure to change things just for the sake of being new. It just needs to tweak and upgrade where it's cost-effective to do so and leave the rest as-is. Just because it isn't "all-new" doesn't mean the Pixel 4a won't be well-received or a great phone.
Early leaks point to the Pixel 4a getting a new screen, a slightly tweaked overall design, and a new processor. The rest of what we've seen is the same as the 3a: a headphone jack, a capacitive fingerprint sensor, a great single camera, the latest Google software, 4GB of RAM and 64GB of storage ... and purportedly, the same $400 starting price. That means no Motion Sense or face unlock, and no extra cameras or noteworthy features. But that's the perfect formula; make a few solid changes, leave the rest of what worked to continue working, and charge the same price.
I'm not saying you shouldn't get excited for the Pixel 4a. I'm saying we should get excited for the right reasons: for what it's likely to bring is a complete package at a great price, even if that's not massively improved over the 3a. And we need to understand that means there isn't a whole lot to read into leading up to its announcement; I wouldn't be surprised in the least if what's already leaked is all we should expect in the 4a when it's announced.
The best part of the Pixel 4a is likely to be the same as the Pixel 3a: getting the basics done incredibly well, pairing it with an awesome camera and slick Google software, and doing it at a great price. I'm happy with that.
The current mid-range champ
(opens in new tab)
Still a phenomenal value several months on.
We're now eagerly looking forward to the Pixel 4a, but the Pixel 3a is still worthy of consideration. It has an impressive spec sheet, takes gorgeous photos, and will keep getting updates and security patches through May 2022. It's also come down in price since its initial release, making it even more affordable.
Andrew was an Executive Editor, U.S. at Android Central between 2012 and 2020.
I use the 3a XL and I've had a very positive experience with it. So, am I interested in the 4a, yes absolutely. I paid 4oo.oo bucks tax included. For what it offers, it's a very good phone. I'm hoping they use the 765processer, I think that would be a great addition. Losing the bezels would also be nice. Hopefully they continue the XL model, I like the larger display & bigger 🔋. Keep the price at 399.oo and they will sell boatloads!

I think the problem we'd have if they used the 765 chipset would be the price increase. Having the 765 would mean including 5G, so I think it may just be the 730.

I use a 3a XL and I agree with most of this. I think the bezels are fine as it is really... I don't really understand the obsession with screen to body ratio these days. Improving the battery and display size would be welcome though. maybe display brightness too. I'm indifferent about the processor.. 3a XL already feels fast enough running android 10. Anything else would be a bonus.

I have a 2XL and I am keeping an eye on the 4a.
I really hope it gets an updated mid-range SOC (76x hopefully), UFS instead of eMMC, and 6 GB of RAM.
But I suspect that one of those won't make it (RAM, storage or both) since they are already updating the screen.
I assume that the SOC upgrade is granted.

Yeah, there's not much to change. Increase ram and storage, minimize bezels, a Snapdragon 700 series chipset, and retain headphone jack and Finger Print Scanner. I'll probably wait it out for the 5a ultimately but if the 4a knocks it out the park it'll be on top of my list for phones to purchase.

I'd love for it to have 5G to take advantage of T-Mobile's 600Mhz 5G for coverage.

This is shaping up to be a great year for upgrading in the mid-range. The Pixel 3a will be at its lowest price once the 4a launches. Also Moto is gona have a strong showing with the G series and Samsung has attractive offerings in their A line. Now if only LG would would step up and offer something great. LG has the cachet to be killing it in this segment if they would just try. Better than being an also ran in the top tier.

Neither Moto with their lack of software updates not LG with their skinned Android will be shoo-ins for those who want stock + updated Android. Moto surely lost whatever good will they may have still had by their pathetic maintenance of their One line, which now isn't even Android One, yet retains the deceitful moniker

Without expandable storage, anything less than 128GB makes this a non-starter for quite a few people, i'm sure.
i'd rather take whatever mediocre device Nokia offers that comes with more onboard storage, expandable storage AND headphone jack instead

Maybe I'm crazy, but somebody should tell the pixal3a is not a flagship. Because with Google's software it certainly acts like one. Consumer's should rejoice your getting a whole lotta phone for the 💰! Plus go find another mid-range device with the camera it sports!

Still going to be more expensive than I'm willing to pay these days. About $600 Canadian. I'm still using my Pixel 2 and Moto G7 power, both do the job. I'm just not into spending a tonne on phones anymore. Not enough of a performance difference to justify anything over around $350 Canadian.

I think mid-rangers have gotten so much better in the last year or so it's like you don't have to spend a grand to get a very good phone. Case in point the pixal3a or 3a XL. Even the Samsung A50 offers much for 💰! All three all a good buy...

I agree there isn't much needed to upgrade the 4a to make it a hit. 64GB a 7 series (765 please) chip along with some qi charging would be killer. Everything else pretty much stays the same.
Android Central Newsletter
Get the best of Android Central in in your inbox, every day!
Thank you for signing up to Android Central. You will receive a verification email shortly.
There was a problem. Please refresh the page and try again.