Google details how YouTube Music's upcoming library upload feature will work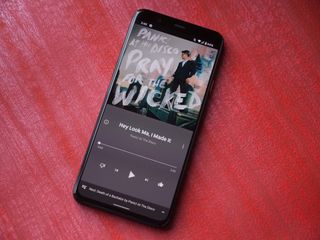 (Image credit: Joe Maring / Android Central)
What you need to know
Google will soon allow users to upload their music to their YouTube Music library.
The feature isn't available yet but a support page explaining how it works is now live.
Supported file formats for music uploads include MP3, M4A, OGG, WMA, and FLAC.
Earlier this month, it was revealed that Google would add support cloud locker functionality in an upcoming version of YouTube Music. While Google hasn't started rolling out the feature to users just yet, a support page with all the details went live today.
As per the support page, users will be able to upload their music only on a computer. Initially, at least, the music upload functionality will not be available in the YouTube Music mobile app. However, users will be able to view and manage their uploaded music in the YouTube Music app, provided you are running version 3.51 or newer.
To upload you music, you will simply have to drag the files to any surface on music.youtube.com. Alternatively, you can visit the YouTube Music website and click on your profile picture > Upload music. The list of supported file formats includes MP3, M4A, WMA, FLAC, and OGG. Once you have upload your music, you will be able to play them add-free and offline — even if you do not have a YouTube Music Premium subscription.
The support page also confirms that Google will allow users to "seamlessly transfer" their entire Play Music library before it gets replaced with YouTube Music.
YouTube Music Premium
A YouTube Premium subscription gets you access to millions of songs as well as music videos without ads. Additionally, you can download songs and videos to your phone for offline listening and even have music playing while using other apps, using the background play feature.
Hopefully uploading will be bug free. I have a lot of issues getting GPM to actually upload files even when it says it's doing it. It's very finicky. I have to uninstall the chrome extension several times every time.

Only thing at this point they need to do is to migrate existing libraries from Google play music to YouTube music. Once they do that then I believe YouTube music will take off in the Android world.

This right here. I've had GPM successfully mirroring my files for years. That collection was what drove my Google Home purchase. You would think that this sort of migration would be a no brainer, particularly since Amazon took away the ability to upload your own stuff.

The support page does say "If you are looking to transfer your entire Google Play Music library, stay tuned – we will be providing a way to seamlessly transfer your music. Nothing is changing with Google Play Music right now. When we do replace Google Play Music with YouTube Music, we'll be sure to give you plenty of advance notice"

GPM currently downgrades uploaded Flac files to MP3. I wonder if YouTube Music will do the same or if it will keep the original. Another big piece of information missing from the support page is whether there are limits on number/size of uploads and, if so, what those are. I do hope that they adapt the GPM uploader application that automatically watches folders and uploads (or matches) new music. This is going to be of limited use to those of us with large collections if we have to upload everything through a browser.

Of course they will. They aren't going to provide 3-4x as much bandwidth for free. They're already doing you a favor. If you want FLAC Audio playing over HQ Headphones, then you need to get a phone with lots of storage and store the files locally - or use a vanilla cloud storage service. Personally, I find this app terrible. Playback volume is noticeably lower than the Samsung Music App to put the volume on my phone (only using this on Android to test it) above "Blue" to get a decent volume. Almost nothing has Lyrics that I've seen (so far). Not even songs like Adele's "Hello" or Amy Winehouse's "You Know I'm No Good."

"The support page also confirms that Google will allow users to "seamlessly transfer" their entire Play Music library before it gets replaced with YouTube Music." This is the saving grace. I would not have committed to YTM if I'd have had to upload everything from scratch and build my personal playlists again.

Will we be able to listen to our uploaded music with the screen off if we don't subscribe?
Android Central Newsletter
Get the best of Android Central in in your inbox, every day!
Thank you for signing up to Android Central. You will receive a verification email shortly.
There was a problem. Please refresh the page and try again.