YouTube Music will soon let you upload your entire music library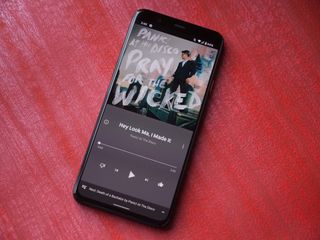 (Image credit: Joe Maring / Android Central)
What you need to know
YouTube Music will soon let users upload their music library for cloud storage.
This was an original Google Music feature and Google Play Music users will port their library to YouTube.
The transition is expected to happen in the next few months, with the end of Google Play Music in 2020.
Google sources have let slip to 9to5Google that the transition from Google Play Music to YouTube Music will take a major step soon. YouTube will soon gain the ability to store a user's entire music library. Internal beta testing of the feature has begun across platforms using the YouTube Music service, sources say.
Uploading a user's music library was an original feature for Google Music, later Google Play Music, and YouTube Music will incorporate your music library if you already uploaded it to Google. 9to5Google reports that Google Play Music users will be invited to port their music collection to the new YouTube Music within the next few months. Google Play Music is expected to shut down completely in the second half of 2020.
Legacy users from the iPod days will certainly have a large music collection on digital files, but we wonder how many newer users, who started collecting music in the last few years, will benefit from this feature. This seems more like an effort to smoothly sunset Google Play Music. Google Play Store and other Google Play features won't be disappearing, so this just shows the strength of the YouTube brand, especially when it comes to music listening.
I canceled Spotify and used YouTube Music for a month — here's why I'm not going back
This is great news to me. I transitioned from gpm to ytm a couple months ago and really miss the mixtapes and random albums not on ytm.

I've got somewhere around 30,000 songs uploaded to gpm. I just hope they allow more than 1,000 songs in a playlist

Good stuff. I have out of print stuff on CDs so I used the upload feature to get the music in the cloud. My CD player broke years ago. Havent replaced it. Don't think I will.

I still have concerns will the service end up like Groove music that Microsoft eliminated to give Spotify a boost.

Some of us DO have music library to upload. I have about 35K tracks uploaded to my Google Music locker...hopefully the transition over to YTM is seamless and no need to re-upload all my music. I don't care about Pandora, Deezer, or any of those other streaming music apps. I like listening to my own music. I have a subscription to a bunch of genres from Promo Only so I'm set with a lot of music :) #CoolStoryBro

I am 1000% not interested in Spotify, Pandora or any of these "music as a service" products. I want to buy music, download it to my devices and listen to it without running up mobile data charges. So if YouTube Music is going to replace Play, it had better be just as good at managing my library.

Great news. I still buy all my music, physical or digital, so it's a must have feature

I'll echo everyone else in the comments. Tens of thousands of my own music files are uploaded to GPM currently. And that's essentially all I listen to. This is a necessary feature for me to switch to YTM. Otherwise I'd be looking for another solution.

This feature being missing is why I refuse to install and use YouTube Music. It's annoying when Google releases new apps instead of just maintaining and incorporating new features into established apps (Gmail/Inbox, Hangouts/Allo).

Here's my problem. YouTube music stops playing if you minimize the app whereas Google play music doesn't do that.
Android Central Newsletter
Thank you for signing up to Android Central. You will receive a verification email shortly.
There was a problem. Please refresh the page and try again.