Google Contacts syncing not working for some users — here's how to fix it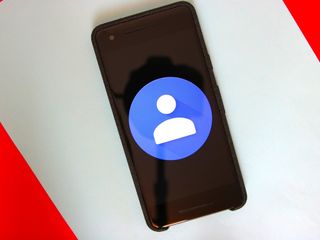 You might not consciously think about it, but chances are you use Google Contacts every single day. It's a fairly unexciting service, but it's also one of the most important when it comes to communication. Unfortunately for some users, one of Contacts' biggest features – data syncing – simply hasn't been working.
If you're affected by this bug, you'll see that contacts that are saved to Google Contacts aren't showing up on your phone as they should. This is something that appears to only affect devices running Android Oreo (both 8.0 and 8.1), and users have been reporting it on Google's Product Forums, Reddit, and even our own Android Central Forums.
Community Manager Orrin on the Google Product Forums says that he'll be reaching out to Pixel users to gather bug reports and other information, but if you want a fix right now, Ambassador and Moderator of the Android Central Forums, LeoRex, has something for you to try out.
Per LeoRex's findings, the bug stems from contacts that have been added through Google+. When you add a contact this way, the profile URL for that entry in Google Contacts is a web link for their Google+ profile. You'll be able to see this contact when viewing Google Contacts from Chrome or on your computer, but not through the Contacts app on your Android phone.
To fix this, head to the Google Contacts website, find any contacts added through Google+, and remove the profile URL that's there. Once the contact is saved, it should show up on your phone like normal.
Responses to LeoRex's solution are all positive so far, so if you're running into this bug, it's worth giving this a shot. We're still waiting on an official fix from Google, but in the meantime, this should work just fine.
Google Pixel 2 on AT&T gains AT&T gains HD Voice with Oreo 8.1 update
Get the Android Central Newsletter
Instant access to breaking news, the hottest reviews, great deals and helpful tips.
Joe Maring was a Senior Editor for Android Central between 2017 and 2021. You can reach him on Twitter at @JoeMaring1.
Any easy way to do this or do we have to look at each individual contact?

One faster way would be to export your contacts as a csv, delete the info in that column, save it and then re-upload the contacts to Google.

Try to clear the data of the contacts-storage app.

I was on the phone with Google for two hours and we never figured it out!

That's cuz I'm awesome... Aquila said so

Alternate fix is to go through G+ contacts on contacts website and favorite them. They will then appear on your favorite lists and stay after you remove them. I figured it out by accident myself.

even easier: go to settings > apps & notifications, tap the 3 dot menu, select show system. now go to contacts storage and clear cache and data, then they will resync intact.

Didn't work for me, I tried it.

I turned off and turned on automatic synchronisation on my tablet with 7.1.2, then tap couple of time on contacts to synchronisation and back to my phone and tap to synchronisaton as well.

This won't work. The problem isn't with the sync process, it's with the contact record. They had to have made a schema change and anything with a URL must throw kind of exception error and it won't commit the record. If you try to add a contact in the phone with a URL, you'll see it for all of 2 or 3 seconds before it vanishes.

It's not just Google+ contacts. My boss had this issue and he's never been on Google+. What he found was some of his contacts had a Facebook URL in them. He removed them and sync started working

LeoRex, you're legend _/\_ Thanks for the solution man really appreciated! <a href="https://dltutuapp.com/">Tutuapp</a>

I thought I was insane. I haven't lost a contact since the G1 and ten or so were missing when I flashed 8.1 official.

I have 30 contacts missing including myself, my wife, and daughter and other family members. I thought that was a link but a recently added bank is also missing. Some do not have any hyperlinks/urls in them

Went into Google Contacts website. Deleted the nicknames inn missing contacts and they immediately appeared on my Pixel C 8.1.

I went to my google contacts on my PC's web browser. Switched to the old interface. Selected all of my contacts, added them to a new "test" group. Then I removed them from the "test" group and it sorted everything out. My guess is that this somehow touches all of the contacts and updates them.