Google Calendar introduces month view ... again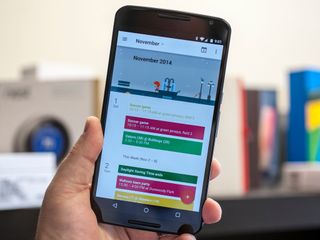 In an update that will be rolling out over the next few days, Google will bring back the month view back to the Google Calendar app. Back in February Google made a bunch of changes and improvements to Google Calendar, and they have received a lot of feedback. It appears as though people are interested in being able to look at the month on a calendar, and see how many appointments are on each day.
In addition, Google will be adding some other features that have been requested:
See even more events at a glance with Month view on phones.
See the color of events when jumping to a date.
Easily switch views now that they are listed in the navigation drawer.
The update should be available in Google Play shortly. If you are not currently using Google Calendar, and would like to give it a shot, you can download it here (opens in new tab).
Source: +Gmail
Jared started off writing about mobile phones back when BlackBerry ruled the market, and Windows Mobile was kinda cool. Now, with a family, mortgage and other responsibilities he has no choice but to look for the best deals, and he's here to share them with you.
Thank you Jesus! Posted via the Android Central App

I think if that guy was gonna make a calendar, it would be from wood. Or fish... Wubba lubba dub dub!

Nope, he would help you make one yourself

Or bread! Posted via Nexus 6, T-Mobile, and the Android Central App

Brilliant - because Google must have thought we were doing it wrong all these years..

There's not a "thank you" statement that states my emotions well enough for this. I was appalled that they ever took it away!

Damnnn how can someone remove this? i really don't get it
sometimes i hate you google

It wasn't removed as much as the app was redesigned and this hasn't been added back in yet.

+1 Posted via the Android Central App

i LOVE month views that include the actual EVENT TEXT like a paper calendar! i have been using the Jorte 4x5 Month View Widget for this purpose and will switch to the Google app IF this new Google Calendar update gives me a Month View WIDGET like the above pic on left. here's the Jorte view (see middle widget) - http://forums.androidcentral.com/attachments/pure-widgets/92098d13789377...

Yes it's about time. I have never used Google Calendar because you don't see any details in month view (when it was there). From the looks of it, still not enough detail on events in month view for me so I will probably continue to use Touch Calendar. Posted via the Android Central App

Can't please everyone. I wonder if illiterate people get the full effect of alphabet soup

i just checked the new apk. unfortunately, there is no Month View Widget.

Preach it! month view widget is an amazing thing

The new paradigm, don't update until what's been removed has been added back again.

They need a widget now. I paid $4.95 for DigiCal on my OnePlus because google didn't have a monthly view widget.

did you check out Jorte? https://www.androidcentral.com/e?link=https2F2F... The eyes, Chico. They never lie.

I did the exact same thing.. Now Idk whether to continue using DigiCal or go back .. 1st world problems.

https://www.androidcentral.com/e?link=https2F2F... This one is a nice month view and agenda of upcoming events below it. It's also free and only a widget so it's nice to use in conjunction with google calendar. You can pay for a key which allows you to adjust the look of it somewhat.

Unfathomable that it was even removed.. I already switched to DigiCal.. I dont think Ill be switching back. I submitted numerous complaint to Google about this. So you can all thank me for getting this done.

Tak! Posted via Android Central App

Soooo glad they added this back. Not having a true monthly view was annoying!

Thank God! Who had the idea of taking it out anyways? Removing the monthly view was ridiculous! They recently did the same thing with Google Drive and reverted back to the "shared with me" link (instead of it saying "incoming").

Oh thank [insert deity or lack thereof here]! That was the thing I had the biggest gripe about with the new design. Love the design, but the lack of a month view was a dealbreaker.

Finally. Had to ditch Calendar because of that.

So, the Google calendar now looks like a calendar... Crazy. Wubba lubba dub dub!

Oh thank goodness! I bet all the reviews woke them up. Now to wait for the update to actually show up! Posted via the Android Central App

I would still like to see a goto option. For scheduling appointments in the future this would be extremely helpful. Posted via Android Central App

Jorte has this. click on the Month/Date (April 2015) heading from the Month View and it will give you a pop up dialog box which will allow you to quickly scroll select any Month/Day/Year to go to.

I just ended up uninstalling it when they broke it and used the default calendar on my G3. Works fine enough. It was stupid to remove it in the first place.

I wonder if they will ever make it easier to use Google task from the Google Calendar, that's the main reason I don't use it. I have it downloaded but never use it. I figure if they ever improve it so it's actually usable for what I need I'll have it. Posted via the Android Central App

"Google will bring back the month view back to the Google Calendar app." Brought to you by the department of redundancy department.

I wish they would make a widget like HTC's calendar: 4x1 widget with the date and next couple of appointments.

Yes! Let's see if it's better than Today. Today calendar app is so good. Posted via the Android Central App

Yeah, I had to install another calender just to get the month view.

Still find it appalling that google struggles with UI for calendar and contacts when Palm and Agendus had it nailed DECADES ago. Sigh. Posted via Android Central App

Phew, thought I was the only one who was missing the definitive part of a calendar. Thanks Google. Posted via the Android Central App

I'm the secretary for my organization and I have all our appointments sync with Google calendar on everyone smart phone. So when Google screwed up month view I had to run two calendars on my phone. How come when Google makes 1 improvement they take 1 step back?

They still need a split view month/day like Today Calender.

Yes! The final piece they need to put back in. I'd love a month/agenda split view, and a widget to match. That would pretty much cover all the bases, and the third party calendar apps can be retired once that's done.

Or just use Today Calendar. When the material update for Google Calendar came out I left for Today and haven't looked back. Posted via the Android Central App

Except I can't find one calender that does everything I want. Business Calender lets me drag and drop. Today and Google don't. Today has the split view. Business calender and Google don't. Business and Google Cal allows Ics invites and today doesn't. I end up using Business Calender pro most of the time.

Thank goodness! Google+ All Day Everyday

That's why I switched to wave calendar, maybe I should go back now Posted via Android Central App on 1+1

This might sound like a stupid question but if I install Google Calendar on my phone will it replace my default calendar? Posted via the Android Central App

Are you on a Samsung device? If you are just enable synch and Google Calendar will do the rest. Don't try to disable the Samsung Calendar. It will screw synch up. Google+ All Day Everyday

No, Motorola droid razr m Posted via the Android Central App

Why did it take them sooo long to respond to out requests. Now if we can get the Gallery back I would smile and write them a nice letter. Just one more thing....forbid android phones to come with Locked Bootloaders Posted via Android Central App

Y E S !!!! THE GOOGLE GODS HAVE LISTENED TO OUR DEMANDS! Posted via the Android Central App on my Nexus 4

I'll stick with Business Calendar...in 6 months google will decide they don't need calendar any more and eliminate it. Posted via Serenity

I got an app update yesterday but don't see month view. It would be in the top left menu, no? I still just see schedule, day, 3 day, week, search, refresh. AC App
Nexus 6

How about a "go to date" option, which came standard on my Blackberry Pearl from 2007...
Android Central Newsletter
Get the best of Android Central in in your inbox, every day!
Thank you for signing up to Android Central. You will receive a verification email shortly.
There was a problem. Please refresh the page and try again.