Google is building deep neural networks to help improve its search engine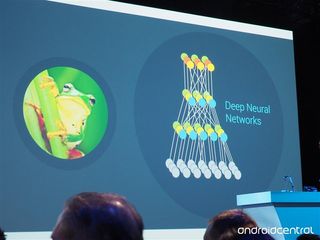 During the Google I/O keynote address today in San Francisco, Google says it has been busy building deep neural networks that learn and help the company improve its search engine. Google says its neural nets are 30 layers deep, and those layers recognize progressively more complicated things. For example, they can figure out specific shapes and colors
The results are already generating results. Google says its word error rate has dropped from 23% to just 8% in one year. The neural nets can help with other services. For example, the Inbox email app pulls in information based on a trip to London. Also, Google Now can let users know when to leave early for work based on traffic patterns.
Stay tuned as we will continue to post updates from today's Google I/O keynote event.
Skynet. Posted via Android Central App

Jet fuel Posted via the Android Central App powered by Droid Turbo

The Singularity is upon us. Posted via the Android Central App

Sarah Conner come with me if you want to live Posted via the Android Central App

She might as well being her dragons haha Posted via the Sailfish iMore app

Google's one giant beast of a 'search engine' ...
Android Central Newsletter
Thank you for signing up to Android Central. You will receive a verification email shortly.
There was a problem. Please refresh the page and try again.