You can now launch Google Assistant's Driving Mode from your home screen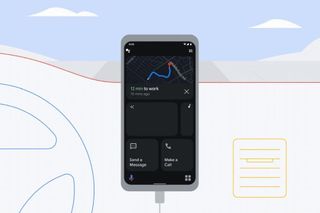 (Image credit: Google)
What you need to know
Google has added a new home screen shortcut to launch Assistant's Driving Mode.
The change appears to have rolled out to users with the latest Google app beta (v12.47).
You can also have Driving Mode launch automatically as soon as your phone connects to your car's Bluetooth.
Last month, Google made it easier for users to enable Assistant's Driving Mode with a new Bluetooth-based auto-launch feature. As reported by the folks at 9to5Google, the company has quietly introduced a new way to launch Google Assistant's Driving Mode on the best Android phones.
The latest Google app beta (v12.47), which began rolling out earlier this week, brings a new home screen shortcut to initiate Driving Mode. If you have the latest Google app beta installed on your phone, you should see the "Add driving mode to Home screen" suggestion chip at the bottom of the app grid. Once you tap on it, you'll be able to add the shortcut to your home screen for easy access.
Google's "new" way of initiating Assistant Driving Mode is actually similar to the old Android Auto experience for Phone Screens, which was discontinued with Android 12.
When Google Assistant's Driving Mode was first introduced, users had to manually tap the notification to launch it after connecting to their car's Bluetooth. The new auto-launch feature has made it even easier to launch Driving Mode.
In case you haven't enabled to feature on your phone yet, tap Settings in the Google app and under "When connected to a car's Bluetooth," tap Launch Driving Mode. You can also set the Assistant Driving Mode to start automatically as soon as your car starts moving.
If you don't want to use the Bluetooth-based auto-launch feature or the new home screen shortcut, you can launch Driving Mode using voice commands. You can either say, "Hey Google, let's drive" or "Hey Google, start Driving Mode." Driving Mode also starts automatically when you navigate in Google Maps.
I've had the shortcut for about a month now. Android 11 with the non beta version of maps.

They shouldn't have disabled Android Auto for phone use until Driving Mode could support the same apps (Waze). I also want to be able to use Maps without having to select a destination, which Driving Mode apparently doesn't support.

I find the app pretty laggy on my Pixel 4xl at times, and unresponsive. But my 6pro is arriving this month, so hopefully it will be better on that.
Android Central Newsletter
Get the best of Android Central in in your inbox, every day!
Thank you for signing up to Android Central. You will receive a verification email shortly.
There was a problem. Please refresh the page and try again.