Google announces new Google+ app for tablets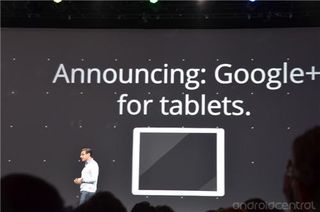 Google announced moments ago that they will finally be releasing a tablet-optimized version of its social network, Google+. For a long time, we've either had to use the browser or a phone app, which hasn't been the greatest experience. They announced a new app with a tablet-optimized UI. It looks pretty gorgeous and the Hangouts feature in particular has us excited.
It will be available for Android tablets as well as iPads and Google also announced that the phone app will be getting an update today to incorporate lots of these new features. Please find links to the Google+ app in the Google Play Store after the break.
Android Central Newsletter
Get instant access to breaking news, the hottest reviews, great deals and helpful tips
Indeed... tablet app was in serious need of some lovin' !

Glad to hear there's now a tablet version, still trying to use G+ but it still comes down to the same old issue, none of my friends and family use it. I use it mainly to follow companies I like such as Android Central.

Do you talk to people? Look for circles to join? G+ is all about interaction and new connections. Use the engine to look search for an interest (movie, type of phone, game, whatever) -- you'll get tons of responses... jump in and comment. Build an interaction. When you find like-minded individuals, create a circle for them. Heck, high schoolers have been doing this for ages: the jocks, the band geeks, the chess club, the gamers, etc. I maybe have 500 people in various circles and another 500 have me in their circles... 'Skyrim', 'Science', 'Australians', 'Not Douchebags' -- the ability to have people in more than one circle is a nice touch... I can have a family circle and since some of my brothers share my tech passion, I can also have them in that circle. So... long winded way of saying: make more friends... it doesn't have to cost you your current ones.

Good points all Lactose The Int... Mobius360 or anyone else can also be advised to just type in search, "Android Circles" if that's the gang your looking for? As soon as I finish my taco's, I'm firing up my 10.1 . . . .

Very nice improvements. I had enjoyed the latest update but this one is even prettier.

The new look is HORRID!!! :( I liked the old look better, it was sleeker, more elegant and it was tabbed!!! Now it's bleh-white, plagued with drop down menus and not elegant at all :(

I agree! I was literally horrified when saw it first time. WHY, google, WHY?! But really, why couldnt they simply add new features, do the "under the hood" upgrade? Hell there were more important things to do than change the UI, like to be able to add someone to a post that is already shared, labeling people in the pics from phone section so one doesnt have to relabel everyone in the same pics over and over when using pics in multiple posts (ok so this last one is for desktops, but still)
Android Central Newsletter
Get instant access to breaking news, the hottest reviews, great deals and helpful tips
Thank you for signing up to Android Central. You will receive a verification email shortly.
There was a problem. Please refresh the page and try again.