Google is all-in on PopSockets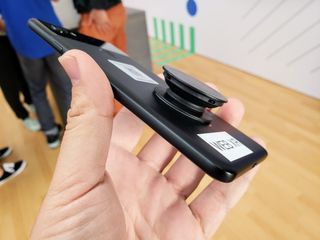 There's no such thing as a one size fits all phone, but you can't deny Android phones have been changing in shape and size over the last couple of years. When the bezels started going away many phones started getting taller and narrower. It means most people can hold the phone comfortably with one hand, but not always be able to reach the top of the phone comfortably with one hand. That isn't a huge deal in most day-to-day activities, but when you are showing someone how a phone works at a developer conference like Google I/O, using two hands can obscure the thing you want to show.
The solution? PopSockets.
The first sighting of these grip accessories you can now find at every mall in the world was on stage during the Keynote on Tuesday. David Burke popped out the socket and slid the phone into this hand with one smooth motion, but it was undeniably a PopSocket.
After spending some time wandering around Google's demo sandboxes and non-keynote sessions, I realized these PopSockets were everywhere. On every phone. Pixel 2, Pixel 2 XL, and iPhone demo hardware all over the event had PopSockets on them, all in the same strategic place near the bottom of the phone.
And if I'm being honest, I kinda dig it for this event. I'm not likely to glue one of these things to the back of my phone anytime soon, but PopSockets make it easy for Google to hand the phone off to someone in a demo area and worry a lot less about the phone being dropped and broken. It means there's no need for a case or a tether to keep the phone attached to a particular demo station either, which makes the demos feel a lot more natural.
So, yeah. PopSockets are officially a thing here and it works well. Who knows, now that I know they're only $9 maybe I'll end up picking one up for myself and attaching it to a lightweight case or something.
Get the Android Central Newsletter
Instant access to breaking news, the hottest reviews, great deals and helpful tips.