Google is all-in on PopSockets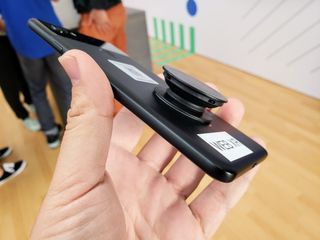 There's no such thing as a one size fits all phone, but you can't deny Android phones have been changing in shape and size over the last couple of years. When the bezels started going away many phones started getting taller and narrower. It means most people can hold the phone comfortably with one hand, but not always be able to reach the top of the phone comfortably with one hand. That isn't a huge deal in most day-to-day activities, but when you are showing someone how a phone works at a developer conference like Google I/O, using two hands can obscure the thing you want to show.
The solution? PopSockets (opens in new tab).
The first sighting of these grip accessories you can now find at every mall in the world was on stage during the Keynote on Tuesday. David Burke popped out the socket and slid the phone into this hand with one smooth motion, but it was undeniably a PopSocket.
After spending some time wandering around Google's demo sandboxes and non-keynote sessions, I realized these PopSockets were everywhere. On every phone. Pixel 2, Pixel 2 XL, and iPhone demo hardware all over the event had PopSockets on them, all in the same strategic place near the bottom of the phone.
And if I'm being honest, I kinda dig it for this event. I'm not likely to glue one of these things to the back of my phone anytime soon, but PopSockets make it easy for Google to hand the phone off to someone in a demo area and worry a lot less about the phone being dropped and broken. It means there's no need for a case or a tether to keep the phone attached to a particular demo station either, which makes the demos feel a lot more natural.
So, yeah. PopSockets are officially a thing here and it works well. Who knows, now that I know they're only $9 (opens in new tab) maybe I'll end up picking one up for myself and attaching it to a lightweight case or something.
More at PopSocket (opens in new tab)
You can design your own on their site. I say everyone needs one with Jerry's face on it.

Their reviews on Fakespot are abysmal.
I'm intrigued, but not enough to try one at D level reviews...

I mean, what you see is what you get. It's an easy way to rest your hands/wrists when using your phone. Also makes taking selfies easier if that's your thing plus, reduces the possibility of dropping your phone. If $9 is more than you're willing to pay, plenty of knock-offs out there as well that do the same thing.

Not sure what's to get bad reviews about. They help you hold the phone with one hand and also double as a kickstand. For $9. It's worth a shot at that price just in case. Also a side note, I put mine on and take it off all the time and the stick is still very strong. I just stick it to a piece of plastic or something when not in use.

Google was giving them out as swag at a conference that I was just at. I installed it after reading this article.

no wireless charging with one on though

Bingo. Not much good for that.

Not much wireless charging on current Pixels either.

Mine wirelessly charges just fine right through it.

I've been rockin'my popsocket for over a year...and now it's officially a thing?

I can't even.... Just no. These are nearly as bad as those dumb rings all the girls have attached to their phones these days...

Or just make handsets smaller so those without the hand size of the average Gorilla can use them easier.

Been using them for years. A must have for any device with a screen size over 5"2.

LoveHandle phone grip is a much better option imo.

Do they hinder wireless charging?

Yep, the rings are more functional, especially as kickstands. The rings can do vertical and horizontal kickstands, Pop socket only does horizontal.

Popsockets can be used as stands too. I think popsockets are more comfortable to hold than rings

I got my finger stuck in a Style Ring,.. true story! My finger swelled up and I couldn't get it out lol.

Clearly the phones are too large if need such a ridiculous accessory.

Popsockets have been a thing for a long time now.

Or they could you know, build these phones with a material that isn't more slippery than a wet chunk of ice? This is so incredibly stupid I can't even...
Why would you build a huge phone that needs something like this, instead of just giving the back and sides a grippy coating (Black Nexus 5)? I used that phone daily for 3 years and NOT ONCE did I drop it.

When you're probably the biggest and best software company in the world and instead of adding a simple One Handed Mode to your phones like every other manufacturer does successfully, you come up with crappy, pocket bulging accessories to stick on instead?????? C'mon Google
Android Central Newsletter
Thank you for signing up to Android Central. You will receive a verification email shortly.
There was a problem. Please refresh the page and try again.