Google+: All about Communities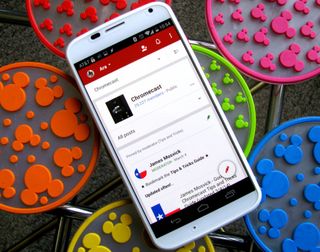 It's always nice to belong
When you're joining Google+, chances are there aren't a whole lot of people you already know on here. Certainly not enough to fill your Google+ home page at any decent pace. That's perfectly okay. We have communities to both help you make some new friends on your new network and to expose you to more content than you otherwise would be by just following individual people.
Communities are where I honestly spend most of my time on Google+. They can be fun or informative - or both. It's wonderful to share your passions and expand your knowledge. Most if not all of the friends I made on Google+ found me through the communities we both followed.
And here's everything you need to know about them. (Communities, not my friends.)
A more honest sample of the communities I belong to. There are a few guilty pleasures in there.
Finding and joining communities
Communities are easy to find, (mostly) easy to join, and incredible easy to customize to your needs. On desktop, to look for communities, just click the communities page of the Google+ dropdown and type into the search bar above your already-joined communities. On mobile, at the bottom of the expanded list of communities is a link to "find more communities."
While sifting through communities, a few things to consider. First, scroll through the community's page for a couple dozen posts. See how much spam there is and how recent the material is. An old community or a community filled with spam can end up spamming your feed or giving you no content at all, just polluting your communities list. Smaller communities may not post frequently, but if there are good posts every so often, they can help bring you back to a topic periodically to draw to back into the interest. If it's a topic that you don't intend to visit often or contribute to, you don't have to join to come look every now and again. You do have to join to engage any posts in a community, though.
Once you see one you like, you can join. If the community is public, there's a nice big 'join community' button. If it's a private community, then instead you get a nice big 'ask to join' button. That's it. You're in, and now you'll start seeing community posts in your feed on your home page.
That said, that's not always what you want. Thankfully, Google has given us some options.
Community settings
[[ settings panel mobile ]]
Firstly, this is where the option to leave the community is. If you ever get sick or bored of a community, you can always leave. And there are some other options to help limit annoyances and fine-tune the way that your communities engage you.
Notifications: You can turn notifications on or off for a community in order to be notified anytime anyone posts in a community. If there's a private community for work or some project you're a part of, I could maybe see using it, but anything else it just gets annoying very very fast.
Post amount: Alter the amount of posts from a community that show up in your feed with this control. There are three settings: fewer, standard, and more. All communities default to standard.
Show posts: You can uncheck this and no posts will appear on your home page. You will only see posts when you visit the community's page. Very useful for communities that post lots of content but you only have a passing or occasional interest in.
Community courtesy
Just as in any real community or society, there are some general etiquette and rules that you should generally obey.
Each community is different, so before doing anything, read 'About this community'. That's generally where the specific community guidelines are.
If there's a provision against language, pay attention to it. That'll get you thrown out pretty quick.
While conflict is inevitable, if you're going to engage someone in a debate/disagreement, try to keep it civil and an actual debate. Don't let it devolve into name-calling and mudslinging.
If a community has separate sections, see what they are and post into them as appropriate. Don't just shove everything in Discussion.
If you haven't already, check out the Android Community Android Central heads up, or check out a dedicated community for your device. I know the Moto X community is always looking for a few more good owners to chat with. The camaraderie that you can find in these communities - and the fascinating people there — are truly one of the more astonishing aspects of Google+.
Android Central Newsletter
Get instant access to breaking news, the hottest reviews, great deals and helpful tips
Ara Wagoner was a staff writer at Android Central. She themes phones and pokes YouTube Music with a stick. When she's not writing about cases, Chromebooks, or customization, she's wandering around Walt Disney World. If you see her without headphones, RUN. You can follow her on Twitter at @arawagco.
I must say that I'm liking these reviews Ara. Keep them up. Posted via Android Central App

I have never used Google Plus >_> Posted via the Android Central App

I love Google+ for communities. I use Facebook for keeping in touch with friends, but google plus is for information getting. Posted via Android Central App

I've never been tempted to try Google+ until I started reading your articles. Now maybe so. Careful AC, Google may come shopping for help. ;-)

Me too. I knew very little about it. I will have to try out more of these features. Posted via Android Central App

Since the first article I joined some communities and use it daily. Thanks! Posted via Android Central App

Communities are addictive :)

Ara you nailed it. Almost nobody before explained so well to the general public how to use Google communities, and what conversational pleasures can you find there. So thanks, you have just save me a lot of time, linking to this aticle to anybody that ask me what is good at G+, and what is different from FB. That you find the conversations you enjoy, not the persons, that you make virtual friends for some themes you both like, and that it is not necessary to be real friends to enjoy each other. And that nobody cares here if your boyfriend told you pretty or ugly yesterday or gave you a good or bad breakfast

Been a fan of G+ over Fakebook for a long time. Really digging your articles on it Ara. Keep 'em coming!

And..... how does it compare to the good old Google Groups? What is the killer value added feature that Communities have to offer?
Google Groups is dead now, but the question still applies Usenet, Reddit, or plain old forums and the many products that do not require you accepting the Plus T&C? Not that I plan anything un-appropriate, but if I'm going to be banned from a community, I prefer it to be a single forum, and not getting my Gmail account revoked, as I have read that Google does when they don't like what you do in Plus (age or name violation, for example).

Yeah I'm struggling to see why I'd go to G+ to discuss headphones or camera gear or PC hardware rather than go to dedicated forums that have been around for ages and have a treasure trove of information in old threads as well as current discussions (Head-Fi, DPreview, and HardForum in those three scenarios, for me at least). I'm sure there's a usage case where G+ might actually work better than message boards like that, I just haven't seen it. I guess more collaborative or niche stuff is well suited for a smaller G+ community without a centralized/managed location like a site's message board tho. Maybe AC is a good example, what for or why would you go to an Android Central G+ community over AC's message boards, or vice versa.

I've actually made friends on Google communities and have met some of them in person. I check G+ almost every day... Posted via Android Central App

I agree that communities are fun. I've been checking G+ more frequently now and with more interest because of the postings from the communities I belong too. Great resource for help too.

I'm actually trying to get out of Google+. I just want my plain ole Google for mail and website. How do I get rid of Google+? Posted via Android Central App

Hi Ara, Thanks for explaining G+ and making good suggestions. I have been exploring a little,but there realy needs to be a more prominent help section,and especially a users guide. Settings are a bear,and tring to edit circles is ,was hard for me. Much hair pulling. Facebook settings seemed easier to me when I did my initial setup,but you are right about the benefits of Google plus over FB . Not only that,but using your real name means less subterfuge,and more honesty. Please write more on this subject.

I love g+ and the "hidden Mickey's" in your picture.. Posted via Android Central App

I use Google plus everyday. I use Facebook here and there. Google plus is a great place to find info from folks who enjoy the same things that you do. AC every day

I used Facebook to keep up with family and friends. I use G+ to keep up with professionals and engineering communities. Posted via Android Central App

i don't use G+ this post had me somewhat interested so went to look around in the communities section for some things i enjoyed. it only confirmed to me that no one uses it. for instance, i searched for how i met your mother. numerous pages/communities...the one with the largest amount of users had something like 4,000 members....thats terrible. HIMYM was a hugely successful show...sure its run ended a few months back, but where is everyone? did they all leave the community when the show ended? i can't believe that...show is still run on syndication and is cause for tons of memes and discussion to this very day. sure there still were some recent posts...but my goodness the level of activity considering the popularity of the show...its bleak. i'm also not sure how great communities can be if for instance a profile might be more prolific. for instance, i did a community search for the cincinnati reds....basically nothing came up, and the few that did had a few followers each. well the reds have a google+ page/profile...which has 20k followers...thats nice, but then again that means you're at the mercy of whatever intern or social media director for the teams post. i guess you could chat up in the comments sections of the posts...but that takes away from fan/user generated discussion about topics that might not be related to a certain game or whatever. i don't know...i read the post liking the idea of following a handful of topics/shows/sports i enjoy talking about and it seems i was right...no one uses G+ outside of maybe some dedicated developers and hardcore google fans.
Android Central Newsletter
Get instant access to breaking news, the hottest reviews, great deals and helpful tips
Thank you for signing up to Android Central. You will receive a verification email shortly.
There was a problem. Please refresh the page and try again.