Google adds video and audio voicemail to Duo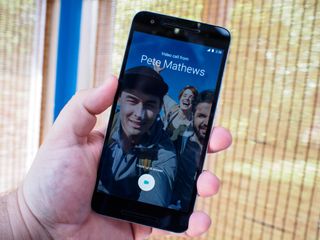 (Image credit: Android Central)
Google Duo has become one of the best video-calling apps around, and today it's adding a helpful tool for when contacts you try to reach aren't available.
Next time you call someone on Duo and they don't answer, you'll have an option to leave them a video message. Messages can be up to 30-seconds long, and once you're happy with how your message turns out, you can send it to whoever you're trying to reach.
The recipient of your video message will see it the next time they open the Duo app, and after they view it for the first time, it'll automatically disappear after 24 hours. However, if they want to save your message for safekeeping, there will be an option to save it locally on their device.
Additionally, if you like using Duo for voice calls, you'll also have the option of leaving traditional audio-only messages.
Google's rolling out this functionality to Duo's Android and iOS apps now, and it should be available across the globe over the coming days.
Download: Google Duo (free) (opens in new tab)
Joe Maring was a Senior Editor for Android Central between 2017 and 2021. You can reach him on Twitter at @JoeMaring1.
Very good idea, can't wait

Duo has been slowly gaining traction. People are starting to adopt it, especially since you can use it (on Android) to video call without the recipient actually having downloaded it.

This is a horrible idea. Shorties leaving all kinds of messages. How a playa supposed to manage that....SMH.... I'ma need Google to hire Iceburg Slim so we don't have these kinda problems

Man! Player problems huh? I hear you fam.

Do you have the option to not allow video and/or audio mails. I might not want people to leave me messages...

You don't people to leave you messages, but you don't mind people calling you? Ok then

Nice! Now if Duo and Allo would just allow multiple sign ins ...

Yes.
On a tablet especially so I can call my niece and nephew without taking up phones.

Good deal, nice feature additions. Now, about that multiple device functionality.

Maybe I misread the content, but to me "The recipient of your video message will see it the next time they open the Duo app" means that there is no Notification. I don't know about the rest of you, but I only open Duo when I plan on calling someone. If someone leaves a VM, I'd expect a notification to direct me to open the app. Am I (or Google) missing something here?

Nice of them to force the update. I have auto update off yet duo was updated.
Other google apps are sitting there waiting for me to update but they forced it thru for duo.
So nice of them.
Android Central Newsletter
Thank you for signing up to Android Central. You will receive a verification email shortly.
There was a problem. Please refresh the page and try again.