Google is adding biometric authentication to its Android Autofill service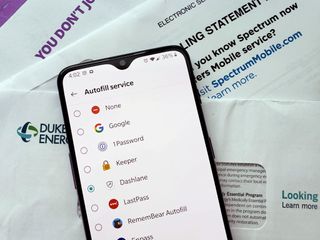 (Image credit: Android Central)
What you need to know
Google is working on making its Android Autofill service more secure.
The company is looking to add biometric checks for password and payment completion.
The feature is currently only in testing, so it's unknown when it'll finally make its way to users.
We've all been there, you're trying to reply to an important email, but you can't remember the password. Thanks to password managers, however, you no longer need to worry about remembering all your login credentials — and according to security experts, they're also safer to use than keeping your passwords written down in a notebook somewhere. While not as fully featured as something like LastPass or 1Password, Google also offers a free Autofill service for Android and Chrome users.
However, unlike those services who've made it their business to protect your passwords, Google's offering has thus far been far less secure. For example, when using Google Autofill, a prompt to insert saved password simply appears when you're trying to log in to a website or app, without any form of authentication. Dedicated services like 1Password, on the other hand, ask for biometric scans before logging you in automatically.
As discovered by Mishaal Rahman over at XDA Developers, Google is looking to change that and is currently testing integrating the BiometricPromptAPI with its Autofill service, which will allow you to identify yourself via fingerprint, iris or facial scans, like Face Unlock with the Pixel 4. He also included a helpful screenshot of the new settings for the feature, which shows you can turn on biometric authentication for both password and payment information.
The information comes via an APK breakdown by Rahman, so while we know Google is working on this in its offices, we don't have any confirmation from the company as to whether it'll actually release the feature to Android users at large or when that might be, unfortunately. We'll just have to wait for Google to tip its hand in the future.
Samsung pass has been doing this for years already..

Great! Now let others also enjoy using services they are comfortable with using, Samsung Pass isn't available on any device other than a Samsung Galaxy, and I am not comfortable giving Samsung any of my passwords.
Android Central Newsletter
Get the best of Android Central in in your inbox, every day!
Thank you for signing up to Android Central. You will receive a verification email shortly.
There was a problem. Please refresh the page and try again.