Gone are the days where you need to root and install a custom ROM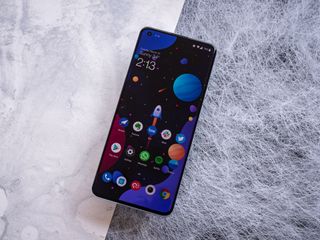 (Image credit: Apoorva Bhardwaj / Android Central)
When the idea for this article came about, it was because I was excited to explore the world of rooting again with the OnePlus 9 Pro. The 9 Pro has been my go-to phone whenever my hands get too tired from holding my massive Galaxy Z Fold 2. It's a complete powerhouse, even if OnePlus decided to intentionally throttle the performance of some of the best Android apps.
But things have taken a bit of a turn in recent days, which have me feeling a bit disappointed. Let me explain what happened when I tried to root and install a custom ROM on my OnePlus 9 Pro.
Early beginnings
Unlike some other writers here at Android Central, my foray into Android didn't start with the T-Mobile G1. I dabbled around with the HTC-made T-Mobile G2, but the unreliable keyboard hinges pushed me back into the world of iOS and Apple. I really didn't get into Android until the HTC Evo 4G was released, complete with its shoddy "WiMAX" connectivity and built-in kickstand.
After discovering the XDA Developers Forums, I spent hours trying to find the best ROMs and tweaks available. That lasted for about six months or so, but it was just one of those "things" that made me happy and kept me out of trouble.
Fast forward a little bit more, and then the Nexus 4 was announced, and that phone became my world. Diverting from my HTC heritage, the LG-made phone had a gorgeous sparkling back, a vibrant display, and an ergonomic design that was so comfortable to hold all of the time. It pushed me to dive back into the rooting community, again thanks to the XDA Forums.
I remember waking up before work just to see if a new "Nightly" ROM build was released. And if so, I made sure to download and install it before heading to work, ensuring that the correct GApps package was installed and that the custom kernel was compatible and working properly.
For me, this was everything, and it helped springboard me into the world of writing about tech that I still enjoy to this day. Writing about the best Android apps and best UCCW or Zooper widgets, along with scouring forums for new ROMs to try out, brought me joy. Of course, I could always go back to stock Android if I needed to, but it was nowhere near as customizable as what Google's Android offers today.
Trying to root and install a custom ROM today
I'm a bit older today than I was when the Nexus 4 was released. I mean, it's only been almost ten years since then, and who knows how many devices I've used (Google knows). But after seeing a few posts on Reddit and being a bit bored by what Android 11 offers while waiting for Android 12 to arrive, I figured it would be fun to dive back into rooting.
The first thing that I noticed is that all of the command line tools and everything largely remain the same from back in 2012. However, it seems that my brain didn't retain much of the information learned. The rooting community, while robust, is not exactly what I remembered. For example, TWRP — a custom Recovery image that made flashing ROMs, GApps packages, and custom-created kernels — isn't "officially" available for every device. The OnePlus 9 Pro is unofficially supported, but dragons lie ahead: you can brick your phone fairly easily if you aren't careful.
Back to rooting the 9 Pro. At first, I simply rooted OxygenOS on the 9 Pro using Magisk and some ADB commands. Then I tried out a custom kernel that actually gave me an extra hour or so of battery life on a daily basis. And that's when I decided to try my hand at throwing on a ROM.
Make one wrong move, and it's boot loop city
After browsing the web for some of the "best" ROMs to try out, I landed on LineageOS. This was just going to be my test base to see if I could dust off my mental cobwebs before diving deeper into other things like exploring Magisk modules or putting Tasker to work.
LineageOS is arguably considered the best custom Android ROM, as its the spiritual successor to CyanogenMod. When Cyanogen Inc. closed up shop back in 2016, LineageOS became a "fork" and has since been transformed into the de-facto choice for many.
The main LineageOS website is laid out quite nicely, and there's an accompanying Wiki page to guide you through the installation process. After downloading all of the necessary files, installing the ADB Platform-Tools, and ensuring my bootloader was still unlocked, it was time to begin.
Magisk first
Before jumping into the LineageOS process, I wanted to actually root the 9 Pro, so I went down the Magisk installation route. This was pretty harmless and doesn't really do anything other than wipe your phone clean, which was fine because I planned to install LineageOS anyways.
After verifying that I'd actually rooted my phone, it was time to take on LineageOS.
Time for a new ROM
There are more than a few steps that you need to take to try out LineageOS on one of the best Android phones. You'll need to unlock the bootloader, temporarily boot a custom recovery using fastboot, and then update the copy partitions. Then, and only then, can you proceed.
Following the instructions to the "T" let me boot into LineageOS on my OnePlus 9 Pro. Everything looked and worked as advertised, as I could log in with my Google account and peruse the interface a bit. It looks a lot like stock Android, minus the default Google apps like Chrome or Gmail. There's even a custom Camera app instead, but I was planning on installing the GCam version anyways.
Head meet desk
Perhaps this has to do with a bit of me trying to rack my memory from years ago, but I felt the need to flash the patched Magisk boot.img. Since my ROM was already loaded, I figured that I just needed to get into fastboot mode and flash the image. Not once did the idea of just installing the Magisk Manager app cross my mind, again, because that's not how I remember doing things "back in the day."
I booted into the custom Lineage recovery, applied the Magisk boot.img as I had previously, and then watched as the boot screen appeared. And then I waited. And waited. And waited. Picture me sitting at my desk right now, still waiting for my OnePlus 9 Pro to boot.
Something went awry in the process, obviously. I realized that I probably should have just downloaded the Magisk Manager app before trying to flash the boot.img. I haven't posted to any of the OnePlus 9 Pro threads on XDA or Reddit because this is definitely something that I did wrong. But because of this, I've had a bit of an epiphany.
You don't need custom ROMs
Truth be told, you probably don't really need to fire up any custom ROMs, especially on a device running OxygenOS. There are more than enough customization features and options to choose from. It's not like the old days when we loaded a custom ROM to change things like the status bar icons or have the awesome circular battery indicator.
I won't go as far as to say that rooting isn't necessary, as there are plenty of tools that justify gaining root access. There are more than enough Magisk modules to choose from, and you can still use custom kernels if you are rooted and check out something like Franco Kernel Manager.
Even before Android 12 introduces its Material You face-lift, many of the best phones have evolved to support enough options and toggles to make your phone feel like your phone. There's still something so rewarding about seeing a phone boot for the first time after flashing a custom ROM; but after my mistake with the OnePlus 9 Pro, it made me realize that it's just not as much of a necessity anymore.
Now, if you'll excuse me, I'm going to try and get my phone out of this boot loop hell.
Get the Android Central Newsletter
Instant access to breaking news, the hottest reviews, great deals and helpful tips.
Senior Editor - Chromebooks, tablets, and wearables
Andrew Myrick is a Senior Editor at Android Central. He enjoys everything to do with technology, including tablets, smartphones, and everything in between. Perhaps his favorite past-time is collecting different headphones, even if they all end up in the same drawer.
This made me feel nostalgic. I installed custom ROMs on every Android device up until the last one in May 2015 with the LG G3. The next device was the OnePlus One and that didn't need custom firmware IMO.
The record I had for installing a ROM was the Nexus 4, I had it installed 20 minutes after opening the box! Happy days. And stock Nexus firmware was so bad you almost had to install custom ROMs.

Those days have been gone for a LONG TIME.

lol custom rom only reason i have been switched from windows phones to android... the day they remove bootloader unlock option i will definately switch to ios... right now 2 device both with custom roms and lots of root apps...

Ah, the good old days. I went through rooting and ROMming thing too about 10 years ago. I couldn't afford an iPhone and Android was still a work in progress. My first smartphone was a cheap Samsung with very little memory. Roms were a necessity. Eventually I got an S3 and continued the same thing. A few more phones and it became less important. Finally in 2017 I started getting Pixels and I have not been tempted. Actually, a couple of months ago I got a second Pixel phone (4a) as a backup. I installed GrapheneOS just for the hell of it. It's usable and battery life is great. Think I will leave it that way.

I have to completely disagree on the rooting part. I can however agree on the custom ROM part. I root every phone I get and I always check to see if a phone is rootable before I buy it. There's too many things that are locked down on stock Android. I can actually make my phone safer and more secure with rooting. I can make it faster and have better batter life. Rooting makes your phone "your phone".

Last phone I rooted was the OnePlus 3. That's when the scales tipped and rooting started to make the user experience worse, not better.

The good old days, when it was fun to tinker with phones.

I used to be a complete flashaholic. I remember lurking at the Jenkins automation page at like 2:00 AM, waiting for the Cyanogenmod build for my device, lol, all so I can just break some functionality on my phone by flashing the cutting edge. I couldn't own an Android device without rooting/romming it. I think the last device I did was my Nexus 5. Rooted my 6P but never flashed anything. Guess I was over it by then.

Rooting is a must if you like playing your favorite games on emulators. Stock CPU governors control the CPU erratically resulting in poor performance for emulation. Being able to lock your CPU frequency at an appropriate level for the emulator gives great performance.

I did my last root on a G3 back in 2012. Mostly to get rid of bloatware. Since then I haven't had the desire and, frankly, phones are tools not toys anymore. I need my phone to do what I want it to do day 1 without screwing with it. Stock Android on Pixels does this just fine.

The only reason I've not rooted is because my phone isn't bootloader unlockable

First and foremost this article is quite weak in terms of quality. If you believe that rooting doesn't give your phone what it needs! Not wants, needs....then you're either mistaken or you don't know what you're doing. Secondly, bootlooping can happen if you flash your phone with magisk and you didn't package it yourself, why you'd do this I do not know... You should not be flashing magisk you should be booting it Fastboot boot ./magisk_patched Or name of image, main reason for this is it does not make a permanent change. If the phone doesn't boot up then just reboot and you're back to normal.. Once it's successful then you'd open magisk and install directly. The only thing missing today is indeed twrp, however it is really not needed, swift back up does an amazing job and whilst it's not a nand it's more than stock can do. Also if you install a magisk ROM like xXx no limits, you simply aren't getting a ROM, you're getting options like debloat, every little point to that at all IMHO. ROMs like Evo X offer full theming, CRT animation, performance is hiked, battery life is solid 9-10 hours SOT, not to mention full OTA updates that install better than 1+ updates. And lastly you have adaway. Now you can say whatever you want, you really can't get rid of ads in a root way without root. It just doesn't work, even with the command lines, nor does turning off zRAM (performance boost with it off is staggering, with no negative impact ) Also the G2 didn't have a keyboard mate, that was the G1, the G2 or hero as it was known had a trackball.. No physical keyboard. The Evo you're talking about came out after the desire and HTC one, probably two of the best Android phones ever especially the One. Finally, how can someone who doesn't understand the essence of android even contemplate telling a community that you don't need root? Not to mention how can you editor allow it? I'd have deleted your draft the moment you showed me it.

The problem is actually not many users want or need root or a custom ROM. For many, especially non tech-savvy users, stock ROM is already enough. You could argue that they don't know what they're doing, and yes, you're right. Rooting a phone or flashing a custom ROM is a rather complicated process that many simply don't have the time for or don't care about. Heck, getting people to install monthly security updates is already rather hard (in my circle at least) because either they know they won't be able to use their phone for a few minutes or they believe it would make their phone lag. Andrew also didn't say that the entire Android community doesn't need root. He just said that many probably don't need a custom ROM. He also justified that rooting has multiple benefits involving many tools (Magisk modules, custom kernels, and Franco Kernel Manager).

Do me a favor child, set a reminder on your phone right now for ten years from today. Come back, read this article again, read your comment again, and enjoy laughing at yourself. Oh and fun fact, for anyone living in the US, the G2 was never referred to by that name here only ever the hero and was only sold by sprint. But the desire z was sold by t-mobile under the G2 name and did come with a keyboard.

Ahh, this article brings me nostalgia. I was an avid Android modder back then, and still is now but to a lesser extent. I remember rooting then installing a custom ROM on my Sony Xperia Sola when I was on high school. It was my first Android phone and it was lagging on its Android 4.4 stock ROM to such an extent that it was almost unusable. The first time I modded it, I was breathless. It made the phone not only useable again, but much, much faster and with a lot more customisations. After that, I used custom ROMs on all my phones until now with Redmi Note 7. Heck, community support, ease of modding, and custom ROM availability are three most important things I consider when buying a new phone... until now. I agree with the points in this article. Nowadays, rooting and custom ROM-ing aren't really that necessary. It's more complicated now. Back then, I could wipe my phone and instal another custom ROM without losing any data in internal memory on Xperia Sola. Now, I must format the data partition for that on Redmi Note 7, erasing all on the phone. Forced encryption is implemented for security, I understand, but it's a chore to move everything to a memory card/laptop first then moving them back when moving to another custom ROM. Now, I just need my phone to just work. Gone were the days when I could just tinker with it. There are many stable custom ROMs, yes, but sometimes, they require me to clean flash the new version (esp. because of new kernel version, switch to enforcing, stuff like that). Phones nowadays are also very powerful, even for less than USD 200, almost negating the need for custom ROMs to make them faster. If I install a custom ROM, it's almost always because the stock ROM is too bad, too buggy, or just not to my taste (MIUI, you had one job!). I still understand the reasons to root one's phone or to install another ROM. Those will not die and there are still people who need them. For me, though, I think the days for that are almost gone. At the end of the day, I just need a phone that works without too much hassle. Maybe I'd still root and install another ROM on my secondary phone. For my primary phone, though, I'd stick to what I get when I buy.

Android (Google) and Google Play Store (App Developers) have definitely made things easier compared to the 'look I have a Droid and the R2-D2 Variant Droid' days .... CyanogenMod deserves credit, but they also deserve a 🤌🏻 for being foolish enough to abandon their relationship with OnePlus for Microsoft (sometimes it's not always about the 💵!) I ❤️ having an Android OS that's stock (minimal skin!)
.

I think the main reason to install a custom ROM is so that you can always have the latest version and security updates, since the cell companies and providers drop the phones after a few years (and some of us keep our phones until they die; my uncle is still using his Galaxy S5 with Android 11 on a custom ROM).