Zooper Widget is no longer in the Google Play Store (Update: It's back!)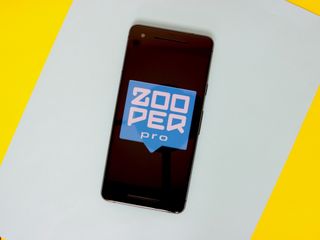 Updated 12/22/17 - As mysteriously as it vanished, Zooper has all of a sudden popped up in the Play Store once again. We still don't know why it went away in the first place, but either way, it's now back with both the free and paid versions.
Widgets are one of the best ways to customize and make the most of your Android homes screen, and while there are a lot of applications that come with bundled widgets, there are also ones that are made solely for creating widgets for making your setup look as fresh as can be.
Zooper Widget has long been one of the most popular widget creation apps on the Google Play Store, but for whatever reason, both the Free and Pro versions are no longer available.
Zooper Widget first debuted around three years ago, and during that time, the Free variant accumulated over one million downloads while its Pro cousin got over 100,000. The only other big app from Zooper Widget developer MYCOLORSCREEN is Themer (opens in new tab), but neither it or the now deceased Zooper have received updates in years.
It's currently unclear why Zooper has been removed, but if you're now at a loss for what to do with your home screen customization, KWGT (opens in new tab) appears to be the best alternative. This is sad news for sure as a previous user of Zooper Widget, but just looking briefly at KWGT, it appears to have a much better design and is actually being updated on a regular basis.
RIP, Zooper ❤️
Get the Android Central Newsletter
Instant access to breaking news, the hottest reviews, great deals and helpful tips.
Joe Maring was a Senior Editor for Android Central between 2017 and 2021. You can reach him on Twitter at @JoeMaring1.
Has no one bother to check with the developer?

Yea, AC, do some actual research and get some info before you know, post an article.

CMX created some great themes on Zooper. Love that man's work. KWGT had served him well too!

Go to apk mirror and download latest version.
I have all my important app's apks backed up in case they become unavailable in Google Play. Happens all the time, you reset your phone and then realize that one of your apps is not available any more. Learned my lesson!

i thought Play Store continued to make apps available to those that purchased them, but no longer show them in listings or searches.

Not when they are thrown out of the play store.

Come on AC, I'm waiting for your Net Neutrality article. I'm ready, locked and loaded.

The podcast is going to be a shi* storm.

Lock and loaded on the idiocy of the decision?

Zipper widget is so easy to use and creating the widgets is just as easy.

well it was bound to happen the app had been abandoned without updates for years..

I'm betting on it coming back to the store at some point. Hope I'm not wrong about that.

Jumped to KWGT the moment I sensed that Zooper's development was abandoned. Zooper had a good run with so many cool skins made from it.

Late to the game. But same path.

I tried Zooper years ago, but jumped to KWGT when it came out. The community is good and Frank always seems to be on top of the app development.

Nice to see it back. Hope this means that they will update the app soon.