Getting rid of the bloatware on the ASUS ZenFone 2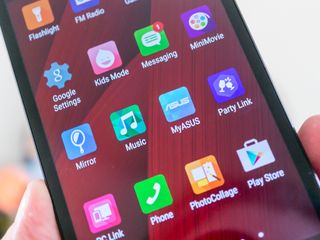 Let's be honest — the ASUS ZenFone 2 ships with a lot of applications that many of us are never going to use, and never wanted in the first place. A few of them are essential, like the dialer and messaging app for dual-SIM users, and others are done well and worth keeping if you're going to want the functionality they bring to the table. Always look at an app before you try to nuke it out of existence.
It's not that these apps use precious space (at least for most of us). The ZenFone 2 ships with up to 64GB of storage space (opens in new tab) — and that's the better value version and the one you should be getting if possible — and these apps are all small. Depending on where they are installed, you might not gain any application storage space anyway.
It's that they are sitting in your app drawer, never to be used, waiting for that day when you tap the icon by mistake. If you're like me and don't care about the small bit of storage you're going to gain, you still want them gone to reduce the clutter.
That's easy to do, and there are two ways to go about it.
Hide them all in the launcher.
The Zen UI launcher has a lot of options, and plenty of us have no problems using it. ASUS does a fine job keeping the UI components updated, and generally, things are smooth and work well. You have options in the application drawer, too. One of which it to hide apps you don't want to see.
Open the app drawer, and tap the three dots in the upper right. You'll see a list of options, one of which is to "Hide apps." Give it a tap.
Choose which applications you want hidden in the app drawer by tapping the icon. You'll see a checkbox on the icon's upper right to let you know it's been selected. When you're finished choosing which applications to hide, press "Done" in the upper right.
To unhide any app (we all change our minds sometimes) open the "Hide apps" setting again, and scroll over to the far right. Uncheck the app you want to see again.
Remember, this only hides the apps. They stay installed, will still be updated, and will still function if you need them to.
Just get rid of them
Most of the apps in question can be flat out uninstalled. If you are never going to use them, and you want them gone gone, this is your option. You use Android's application manager to do it.
You can get to the application manager in the device settings, aptly titled Apps. Open it, and you'll see a few tabs showing apps you downloaded, apps that are running, apps that can be moved to the SD card, and All apps. Browse through the lists, and when you see an app you want to make disappear, tap it. At the top, you'll see a button to Force Stop the app, and possibly a button to uninstall or disable the application.
Uninstall means just what you think it means. The app is removed from your user data, and the only way to get it back is to install it again or to factory reset the phone.
Disabled apps are frozen in time, never to use any resources or app drawer real estate again.
Some apps — especially "extensions" of the actual UI — can't be disabled or uninstalled without rooting your phone. They need to be there so that features work as intended. For those, scroll up and hide the suckers so you never have to look at their icons again.
Mostly, all Android phones work the same way when it comes to removing apps you don't want or need. You just need to find the right place to get to the setting, and this is how to go about it with the ZenFone 2.
Android Central Newsletter
Get instant access to breaking news, the hottest reviews, great deals and helpful tips
Senior Editor — Google Ecosystem
Jerry is an amateur woodworker and struggling shade tree mechanic. There's nothing he can't take apart, but many things he can't reassemble. You'll find him writing and speaking his loud opinion on Android Central and occasionally on Twitter.
The two apps I want nuked out of existence are the Fresh Green theme and the Pretty Pink theme. So far, the only theme worth using in ZenUI is the default. You can't disable or uninstall those two terrible alternates. They're permanently installed. And they've been updating in the play store -_- Posted from my Asus ZenFone 2.

You can't choose to disable? Or you disable, and it gets re-enabled?
If you just can't, maybe try this tutorial I've written:
https://plus.google.com/+LiranBarsisa/posts/JSnPCh76aaJ
If you have root, there are plenty of apps that can get rid of the built in apps, if you wish (including my app) .

Can't disable. Don't want to root my ZenFone. But thanks anyway! (: Posted from my Asus ZenFone 2.

The tutorial is for non-rooted devices (though it might not work for all apps/devices/roms).

Enter 1 star review on the bloatware, hope that the unwanted ASUS apps will get bad rating and ASUS will be forced to allow user to uninstall the apps instead of getting bad ranks.

Unrelated, but I wish more launchers had is the ability to uninstall from the app drawer. By holding the app, you get a menu that allows uninstalling apps (on Sense UI). Quite handy.

I hid about 20 apps and disabled 6 google apps. Not a big deal with 64GB internal storage. It drove me nuts when 16GB was standard. Not to mention the Zenfone 2 also accommodates a micro SD card for my videos, pics and music although I use onedrive, and Google Play Music and Amazon Prime Music so not much on the ole micro SD card yet.

The irony of having bloatware on a phone that starts with Zen...

Such a silly article. I thought it was bout rooting zenfone 2. Who doesn't know that apps can be disabled via settings menu.

New people Posted via the Android Central App

You can already root it, at least that's what I read.

its about getting rid of bloatware not disabling it

I saw the title of the article and was hoping it ended with "on the note4" Posted via the Android Central App

It'd be the same process without the option to hide apps in the default launcher. Posted via the Android Central App

i like the share link app. it can be used with other phone. basically you can transfer large files using both phones(or even PC) wifi. a super beam alternative.

I don't understand. Do you want to share links, or APKs ?

Some of them you can't remove or even disable. But for the most part, they aren't very intrusive. Some are even quite good - like the photo collage app.
Also, the camera app is hands-down my favorite of all time.
I used manual camera and the stock cam on my Nexus 6, but neither had the polish of the ASUS app.
There is a low-light mode that takes 3MP images and takes the brightest low-light shots I've seen since my Lumia 928.
I still can't believe how much value ASUS packed into this phone. I got mine from B&H for $199, no shipping or tax. Unreal.
Can't wait for the 5.1 update. Based on how proactive ASUS has been with software updates so far I'm sure it's not far off.
Android Central Newsletter
Get instant access to breaking news, the hottest reviews, great deals and helpful tips
Thank you for signing up to Android Central. You will receive a verification email shortly.
There was a problem. Please refresh the page and try again.