Getting to know Twitch for Android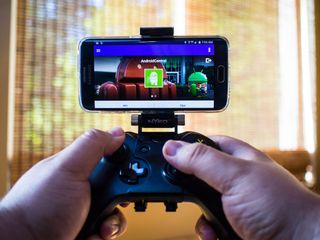 Whether you're checking out gameplay to decide whether you want to make a new purchase, watching someone play through an area you've been stuck in for a bit, or you've decided you want to share your gameplay experiences with the world, the Twitch community has something great for you. The Twitch broadcasting tools on PC and consoles are fantastic for those who want to just jump in and share, with more complex tools available from third parties for when you want to up your production quality and go pro. Everything else, be it watching or participating in the chatroom, happens in the Twitch app.
Twitch for Android has been around for quite a while, and it has only gotten better over time. Streams quality is something the user controls, and as long as you're connected to something decent your streams will almost always be crystal clear. The app plays nice in landscape or portrait, and looks nice on phones and tablets alike. It's clear the company has put quite a bit of effort into the mobile experience, which makes sense when you consider how much of the Twitch audience rely on mobile devices to get their fix.
Starting out on Twitch is almost like starting out on a new social network. You look for topics of interest — in this case games you are interested in — and in that subgroup you find people who interest you. The most popular broadcasters float to the top of every game list, but you can also search by specific user if you already know what you're looking for. Following a broadcaster means you can be notified when that player is broadcasting, and have their previous broadcasts readily available to watch. You have a settings panel for controlling notification span in case you wind up following too many people, but for the most part the follower experience is self explanatory. There are giant hearts on the screen for following entire topics, and smaller hearts in the actual stream for following broadcasters.
Watching a stream opens up some quality options, but also the ability to only stream audio or only access the chat, which is a hugely popular feature for Twitch players that want to use their mobile device to see the chat on something other than the primary screen. It's nice to be able to set up a stream on the Xbox One, for example, and not have to use part of the screen for chat because you have your phone connected to your controller. Users aren't limited to their screens for watching Twitch content, either. The app fully supports Google Cast, so you can send video to Chromecasts and Android TV devices to watch on your television. When casting to another screen, your phone becomes a second screen for chatroom activity and lets the chat take up the whole screen. It's a fairly unique Cast experience, especially since you're able to watch live and interact with everyone watching.
Getting the most out of the Twitch app is all about making sure the app is tuned to your preference and making sure your phone or tablet are somewhere comfortable. If your phone is connected to your controller while you broadcast and you don't want to keep live commentary on, you can use voice to text from the app to keep in touch with the chat room. If you're on a mobile network with a data cap, remember you have the ability to lower the quality of the stream to use less bandwidth and even go audio only if you're a fan of listening to the action and commentary while driving.
Twitch is a simple, well made app that gets the job done in a way that no other service competing in this space is able to do. A big part of that is making the experience modular and supporting just about every kind of user out there, without looking clumsy or overly technical. It's the result of a massive community of folks who know what they want out of this experience, and so far it has worked out well for everyone.
Android Central Newsletter
Get instant access to breaking news, the hottest reviews, great deals and helpful tips
What this app needs is to be able to RECORD and live stream while playing a game on your Android device like the shield tablet. Then it would be hot. Posted via the zenfone 2

It's a terrible app. You can't see the people you follow and there's constant commercials interrupting the stream. I wouldn't mind it so much if the quality of the streams were amazing but they're not. I use Twitch on Kodi which blows it away.

You definitely can see the people you follow, although the app could use a lot of improvement, as could the website. Still, it's better than the app for fire TV stick. That's one of he worst apps I've seen. Completely unforgivable. Wubba lubba dub dub!

The streams I watch rarely have commercials past the opening one. This includes streamers that do and don't have their sub buttons yet. Posted via the Android Central App

I see the author of this article is a Destiny fan, as am I. Good luck out there Gaurdians. Posted via the Android Central App
Android Central Newsletter
Get instant access to breaking news, the hottest reviews, great deals and helpful tips
Thank you for signing up to Android Central. You will receive a verification email shortly.
There was a problem. Please refresh the page and try again.