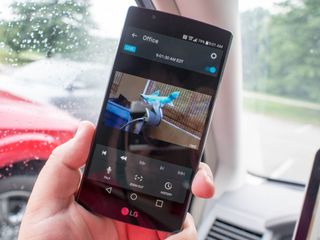 Nest has now fully absorbed Dropcam and graduated its core products and services into the Nest ecosystem, and the result is Nest Cam and Nest Aware. If you've ever seen or used Dropcam services, you should feel right at home with this upgraded piece of technology. As connected cameras go, there's a lot to explore an appreciate with Nest Cam, and the Nest Aware software that powers the experience is well worth taking a look at as well.
With that in mind, lets wander through this updated Nest Cam experience and see what is happening behind all the buttons.
For the uninitiated, Nest Cam is a web-enabled security camera with a powerful app and web interface to communicate with the camera from wherever you are. The camera can be a private security system for yourself, or a public camera that can be shared with the world. It has a speaker baked into the camera casing, so you can speak through your web or app interface and whoever is on the other end — kids, pets, someone breaking into your house and stealing your laptop — can hear you. Unlike its predecessors, Nest Cam is a 1080p camera with a UI that supports optical zoom and a night-vision mode that will kick in automatically if you tell it to. It's also incredibly easy to set up and use. As indoor security cameras go — this thing isn't waterproof, so don't try to stick it outside — it's one of the better overall experiences out there.
Powering the other features in the Nest Cam lineup is Nest Aware, which comes with a pair of monthly ($10 for 10 days of video history, or $30 for 30 days) or yearly ($100 or $300) subscription options depending on your needs. Nest Aware adds computer vision to Nest Cam, using cloud computing to sharpen and enhance the image you are seeing, especially when you use the app to zoom in on something in the room you are monitoring. The enhance button on zoom shows almost immediate results, and can be incredibly useful for things like facial recognition should the worst happen. Nest Aware also allows you to set custom zones in the room you are monitoring, like a door frame or a window, and the Nest app will notify you if there's any motion in those zones. When motion is detected, the app will create a special icon in the video timeline, so you can instantly tap and see what was happening at that time.
Nest Aware's services also come with aforementioned online storage options, allowing the camera to store either 7 or 30 days of video in the Nest app. Through this, users are able to create and export video clips of things they caught in the recording. The app lets you export up to an hour of enhanced recorded video at a time, but also lets you create timelapses from your video feed. These clips are stored on the Nest service until you decide to download or share them, and several social networking hooks are baked in to the service.
There's a lot to like about Nest Cam, just like there was a lot to like about its predecessors. The subscription options that power most of the good stuff is a little off-putting for a lot of users, but it's also pretty useful. Ultimately it's the cost of computer vision and cloud computing, which are critical components in making these feature work as seamlessly as they do. The folks at Nest have a long history of adding features year round, however, so whether you're already impressed with the service or on the fence it's clear there's always going to be something new around the corner.
Russell is a Contributing Editor at Android Central. He's a former server admin who has been using Android since the HTC G1, and quite literally wrote the book on Android tablets. You can usually find him chasing the next tech trend, much to the pain of his wallet. Find him on Facebook and Twitter
What is it like using multiple nest cams? Like if I wanted to put one in a few different rooms my house?

Was gonna ask the same Q Posted via the Android Central App

Each cam gets a marker on the home page, and you tap that marker to go into the settings for that camera. Notifications include labels for the camera, so you get the relevant info before jumping into the app.

Thanks via AC App on
VZW Moto X 2014/ DE 2013/ N7

You really can't afford the upload bandwidth. Your asymmetrical network connection is swamped by the upload stream of several cameras.

I put three nest cams in my house last weekend and they have all worked flawlessly. I was hesitant after a bad experience with dropcam a couple years ago but these things are perfect. I also have two nest thermostats and two nest smoke co2 sensors.

How much did you get then for? via AC App on
VZW Moto X 2014/ DE 2013/ N7

A subscription is required to view the cameras remotely and/or to record? Count me out. Hundreds of decent (to great) cameras out on the market already and they are free to use. sure, they are not perfectly intuitive. But anyone that is comfortable enough with setting up their own home Internet router will he plenty comfortable setting up those cameras. Foscam (love or hate them) provides lifetime free setup and troubleshooting support. May not be the best support. Trendnet has decent and inexpensive solutions too. And saving $100 to $300 per month more than makes up for the less intuitive (but far less expensive) cameras. Nest is for people who don't know (AND dont want to know) what they are doing. I guess there is market there, so good on them for meeting that demand. But, count me out of that crowd. Posted via the Android Central App

It was $100 or $300 per year, not month. Monthly was $10 or $30, so you get 2 month's free for doing the yearly rate.

True. That was a typo on my part. Saying $100 to $300 per year is worth it to have to some things on my own. Think about it... 3 years (a fair life for these.. some might say 5 to 10), and you save $900... or ($3000 if u keep them for 10 years). .. I have camera that I bought in 2005 and it still works great. Can you imagine if I had spend $3000 to use it? This Nest stuff is plain stupid...the stupidity of the cost trumps the "smart"ness of their devices. Posted via the Android Central App

No ability to use Google Drive (free) will always equal no deal. I don't want another recurring bill. Posted via the Android Central App

Another item trying to suck out a few dollars a month from my check.

Athome app and my unused old phones. No need to spend money in new cams and services.

Nest may have assimilated Dropcam but all is not well in the galaxy. For example, you used to be able to share Dropcam video with other people without having to share your master password. You simply send an invite by email. That very cool feature is no longer available when you access your cameras through Nest.com. It still works at Dropcam.com. Other problems included not being ale to sign up for the camera video recording CVR service using Nest.com. There are also huge stability problems with nest.com and streaming. Video streaming is perfectly smooth when viewing the camera on dropcam.com. Swith to nest.com and the video is blotchy and breaks up. One problem on both dropcam.com and nest.com is the motion detection algorithm is broken and has been for over a year. Bo be prepared for lots of false warning about motion outside a target area. If you don't set a target area it works fine. Outline an area to monitor and then turn off notification for motion outside the area and you will get dozens of incorrect or false alarms every day. Nest says this is a known problem and they are researching the issue. ... sigh.

I've seen the exact same problems, and I posted about them yesterday. There were something like 28 poss at the time. Now there are only 15 in this thread. AC is actively deleting posts at a rate higher than Apple. Be prepared for your post to disappear. Apparently AC can no longer have any posts that disagree with their fawning authors.

Part of this article is WRONG, The previous model Dropcam Pro IS CAPABLE OF DOING 1080p. Dropcam lowered the stream to 720p because they were worried about bandwidth problems. There has been an uproar on the Nest Facebook page, and Nest finally replied saying "they are working on activating 1080p on the Dropcam Pro" So I am sorry to say, the Nest Cam is just a Dropcam Pro re-branded to say Nest. Both cameras have the same exact specs.

I have streaming problems with my new Nest Cam. I know that it's not me or my equipment. I have a 6 up and 60 down, a gigabit wired and 1/2 gigabit wireless with a first tier ASUS router. When I check it I still get over 6 up and that's with 3 Pro's and 1 Nest cam running. The timetime is complete on the bottom so I'm not getting any upload dropouts. They are simply not streaming it back fast enough. The audio functions are unusable. I have been trying to be patient but if this isn't worked out soon I can't see myself paying for the blue circle loading screen every 7 seconds.

Nest support is open 24 hours a day and has good tools to help resolve these types of problems. Have you called them.

Hi There Don't Not Buy Nest Cam They Having problem Right Now They Are Fix the Bugs
Buy The Dropcam Pro For Now it work Greats

I have been trying to get a Nest Cam setup and functioning for several weeks now. While their support line is available and friendly, they don't seem able to actually resolve anything. They just gather data (run lots of speedtests while holding your laptop up in the air!), recommend disabling things and lowering quality, and restarting apps and the camera. The streaming issues continue unabated even with a strong broadband and wireless connection. I'm just not impressed with this product at all, and will likely be returning everything. This probably works fine if you want to monitor a pet and have patience with things going up and down, or experiencing long load times, but for security or watching a baby, forget it.
Android Central Newsletter
Get the best of Android Central in in your inbox, every day!
Thank you for signing up to Android Central. You will receive a verification email shortly.
There was a problem. Please refresh the page and try again.