Germany opts out of WhatsApp's controversial new privacy policy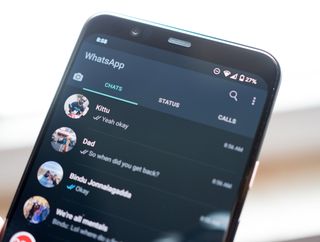 (Image credit: Harish Jonnalagadda / Android Central)
What you need to know
Germany has banned Facebook from processing WhatsApp user data.
The company's privacy policy is being criticized for being misleading.
Facebook's previous data protection scandals, such as Cambridge Analytica, are being raised as potential concerns, especially as Germany heads towards federal elections later this summer.
WhatsApp's new privacy policy rollout is hitting a snag in Germany. On Tuesday, a regulator issued a barring order on Facebook, banning it from accessing personal data from WhatsApp users. The move comes as a response to WhatsApp's controversial new privacy policy, set to take effect on May 15. While the company promised to not delete user accounts if they refused these new terms as it had originally threatened, the eventual slowdown of account features would encourage all but the most stubborn users to accept or switch, and it seems that's what the regulator takes issue with.
In a press release shared on Tuesday, the Hamburg Commissioner for Data Protection and Freedom of Information argued that Facebook had no legal basis for processing WhatsApp user data, noting that "the contents [of the new policy] are misleading and show considerable contradictions" and that "consent is not freely given, since WhatsApp demands acceptance of the new provisions as a condition for the continued use of the service's functionalities."
Johannes Caspar, Hamburg's Commissioner for Data Protection and Freedom of Information, said in comments:
Facebook had drawn criticism for its new privacy policy last year, leading to a growth in rival messaging apps; Telegram and Signal. The company eventually plans to tie WhatsApp to Facebook Messenger, so an agreement like this would possibly have been necessary down the line. That being said, Facebook's mishandling of user data over the years has afforded it a healthy serving of skepticism, and the Commissioner highlights several of them, tying these concerns to the country's upcoming elections.
Naturally, Facebook disputes this characterization of events.Android Central understands the company plans to explore its options for appealing the order while cooperating with any European Data Protection Board investigation that may follow.
When reached for comment, a WhatsApp spokesperson gaveAndroid Central the following:
At least they had the balls to do some about this. Good for them.

Umm... You might want to edit the first sentence in the article..... 😬

Lol! Oh please for the love keep it. It's SO good!

I had to read it a few times just to make sure I was not seeing things. Yep, I love it

Best editing fail yet, and we get a lot of them lol.

😆 he said ******** 😆 absolutely hilarious 🤣.

If it wasn't for facebook what would the sheep (weak minded) of the world do to communicate?

Facebook or the idea at least is a good thing, it has allowed people to stay in contact easier and also allowed people who have lost contact to contact other each other again.
Sure things are not perfect, no doubt it has been the cause of arguments and relationship breakups, but that is life. Facebook the company is the problem, they seem to think they can do what they like and don't give a monkey about privacy,
I don't use Facebook as much as I used to, but I still find it useful

Most of my contacts are in Germany, so, good for them. I still managed today to move my family and a few friends to Signal. 💪 I give the rest of the bunch a couple more weeks then whatsapp will be gone from my life and that abomination Facebook as well!

I thought this privacy policy did not include the E.U anyway?
Android Central Newsletter
Thank you for signing up to Android Central. You will receive a verification email shortly.
There was a problem. Please refresh the page and try again.