Gear S2 watch face roundup: Pip boy, Avengers and more!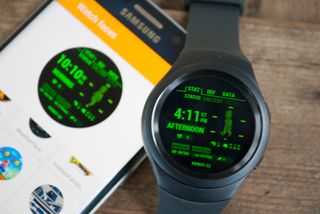 If you're wearing a smartwatch, then you already know that half of the fun of them comes in the form of watch faces. A watch face can add some flair to your wrist, or show off your personality in small ways. Trying to find the right watch face for your personality and life style can be difficult though.
That's where we come in. We've got 5 watch faces available for the Gear S2 that you may not have seen yet. Be sure to check out what we've found, and add some free flair to your smartwatch!
You'll be able to find all these apps and more through the Gear Manager app on your phone.
Fallout 4 Pipboy
Are you a fan of apocalyptic scenarios? Ever wish that you could have a Pip Boy from Fallout strapped onto your arm? Well, then we've found the watch face for you, with the Fallout 4 Pipboy watch face. This watch face gives you tons of information, and works really well. It's the closest you can get to a real Pipboy, in the year 2016.
On the left side of the screen you'll get the time in 12 hour digital format. Just underneath will tell you whether it is morning, afternoon or night. Under that, is the heart rate monitor, along with how much coffee and water you've recorded drinking that day. At the very bottom of the screen is an HP counter for your current battery percentage, the date, and a step counter. You can also access your gallery of photos saved to your smartwatch, and music from the bar at the top of the watch face.
Mr.Time: Lighthouse
If you're a fan of simplicity, then make sure to take a peek at the Mr. Time: Lighthouse watch face. It gives you an idyllic background of a lighthouse, without any bells or whistles to distract you from the time. It's an analog watch face, but you won't even find numbers around the edge of the screen.
The middle of the screen is taken up by a lighthouse on a small island. The water around it moves as time passes, with small white ripples. To tell the time you'll need to take a look at a small boat, and buoy floating in that water. The hour is indicated by the small orange buoy, and the minute is indicated by a wooden boats with paddles. There are notches around the edge of the screen to help you out while you're getting used to telling time without numbers to help you out.
Mario Watch
Even gamers like their smartwatches, and there is probably no game more well known than Mario. If you like to have some geeky flair on your smartwatch, but don't really care for bells and whistles then this is one you should certainly check out. You won't find anything other than Mario and the time, but it works really well.
The background of the screen is landscape pulled right out of the games, including polka dotted hills and the occasional green tube. The top third of the watch face is taken up by the time which appears in a 12-hour digital format. Underneath it, is the one and only Mario. This is an animated watch face, which means that every time that the watch face is open you'll see Mario running along the screen as quickly as he can.
Star Wars R2-D2
Star Wars is back in the news again, and geeks everywhere are rejoicing. We've found a simple illustration of R2-D2 on cute analog watch face that will let you bring the force to your wrist. You aren't going to find bells and whistles here, but the watch face looks great at a glance.
There are no numbers to be found around the edge of the screen, instead there are tic marks to show off the hours of the day. The background is an illustration of R2-D2's face, and takes up the whole watch face. There is an hour hand, and a minute hand, both of which are slender and end is white pointer's which fit in with the aesthetic granted by R2-D2. Overall it's a great watch face for the star wars fan who craves simplicity.
Avengers
If you're a Marvel fan, then this next watch face may be right up your alley. The Avengers watch face is a sweet and simple watch face, with a background that has a watercolor illustration of the Avengers team. There aren't many bells and whistles for this watch face, but the simplicity of it adds to the face instead of taking away from it.
The illustrated Avengers team takes up the background of the watch face. This is an analog watch face, with simple black hands that tell the time, including a second hand. The only other information that you'll get, is from a power gauge at the top half of the watch face. The gauge reads F on the left, and then E on the right, indicating where your watch battery is sitting.
These are by no means the only awesome, or free, watch faces available for the Gear S2. Much like Android Wear, there are hundreds upon hundreds of watch faces available for download right now. That means that there is a watch face out there for even the pickiest user.
So were any of these watch faces up your alley, or do you have a watch face in mind for our next roundup? Be sure to jump into the comments and let us know about it!
Get the Android Central Newsletter
Instant access to breaking news, the hottest reviews, great deals and helpful tips.
Jen is a staff writer who spends her time researching the products you didn't know you needed. She's also a fantasy novelist and has a serious Civ VI addiction. You can follow her on Twitter.
OMG!
I always wanted a pipboy. Now I want a Gear S2 to go with it!

I've been using that pipboy face for like a week now, love it Posted via the Android Central App

i have to download the avenger wallpaper... but first i need to buy the gear s2...and a decent smartphone Posted via the Android Central App

Be sure to get electricity first as well.

Finally, a smart watch with a size and design that doesn't look like a wall clock strapped to your wrist by bungie cables, and these are the faces we get. They're probably fine for casual wear, but I think I'll keep my Seiko for a while longer.

There are plenty of faces for business wear, including some made by Samsung themselves. As mentioned in the article, there's something for everyone. Posted via the Android Central App

I have the gear S2 and honestly I miss having a real automatic watch on my wrist.
I might be switching to a real watch and firbit combo.

The Pip boy watchface is awesome! Galaxy S6 Edge Plus - TMO

Unfortunately for this watch, all that really matters is what the ambient display of these watch faces look like. I hardly ever see my actual watch face on this watch.

Just got my Gear S2 Classic on Friday and found the Pip-Boy watch face. Love the freaking watch face. I was surprised it was free there are some pip boy ones that are out there that are crappy and folks are charging for those ones. Posted via the Android Central App

Where did you find the pipboy watch face? I have been looking for a week now and can't seem to find it anywhere. I just keep seeing the crappy ones that people are charging for.

Look for "Fallout 4 Pipboy" The author of it is Yi Jia Tan Posted via the Android Central App

I cant seem to find it either. :( i have the gear s2. Can anybody help?

It would be nice if they put links to the Play Store for us.

Everyone should check out Infinity Watchfaces... They have a really cool one on its way: https://youtu.be/1Wxf3amTmsg Posted via the Android Central App

I really like the Weather Channel watchface.

I have a Gear S2 out for delivery right now. Can't wait to try out some watch faces!

I like a simple interface for grownups. Something classy for date nights and something practical and easy to read for everyday use, and something not too bright for sleepy-time. For classy-wear I like Platina, for easy to read everyday-wear I like RoomWatch, and for sleepy-time BlueStealth 12hr, however if my eyesight were better BlueStealth 12hr would be always on always wear.

Those are some ugly watchfaces. Except the Pipboy one.