GE to sell Link LED lightbulbs controlled by Wink app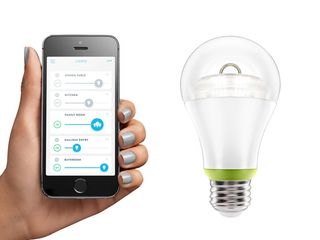 General Electric has announced plans to sell a new family of LED lightbulbs, the Link, that can be controlled remotely anywhere in the world by the new Wink app as part of their connected home efforts.
Combined with the app, which is available for Android and iOS devices, GE states, "Link eliminates the need for expensive add-ons typically associated with connected devices, making it an easy and cost-effective way for consumers to light up their smart homes." Users with the app will be able to remotely access their Link lights in their home from anywhere in the world, along with ways to dim or increase the lighting and a method to schedule when lights can be turned on and off.
GE says it will begin pre-orders for its Links bulbs on Monday, June 30th. They will go on sale at Home Depot stores later this fall. Prices for the bulbs will begin at less than $15. What do you think of this new effort by GE to offer app-controlled lighting products?
Source: GE
Get the Android Central Newsletter
Instant access to breaking news, the hottest reviews, great deals and helpful tips.
Looks like a copy of the Connected by TCP setup... I like mine Posted via Android Central App

And I don't have a Home Depot in my city of 100,000. Ha.

If the app is half as good as the Hue app I'm in. Posted via Android Central App

I'm assuming most people use this as a security measure, if they forget to turn on a light inside the house or something related to that? Posted via Android Central App

I would use it from bed. Lol. Like the clapper. *want*
Posted via Android Central App

Yep.. I go to work in daylight, and then it's dark when I go home... I have one come on automatically, and turn others on and off on a whim, as needed. When it's snowing I light the entire house as it just looks badass when I get home Posted via Android Central App

Bulbs require (Zigbee) gateway hub for $29.97. There's a "starter pack" (A19/60W pair and hub for $49.97). Posted via Android Central App on my HP TouchPad (Schizoid PAC-ROM 4.2.2)

ahhh, there it is. same as others just too expensive to be of casual use. Would be neat but I'm not about to shell out $50 a light Posted via Android Central App

$50 a light? LOL! Wrong! It's $15 or $20 or $25 for a bulb, once you have the hub for $30 or starter pack (includes 2 bulbs) for $50. Posted via Android Central App on my HP TouchPad (Schizoid PAC-ROM 4.2.2)

This is cool. Samsung, LG, and others are already doing this. What I'm looking for is something that can connect everything together. Light, garage door, entry doors, thermostat (nest?) Security cameras etc.... I need one app that runs the whole house. Posted via Android Central App

Give it time.... This will come. With all of the Home items that Google is targeting, this is definitely on the radar.

I'll definitely be picking some of these up for my home! Posted via Android Central App/GS5

I'm old school, I just use the light switch when I get home. Been doing that for 25 years. Works every time. Posted via Android Central App

Old school? We pull on the string.

Oh, we used to DREAM of pulling a string. We had it tough. Why in my day, we had to strike a fire from twigs and tinder and then once we had a flame, we'd light what little candle stub we had left. Then we used to get up every morning at 6 to work at the mill 14 hours a day for 6 pence and when we got home our father would thrash us to sleep with his belt.

No, that's pre-school. Posted via Android Central App

Is it only controllable from the app, or can you control it at the light?

Prices are coming down on this type of technology. Someday I'm sure I'll have it.