Galaxy S9 vs Galaxy S9+: Which is best for VR?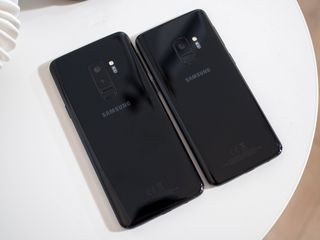 Samsung's Galaxy S9 and Galaxy S9+ feature top of the line specs, beautiful designs, and improve upon the successful Galaxy S8 and Galaxy S8+. While both of Samsung's newest flagship devices have many similarities, there are some differences when it comes to using them with a Gear VR. There are pros and cons to each so you'll have to weigh them yourself before deciding which phone is best for you.
Samsung Galaxy S9 vs. Galaxy S9+: Which should you buy?
Pixel power
Samsung's flagships are known for having beautiful displays, and the Galaxy S9 and Galaxy S9+ are no exceptions. Both have 2960x1440 pixel displays. But since the phones are different sizes, the pixel densities differ. The Galaxy S9 has a pixel density of 570 pixels per inch while the Galaxy S9+ has a pixel density of 529 pixels per inch. This isn't as noticeable when you're using your phone in your hand, but is a bigger deal when using your phone in the Gear VR.
When using a phone with a Gear VR, you can see what's called "the screen door effect" where you see grid lines from the display of your phone. While Oculus has made efforts to lessen this effect, it's more pronounced on devices with lower pixel densities. If you want the absolute best image quality in Gear VR, you should look at the Galaxy S9.
Battery Life
Some of the factors that affect battery life for handheld usage of phones don't affect phones while in VR. When you place your phone into the Gear VR, a large portion of the screen turns black since the VR experience only relies on the two circles that are on your screen. Since the Galaxy S9 and S9+ both have AMOLED displays, these black pixels don't drain battery life which means the larger screen of the Galaxy S9+ isn't a battery drain in VR. These phones don't have the exact same amount of screen used while in VR, but it's close enough that the battery drain of VR is about the same for each device.
This means that the largest factor for battery life using a Gear VR is the size of your phone's battery. The Galaxy S9 has a 3000mAh battery while the Galaxy S9+ has a 3500mAH battery. This means that your VR sessions will drain last longer on the Galaxy S9+ unless you want to plug in your Gear VR while using it.
Everything you can do with the USB port on your Samsung Gear VR
Which is best for VR?
Both of these phones have the same processors, and many of the same internals which means the main deciding factors when it comes to using them with a Gear VR are pixel density and battery life.
The Galaxy S9 has a higher pixel density which will result in a more immersive VR experience, but its battery is smaller than the Galaxy S9+. Considering that these devices both support rapid charging and that you can plug your Gear VR in while using it, pixel density is probably more important than battery life.
While you'll be able to enjoy VR using either the Galaxy S9 or Galaxy S9+, the Galaxy S9 offers a better overall package when it comes to virtual reality.
Get the Android Central Newsletter
Instant access to breaking news, the hottest reviews, great deals and helpful tips.