Galaxy S8's most powerful Bixby feature won't be in Europe at launch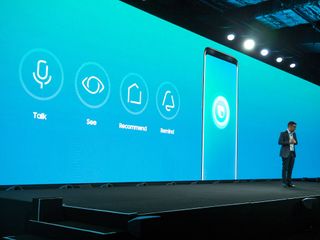 The Samsung Galaxy S8 arrives in Europe on April 28, but when the phone hits European shores it'll be missing one of the key features in Samsung's Bixby AI platform.
Announcing the Galaxy S8 and S8+ at its European satellite event in London today, Samsung revealed that Bixby's much-hyped voice recognition feature will support Korean and American English initially, with British English and other European languages being added in the months following release. In supported apps (only 10 Samsung apps at launch) Bixby's voice comments let you do just about anything you'd be able to do via touch — but it'll be exclusive to these two languages immediately at launch. Other Bixby features like vision (through the camera app) and Bixby home are supported on European devices, it's just the voice interaction stuff that'll have to wait. (Though admittedly that's a significant part of the Bixby experience.)
The omission leaves the Bixby button on European GS8s largely working as a secondary home button, only one that takes you straight to the Bixby home app as opposed to your main home screen. It's still early days for Bixby right now, and it's clear Samsung plans to build out the AI throughout its entire portfolio of connected devices, not just phones. Nevertheless, launching a major new product with a missing feature is less than ideal — whether it's Samsung with Bixby in Europe, or Apple with portrait mode on the iPhone 7 Plus.
If you're considering buying a GS8 in Europe, hit the comments and let us know whether having to wait a few months for a complete Bixby experience might sway your buying decision.
Get the Android Central Newsletter
Instant access to breaking news, the hottest reviews, great deals and helpful tips.
Alex was with Android Central for over a decade, producing written and video content for the site, and served as global Executive Editor from 2016 to 2022.
lol yeah let's ship this unfinished feature that's supposed to be front and center. That's insane. And the pace of Samsung's updates? It'll be 6 months before it understands British English.

Better than before when the Note 5 didn't even launch in Europe. But still, this is a bit ridiculous on Samsung's part. If you're going to launch it, it should work for everyone. Seems like an unfortunate developmental oversight where the design team assumed that people all spoke English the same. I hope our New York or Minnesota brothers and sisters don't have accent problems. 😂

Us wot speek and spill propar Inglish get left behind. Gutted! xD

Samsung pay arrives in UK in 2016. Oh wait 2017 and still not here. Bixby prob arrive in 2020.

Yep. If Samsung Pay is anything to go by we will see the GS10 before Bixby.

Same in Canada. Samsung Pay was coming soon for almost 3 years now. For the past year or so it works with only one credit card from one bank. I guess Samsung isn't anything if not consistent. Everything they do is half-arsed. Launch of every feature is like their updates. No rhyme or reason to anything.

LOL.. if that's any consolation a few 3rd countries now have samsung pay before UK.
I am just laughing at this turn of event :)

So it can understand Korean accents but not British English....lol

Why would that be surprising?

Korean accents of the people speaking Korean, yes. Because Samsung is based in ...?

Shocking. So, will that dedicated button they've included just be completely useless? Much like the magnetic stripe thing they included in the S7.

What is with companies sending out half-baked products lately?

They feel that accelerated releases will garner market share.

Pretty let down with the whole thing. Bixby is half finished
2 colours in UK at launch!!
No free headset this year At that money i want it all to work and i want the colour i want!

We're still waiting for Samsung Pay ffs!!!

Bixby shouldn't have come one any phone, it's another short lived gimmick that will be dead by s9 most likely and s10 for sure. OK Google, no Alexa, no gdammit, Bigsby....no Bixby BIXBY. FFS

I'm all for Bixby if it replaces s voice....s voice is so HORRIBLE. I actually find Cortana the most useful and I use that maybe once a week.

On the positive side I'm not interested in having yet more Samsung rubbish on my phone and wouldn't have used it, but it seems really silly to make it such a core feature then exclude it from all but 2 markets! Not seen anything to move me up from my SGS7, especially now it finally has Nougat!

Really? Ok most of us would probably never use it but to launch the phone with something so central to its marketed functionality missing in every region but two is terrible. It says "we don't care". Samsung don't have a good track record with software updates on their phones or any other products. We'll probably never see Bixby in Europe.

Is it really that hard to change US English to UK English? If they can't do this, it does not give me a great deal of faith in AI.

In US they say tomato and in the U.K. They say tomato. It's obviously hard 🙄

So what's the button for then?

What about Canadian English..?!

I thought the UK is getting out of Europe as of this week. So really it'll work in Europe just fine.

What a surprise by Samsung...

We still don't have much of Google voice features on smartphones and smartwatches in Portuguese from Portugal and the Moto 360 1st generation is more than 2 years old. Very disappointing.

S-voice and Bixby is okay for hearing people. what about deaf people who having a problem with voice, Bixby don't understand sign language. would be great sign language can convert these words without typing,

Brand new Original Samsung Galaxy s8 and s8+ New Edition RED Apple iphone 7 and 7 128GB plus cost 550usd with 1year warranty. Serious buyer should contact us. Whatsapp CHAT or Call : +254703285513 or 00254703285513