Galaxy S8 benchmarks show Exynos 8895 outpacing the Snapdragon 835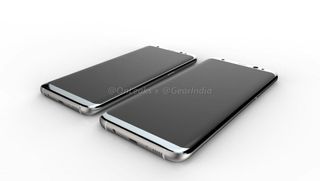 Adding to the pile of Samsung Galaxy S8 rumors that are stacking up as high as the Leaning Tower of Pisa is this GeekBench discovery. Uploaded earlier this week, the GeekBench score shows Samsung taking the cake. It has the top two spots on the chart, with its Exynos 8895 processor leading the pack, and the Galaxy S8+ with the Snapdragon 835 ranking in at a close second.
The Exynos 8895 is the successor to the Exynos 8890, which was featured on the international variant of the Galaxy S7 Edge. Like its predecessor, the Exynos 8895 will be exclusive to the Galaxy S8 sold in international markets. The U.S. will get the Snapdragon 835 version, which is what's sitting pretty in second place.
But all in all, benchmarks are still just numbers, and just because they exist within certain benchmarking suites, those numbers aren't the final say on whether one processor is best for a mobile device over another.
Android Central Newsletter
Get instant access to breaking news, the hottest reviews, great deals and helpful tips
Florence Ion was formerly an editor and columnist at Android Central. She writes about Android-powered devices of all types and explores their usefulness in her everyday life. You can follow her on Twitter or watch her Tuesday nights on All About Android.
Of course, that's so close between the two that it won't matter performance wise. I'm most interested in the battery life comparison between the two chips. Usually, that's not nearly so close to one another.

My Lilly Esin once in a blue moon got a new choice of the crop Chevrolet Corvette Stingray Coupe by unavailable off of a laptop... flash it out ................................... http://www.moneytime10.com

Should be real world testing, like having a few gigs of apps installed, with chrome and other apps open in the background, and then start testing between them to see speed tests and ram issues. Brand new phones out of the box and testing them from there isn't real ideal if you ask me.

I think your right Kevin samsung will have then tuned to be as close as possible to line ball , either way both should be improved on earlier models

We should ALL know by now that benchmarks mean very little in over all user experience. Most consumers will not see the difference in benchmark winners versus the next 10 behind it.

That's what you get with next to nothing in software...

Someone knows nothing about SoCs....

IPhones do hurry up to get nowhere.

If by nowhere you mean from point A to B without lagging, then yes, they get nowhere.

And that's the problem. I need more in a handset than getting to two points quickly. But hey, nothing against people who love their IPhones. I have family members who swear by them. I'm still waiting for Apple to release something that interests me for more than a month before I'm bored and back to Android.

I use and own both and I do find iPhones to be very limited. With that being said, despite what reviews say, I always manage to get better battery life out of my iPhones. I guess it might be due to them not being able to do much.

iPhones are trash and that's a fact.

Thanks for adding to the discussion...

If you game on your phone, iPhones are the way to go.

Not trash, just different. Simple to a fault.

They're not trash. Just because they're limited and don't have as much customization potential doesn't make them trash. They're actually really solid phones because even though you can't customize them much, they do nail the core essentials of a smartphone very well.

Nothing Apple makes is significant or game changing. It's the same old useless, boring, featureless, dull, uneventful experience year after typical Apple

So iPhone in itself wasn't game changing? It changed everything IMO. Don't get me wrong, I hate iPhones and loathe Apple but at least I can give a credit where it's due. You should too.

Iphones are the biggest laggers on the market. Also app crashes.

1080p makes a huge difference in benchmarks, when comparing it with something​ that has 1440p display.

Do you know how Geekbench works?

I waa hoping someone was going to mention that Apple is pushing less pixels on benchmarks. Thank you. Ofcourse if i play Wow on high graphics my fps would be less than on low graphics. If Apple is good for one thing it's competition with Andriod; which is a win win for consumers.

What part of the integer test, memory workload test, or floating point workload takes resolution into account? You know this is just CPU and not GPU, right?

That's single core in multi core the s8 owns the iPhone . You divide The Core 4 vs 3

Who Cares as long as it works well .

Literally, *the* FIRST thing that popped into my head was exactly this!!! Hahahahahahaaa

I know benchmarks don't tell the whole story but wasn't there chatter about how the 835 was supposed to finally compete with apple processors on that level?

Android SoC is a high end locomotive pulling a mile long train. Apple SoC is a high end locomotive pulling a cart of hay. Android SoC will never match Apple until the OS is completely revamped and in all honesty too much would need to be lost in order to do so. Find your value. I need the stuff in the cars if the mile long train.

Thats not it at all. Android IS very optimized that outdated argument is used to against everything. The A10 is just more powerful hands down more optimization wont do much of anything for android, it simply lacks the raw power. A few software tweaks doesn't mean geekbench scores will go up 100+.

Not surprising, has been this way for awhile, close but the exynos slightly edges it

Lol, look at the iPhone, schooling everyone.

3 years in a row Samsung had the better processor, wish they would abandon Snapdragon and give the US an Exynos like they did the Note 2 and S6/Note5. Just glad they skipped the heat dragon 810 in 2015.

Qualcomm owns a number of patents for wireless in the US, if Samsung wanted to use their stuff in the US they'd have to pay royalties to Qualcomm, it's cheaper to buy their gear.

So how come apple can use their own chip?

Because Apple can afford to pay while they have Qualcomm in court over it.

That's pretty simplistic.

That's might be changing soon. Intel now has a modem that works with all carriers.

So Qualcomm hides behind the lawyer wall. Wonderful.

Ignore the fact that the iPhone, a 2016 phone, is absolutely destroying both

Welcome to ANDROID CENTRAL

Yeah, but he's right. I just sold my iPhone 6s plus for a Galaxy s7 Edge and I have to say, the iPhone is smoother and much faster.

I get that . But this is not an Apple forum.

So you loved your iPhone so much that you traded it for the inferior Galaxy S7 hum ....ok

Too bad you had to sell one one to get the other. I just use both.

Moto, Pixel, or Oneplus if you care about speed

Multi core s8 6289 iPhone 5334 now who's your daddy the iPhone has less core to divide

Those are the multi core scores did I lose you there ,of the s8 and iPhone 7 . When you have less cores they don't get divided as much hence the higher scores on the iPhone. Looks good on paper thought for those that don't know

No offence, but those scores you posted seem even less impressive now. You're basically telling me that because the S8 using 8 cores edges out the iPhone 7 by 700/800 points in multi-core, single-core performance doesn't seem as bad for the former, right? If that is the case, here is my counterargument: The fact that were see less than a 20% advantage, despite using 4 more cores and a new nm size, is rather unsatisfactory. Sure, these scores don't effect daily usage much if at all. But if I'm paying $900 for a phone, it BETTER at least be more powerful than one of last year's. Neither S8 variant appears to be so, and that's disheartening. Having said that, I'm still buying one anyway. Hopefully at least T-Mobile offers an unlockable boot loader so I can make the most out of it.

Last year s7 multiple score was 5700 plus that improvement​ . And once it's fully operational I expect the score to go up . Remember the s8 is a pre-production model

"Single-core results are a mixed bag, with the older chip scoring better in quite a few areas, though, admittedly, the differences are small. However, during regular usage of a device, single-core speeds are much more important, as most Android apps don't take advantage of multithreading, and also run on the slower, low-power CPU cores, never taking advantage of the better multi-core performance." Source: http://www.phonearena.com/news/Here-are-the-first-benchmarks-of-the-Gala...

That's expected. The Exynos 8895 and Snapdragon 835 are octa-core big.LITTLE chipsets. They have 2 quad-core clusters meaning that the multicore score will be higher. I'm not sure if they are heterogenous, though; The A10 Fusion is a quad-core big.LITTLE chip with 2 dual-core clusters. Look, rag on Apple all you want, but it doesn't change how impressive the single-core score of the A10 is.

Rag ..On ..Apple hardly just giving the facts has nothing to do with rather I like apple are not ( I don't ) and no apple doesn't impress me the least my last iPhone is my 5s

But the Snapdragon usually has the best gaming cpu . But really in real life it's not noticeable ...That's my take on it. The iPhones​ advantage is really only in opening games that are purposely built for the iPhone platform. But in every thing else opening apps and browsing the web especially with Samsung browser the Galaxy is faster

I'll have to disagree with you there. Safari on my 7 Plus is faster than Samsung's browser on my S7 Edge. Samsung does have my favorite Android browser though. It's really close between the 2.

Faster than the iPhone 7? It couldn't even beat the iPhone 6s:
https://youtu.be/10UBsSo6O4I

Could someone explain to me why they wouldn't just use their own chip in all markets? Why use something from Snapdragon in North America if they can use a speedy in-house chip?

There both some what Samsungs chip the 10 nano is built in Samsung foundation plate . From what I've read the radio bands in the states play nicer with the Snapdragon chip

I think it has a lot to do with cellular radio patents that Qualcomm owns. If they wanted to use their own chips here, they'd have to pay royalties to Qualcomm. So I guess the cost of manufacturing their own chips for US devices plus the dues to Qualcomm must be greater than the cost of buying chips (oh wait, I mean PLATFORMS) from Qualcomm.

You are correct. Actually I have no idea In all seriousness I have read that many times.

Years ago, I think it had something to do with North Americas LTE. I am not sure if that's the case in 2016/17.

It seems as though my iPhone 7 Plus will outperform either one anyways! :P I'll still get either one of those phones to pair with my 7+, though.

Remember, folks: if you care about ROMs and root Snapdragon chips are usually better supported.

Um, this is a Samsung phone. Rooting and ROM-ing on one isn't as easy.

Thats that great Knox security system at work you see you can't have it both ways . And before you say something in apple defense . Yes Samsung's knoxs is one of if not the most secure

What This has little to do with Knox. Rooting on Android Marshmallow and above requires an unlocked bootloader. US Galaxy S7s have a very locked-down bootloader. The Exynos variants historically don't have the full source code released, although the release of LnOS for the S7 and S6 in an official manner seems to hint otherwise.

You've said nothing new here just worded it differently haha thanks for making a short story longer then need be ,it Has a lot to do with Samsung security codes of late . I used to unlock plenty of old Galaxy's and iPhone and folks that wanted access to putting stupid games bootleg movies and music on there phone's​ which in turn made the phone's a lot more unreliable and un stable. Samsung codes have been purposely written that way. Is there was around it yes but voiding warranties and losing Samsung pay it's not worth the trade-off for most and certainly not for me, FYI iPhones​ are the easiest phones to jailbreak

People on here might care about roms and root, but in the real world I don't know a single person with a rooted phone.

Need I remember you guys that the Snapdragon is running on 7.0 while the Samsung chip is not and the fact that I get monthly security updates something to chew on

Really smart guy and what carrier are you on all the big 4 have pushed out 7.0 and I'm at&t we've gotten security updates on the regular . Maybe you need a Snapdragon chip . Just look January 31 last security update

That's why Samsung chose to push the 7.0 Beta out to the UK first and why most of us in Europe/Asia (Exynos territories) have been onto 7.0 as a final release since before Christmas? Nonsense.

I don't want an Exinos chip anywhere near my phone. Qualcomm only.

Really? How long have you worked there?

And in other news that means exactly as much in the Android world as this does, gas prices are a little higher here today than they were yesterday.

Soooo your kinda more of a imore guy just dropping in right .....Ok

That's an idiotic conclusion to draw.

The Note 5,....Exynos..>CAN be HAD in the US market....sigh chutzpah ! Snap the crap

Wow, what not a shocker! Qualcomm hasn't​ been leading the SOC venue for a couple years. I now feel deprived not getting an Exynos in my Samsung device; I'd far rather an Exynos, Kirin, or A10 Fusion.

Really? Only single core benchmarks? You could have mentioned that in the title so I didn't have to waste my time reading through this article trying to see what the benchmark meant.

Nobody cares about pointless benchmarks. People want battery life!

Some of us anyway. That's why I got the Lenovo P2, it has awesome battery life.

Unless I'm reading something wrong, why does it look as if the iPhone is nearly twice as fast? That seems depressing? ( I have never owned a iPhone) please clarify what's going on here. Thank​ you

That's the single-core score. Apple has always prioritized single-core performance on their processors instead of just adding more cores.

Your only seeing half the store . And I'm not so sure why they didn't show the single and multiple score. Being that both are readily available. I real life comparison there's not much difference on speed iPhone has a small advantage mostly do to pushing far less pixels and them building both software and hardware

Because the iPhone IS twice as fast. Both in benchmarks and while using it in the real world. And it will always be. An OS running Android is not a fast OS. It was never designed to be a fast OS, They all use a single thread for the GUI so single core performance is what really matters, regardless what people in these comments want to believe. Apple's CPU is miles ahead of anything Qualcomm or Samsung are doing. That's partly because Qualcomm and Samsung only care about running Android on their products and Apple wants to expand ARM to their laptops. They are developing in different directions. Finally, fast doesn't mean better. It's just fun to stir up the fanboy nest once in a while and watch the Samsung justice league go to work

Or...Watch the Samsung justice league fight itself. Exynos vs Snapdragon

In others words click bait haha gotcha . Fun to ham it up though

It's important to also note that the Exynos equipped variants always last longer (in bed). Unfortunately for us root enthusiasts though, there is rarely a root method until years later when the technology is obsolete.

I don't know why no one has mentioned this, but the Kirin 960 gets similar scores.

Barely. Not even remotely noticeable in every day usage. That iphone score though...

wow then put this Apple Chip into the Samsung S8 when so much better. Software & Batterylife is what matters more , just look what moto is doing. My SD625 powered Z Play kills my SD820 and SD821 devices :)

The 7420 was significantly better than the 810. The 8590 was a bit better than the 820. Now the 835 is even closer to the 8595. Qualcomm is slowly catching up but other than the 810 all those SoCs will give you a great experience. Add in the Kirin 950, 955 & 960 and there are some great choices.

Why on earth do other companies not use the Exynos processors.

Still has problems working with major carrier's LTE networks in the U.S. for some reason

I know the performances differences in exynos and SD benchmarks are negligible in real world use, but it warms my heart that the international version is a wee bit faster. Haha. I won't buy a U.S. version because of carrier bloatware. When prices come down to earth I'll buy an international one. Right now, my GS7Edge international version still flies and looks great so in no hurry to upgrade.

And that's all that matters my two Sammy phones both fly since day one (s7 edge and note 5 ) . I could care less if the iPhone opens games a nano second faster . My lil iPhone 5s is all the apple products I can stand hehe it works but it's limited and hella boring after a day of running with my sim card in it . These benchmarks are like horsepower wars of Ford and Chevy . For me Samsung moves my needle and get my tech dollars

This is not surprising. People have been making claims about Exynos being faster for a while now.

Just ran geekbench on my international S7 edge running android 7. This has the exynos 8890. 1929 single core, 5520 multi core. Not seeing how this new chip is an improvement.

The numbers are higher on the s8 . But why does it matter . Do you really think from one year to the next a processor will be light years different. It's not , if your s7 is anything like mine then it's a beast . S8 will be just as fast are and more efficient. So the question is why does it matter what some stupid numbers say

1905 single, 5630 multi here with mine. I predict the scores will go up a little bit as it's still pre-release hardware. And the benefit may also come in the form of better battery life rather than just pure performance.

Exactly and that's​ my point I could care less about what the iPhone does are doesn't . My note 5 and s7 edge are fast enough and there no noticeable lag . The s8 will be more efficient and that's in improvement

Benchmarks are like truck comparisons. It's all nice that one truck out-tows another by 1,000 lbs, but, if that same truck has a park bench for seating and nylon rope for seatbelts, nobody is towing anything with it!

Apple has to design a whole entire phone. You had one job Qualcomm... ONE FREAKING JOB and ya even lose to kirin and exynos. What's next? Ya gonna lose to mediatek too? Our relationship is over.
Android Central Newsletter
Get instant access to breaking news, the hottest reviews, great deals and helpful tips
Thank you for signing up to Android Central. You will receive a verification email shortly.
There was a problem. Please refresh the page and try again.