Galaxy S20 battery test reveals just how 'expensive' 120Hz display really is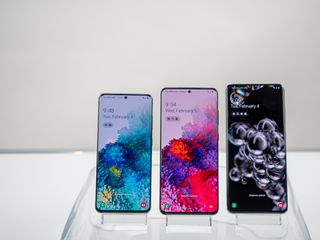 (Image credit: Android Central)
What you need to know
Analysis from AnandTech has shown just how power-hungry the 120Hz mode on Galaxy S20 series phones is.
The Galaxy S20 Ultra incurs a significant 20% battery life penalty when the display refresh rate is set to 120Hz.
Samsung's smaller Galaxy S20+ also incurs a similar battery life penalty with the display set to 120Hz.
Samsung's latest Galaxy S20 series phones boast best-in-class Dynamic AMOLED displays with Quad HD+ resolution and a 120Hz refresh rate. Like other phones equipped with high-refresh-rate panels, however, switching to a higher refresh rate results in lower battery life. As noted by our very own Andrew Martonik in his Galaxy S20 Ultra review, turning on the 120Hz mode can lead to a 20-30% reduction in battery life.
Our colleagues at AnandTech have now published an extensive analysis showing just how much of an impact the 120Hz mode has on the Galaxy S20 and Galaxy S20 Ultra's battery life. Unsurprisingly, they found that the 120Hz mode has "quite a large power impact." The base power consumption degraded by nearly 180mW with the 120Hz mode enabled on the Snapdragon 865-powered Galaxy S20 Ultra. Similar degradations were also observed when switching to 120Hz on the Exynos 990-powered variants of the Galaxy S20 Ultra as well as the Galaxy S20+.
Image 1 of 3
In the web browsing test, the Snapdragon 865-powered Galaxy S20 Ultra achieved 20% lower longevity in the 120Hz mode, faring worse than other phones with high-refresh-rate displays. The Exynos 990-powered Galaxy S20 Ultra, as well as the Galaxy S20+, incurred equal battery life penalty when running at 120Hz.
In PCMark's battery life test, switching to 120Hz resulted in 25% lower battery life figures for the Snapdragon 865-powered S20 Ultra. The Exynos variant of the phone fell behind the Snapdragon variant by 27%, confirming the Qualcomm chip's superiority in terms of power efficiency. The Exynos 990-powered Galaxy S20+ also fared "poorly."
Android Central Newsletter
Get instant access to breaking news, the hottest reviews, great deals and helpful tips
No functional advantage... but at least it looks pretty!

I will never understand why Samsung didn't implement at least even partial variable refresh rates

They have said they plan to release a software update that allows for more selective use of 120Hz. But in the meantime, the battery they provided with the phones are more than capable of getting through a day with 120Hz.

I love the negativity of the article, although ZERO real world comparisons or data is given. The fact is, no other device in existence can run a 120hz display and still have 65% battery remaining after an 8hr workday! Is this writer's next article going to examine how bigger displays use more battery than smaller displays? Or maybe the horrific difference between battery drain when the screen is on vs off? Thanks, Captain Obvious!

Yeah, the battery would be fine and that's why they packed a big one. It is interesting to see the difference though.
I got a good laugh when you mentioned 65%, and I looked at my phone at 9:30 at night and it's exactly at 65%, lol. Quite the coincidence, although it's not an S20.

That's why 90Hz displays have a better balance between performance and power consumption.

I never really care about 120hz I run my phone on 60hz 1440p all the time I watch more videos then scrolling to be honest
Android Central Newsletter
Get instant access to breaking news, the hottest reviews, great deals and helpful tips
Thank you for signing up to Android Central. You will receive a verification email shortly.
There was a problem. Please refresh the page and try again.