Future Samsung phones will have a working FM radio chip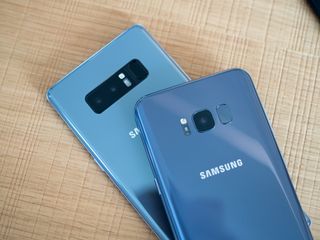 Between downloading local files and the vast array of streaming services, your options for listening to music while on the go are more abundant than ever before. Now, thanks to a new partnership with NextRadio, future Samsung phones will ship with a working FM chip so you can access and listen to local radio stations.
Most phones have the tech to support FM signals, but they're unfortunately often disabled from doing so due to pressure from wireless carriers. LG, Motorola, and Alcatel have previously joined NextRadio in offering active FM chips to their customers, but Samsung is definitely the biggest name to be added so far.
Listening to music on a radio station through FM signals might sound archaic compared to streaming your favorite tunes on Pandora or iHeartRadio, but there are serious benefits that it brings. You can still listen to FM stations even when you're without a reliable data connection, and in addition to music, they're also a great source for local news, weather, and other information.
Also as a fun side note, this announcement is also pretty much a guarantee that Samsung will be keeping the 3.5mm headphone jack on at least some of its phones for the foreseeable future. Wired headphones serve as the antenna used for picking up FM signals, and seeing as how we're already expecting the Galaxy S9 to keep the 3.5mm port, this seems like further reassurance of what we were already hoping for.
Upcoming Samsung phones in the United States and Canada will have access to these working FM chips, and you'll be able to tap into them with the NextRadio app on the Play Store (opens in new tab).
Huawei announces Q2 mesh Wi-Fi system with max speed of 1867 Mbps
Android Central Newsletter
Get instant access to breaking news, the hottest reviews, great deals and helpful tips
Joe Maring was a Senior Editor for Android Central between 2017 and 2021. You can reach him on Twitter at @JoeMaring1.
S7, Note 7, S8, Note 8 all have working FM chips. What am I missing? Unless this is partnership to have Next Radio already installed when you get the phone. Presently you have to download the app from the Play Store.

There's probably some software that's disabling the chip depending on the carrier.

I was going to come here and say the same thing. My Verizon Galaxy S8+ has an operational FM chip, just downloaded the app and use the headphones for the antenna as stated.

Most phones have the tech to support FM signals, but they're unfortunately often disabled from doing so due to pressure from wireless carriers. It helps to read.

It's not disabled on the S8, S8+, or Note 8, which is what the OP was saying. It helps to read.

It helps to read? Really? Might I offer you the same advice... And maybe a bit of understanding what you read?

Fair enough. I misread your comment as it having the FM that was disabled. I admit my mistake.

Those phones already have it. Just download the app and you'll have fm access. I'm using it right now on my Note8

Uh oh.... 'Thanks to a new partnership with Next Radio'..... Sounds like Next Radio will ship as a preinstalled app on future Samsung phones. Yes, it works well now on existing phones. Note 8 conformed here, lol.

Samsung makes non-flagship phones too.

Yeah...you need to download the next radio app yourself, but my S8 plus on T-Mobile already has working FM radio. Not sure about the significance here besides app coming preinstalled?

That's exactly what it is. More bloatware

The article says "most phone" have the FM chip. Is there an actual list of phones ?

I would imagine any phone with the latest Snapdragon 835 should be able to.

http://nextradioapp.com/supported-devices/
There is the list.

Nice, now you guys can listen to Rush and Glen Beck in stereo. Hahahaha

No, just Rush and Hannity

This is actually the one thing that will probably take me away from Google phones when I part ways with my Pixel XL. On a beautiful Sat or Sun afternoon I want to be on the golf course or out for a walk listening to a game on the radio (not streaming with data I have to pay for).

Samsung are growing on me. They seem committed to adding/keeping features that users actually want, unlike pretty much every other phone manufacturer. Bixby notwithstanding.

Not if you count curved screens, bloatware, and phone lag ;)

If this is lag that I have on my Note8, then yes, I am all in on 'lag'...

I could leave it or take curved screens, but as far as lag, it's not enough to make my s8 not work fast enough. I have a great camera, can pay with my phone securely just about anywhere and I have headphone jack, memory card slot and water resistance. I'll take the so called lag of that's the case.

Is feigned ignorance still a thing?

Bummer my LG V10 Doesnt work. I use FM radio to transmit/broadcast my television audio throughout the property when I watch sports.

... rather than cranking up the TV volume really loud so I can hear it everywhere and stressing out my autistic son. I walk around the house, yard and property with an FM radio. Crazy as it sounds in 2018... An FM radio would be a very useful feature for me. Then again I'm that old fashioned guy who still values the headphone jack, removable battery and IR blaster.

Same here. I'm not going to use my data for streaming at work.

I don't see why I'd have a need for this. Sure, I guess it'd be cool, but I don't listen to FM radio anymore.

Future Samsung phones? Next Radio app for FM works great on my Samsung Note 8. To confirm as much, I turned off mobile data & WiFi. Very nice, thanks for the tip.... But yeah, I'll parrot others in saying I can't imagine much use for it. If I'm at home, I'd stream local FM through the internet. Maybe if I wanted to hear radio play by play when I'm at local AJHL junior hockey games... But I'm not that guy... I'd rather visit a buddy and chat with his 3 year old son at games.

"Thanks to a partnership with NextRadio, upcoming Samsung phones in the U.S. and Canada will be able to stream FM radio stations." Funny use of the word "stream". Picking up regular radio is not streaming.

""Also as a fun side note, this announcement is also pretty much a guarantee that Samsung will be keeping the 3.5mm headphone jack on at least some of its phones for the foreseeable future."" This made me giggle for some reason .. LOL .. All the crazy creative ways to predict if the new phone will come with the 3.5mm port ..

Through use of a USB adapter, headphones can be used on phones like the Pixel that ditched the headphone jack. It's clumsy, but doable. But I'm not an engineer, I'd assume corded headphones connected through the Misco USB port would work as an FM antenna...

How it should be. If the hardware's in the phone it should NOT be disabled.

I love that idea. I still use my HTC M8 while mowing the grass because of that function!! I like free talk radio.

I find it utterly amazing that carriers are allowed to disable this feature. To hopefully force more data plans on people.

AM would be nice as well for weather during storms.

AM radio has very long wavelengths and would require miles of wire that simply doesn't fit in your tiny little device...
The use of the word "streaming" has me a little confused also, next radio is using FM chip in device to listen to local FM stations right? No internet involved?

Just a thought, can't they get HD radio stations on the FM chip?

HD radio is a whole different set of frequencies... Needs different fcc approvals and the likes. That would be cool though... Analog FM and hybrid digital. I have an insignia HD radio. I listen to it every once in a while.

I had no idea that downloading an app could access the FM radio! I assumed when it was said that the FM radio was inactive that it would require root or something to activate it... This is actually really useful to listen to radio when the stream is not so great, or to listen to NFL games that are blocked from streaming, etc.

The reason for the 3.5 mm headphone jack is because the phone uses the headphone wires as an antenna. That was the way it was a long time ago before they disabled the FM chip too.

Yes, confirmed. FM on the Note 8 now..... using NextRadio and wired headphones. Works like a charm.
Note 8, the gift that keeps on giving..

I didn't even know that there are phones with no FM radio app. Wireless carriers have too much power in the US.

Yep... One of the perks of international unlocked device. Except verizon... I read that they axe the FM on any device on their network.

My Samsung Omnia and Omnia Plus phones had FM radio many years ago. Still have my Galaxy S5, will have to check and see if it will work with NextRadio. This could prompt me to switch back to Samsung from my Pixel XL on the next upgrade.

is FM radio on a smartphone a really new and noble idea, or is Samsung still behind on this?

I'm pretty sure the radio is required for emergency messages from the government. It's for bad weather and Amber alerts. It's in the S8 and I've used it.

I get Amber alerts as text messages. How would this radio help?

I listen to FM on my S7 active. But I'm glad the 3.5 jack is here to stay, that's a deal killer for me.

Love my Samsung S8+ NO LAG, great battery life, expandable memory, beautiful curved display, headphone jack, and now free FM radio!

Why would I want this when there is iHeartRadio? I can get local stations and others for free and always at high quality. I see more and more people going with wireless headphones, so I'm not sure why now would be a good time for this feature. I barely listen to the radio when I'm in my car. It's usually something streaming from my phone.

iheartradio requires mobile data or WiFi. Next FM is what it is... Picks up your local FM stations... Zero data use.

So it appears that NextRadio is now disappearing from Google Play and re-appearing in the Samsung Store and installing as TuneYou. Anyone else see this?

Here in Canada, the only Next Radio in the Samsung Galaxy Apps store is garbage, and if not fake, then an old version. The web developer is named L App. Do not download the app. In the Google Play store, Next Radio is excellent, by, as it it should be, web developer NextRadio.

Thanks for the info. Just downloaded NextRadio to my S7 Edge; it works great! l listen to local FM stations for news, sports, etc.

I tried downloading nxt radio app in Canada but it doesn't work, I thought the radio chip was supposed to be activated with oreo update?
Android Central Newsletter
Get instant access to breaking news, the hottest reviews, great deals and helpful tips
Thank you for signing up to Android Central. You will receive a verification email shortly.
There was a problem. Please refresh the page and try again.