Freedom Mobile's LTE network: Should you switch?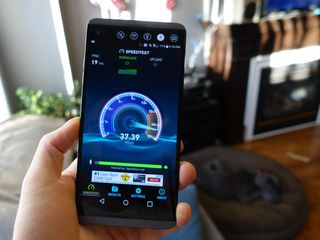 Last week, Freedom Mobile, formerly Wind Mobile, turned on its LTE network for the few customers with the right phones and plans, and though the network is still nascent, enough time has elapsed to give it a fair shake. So let's talk about it.
But first...
A quick recap
In order to take advantage of the Freedom Mobile LTE network, you need to fulfil a couple of prerequisites:
You need to live in Toronto or Vancouver, or their immediate surrounding areas (the limits are a bit vague at the moment).
A LG V20 or ZTE Grand X 4
A dedicated LTE plan, which costs $40 for 6GB of monthly data
If you don't hit all three, you won't get LTE — and even then, it's a bit touch-and-go right now.
Everything you need to know about Freedom Mobile
When it all comes together
On Thursday, December 15 I received an update to my Freedom Mobile LG V20 that turned on LTE. I live somewhat close to downtown Toronto, and upon restarting from the update, the phone quickly connected to LTE, though throughout the day, and even now, it went back and forth to 3G.
Let's get a bit technical for a minute. Freedom's LTE network uses AWS-3 spectrum, newly standardized under Band 66. Right now, it's the only network in Canada using that particular piece of the airwaves, and right now it is very sparsely-populated.
When then-Wind Mobile purchased the spectrum, all the way back in March 2015, it did so with the blessing of the Canadian government, which set aside 30Mhz of AWS-3 spectrum to so-called new entrants.
The growing network uses, or will use, that AWS-3 spectrum in paired 15Mhz combinations in all parts of Canada except for Eastern Ontario, where it was outbid by Videotron. In its current form, the maximum download speeds you can expect are 112.5Mbps; upload speeds at 50Mbps.
In reality, I've never gone above 75Mbps down and 34Mbps up, which, while not close to the maximum, are quite fast even for Canadian LTE network standards, and more than 10 times what Freedom Mobile offers on its existing 3G network.
The problems
The problems are twofold: first, the LTE signal is not reliable, even when you're right in the heart of downtown Toronto. I've heard anecdotes about it being a bit better in Vancouver, but the company must still be tweaking the equipment signal. That means I often drop down to 3G (or as my V20 says, 4G), which would ordinarily be fine expect that Freedom's HSPA+ service is abysmal in Toronto.
The contrast is so jarring that it may as well be as if I lost signal altogether: songs stop streaming; photos stop loading; messages get stuck in transit. It may say that I have a network connection, but that's not entirely true.
The other part is that because Freedom launched its LTE network without VoLTE or VoWiFi support, each time I make or receive a phone call, the V20 drops down to 3G, and takes its sweet time finding LTE again. This is all par for the course, and I am used to it on Telus, which has yet to launch VoLTE in Toronto, but the Big Three have 3G networks to fall back on that, despite being slower, are much more mature than Freedom's, and more importantly, actually have capacity to support heavy network traffic.
There's also the question of customer service. Wind Mobile was a made up of a network of tiny dealer stores, mainly to cut costs, with only a few (and shrinking number) of corporate flagships in the largest cities. While I've yet to have a major issue with my Freedom Mobile service, it's important to know that when you sign up for service with one of the Big Three, you also get a pretty mature customer service funnel that includes web, phone and in-person care. It's not always great, but it's there. Over the years, I've heard from many people about then-Wind's poor or non-existent care. Let's hope under Shaw that improves, and quickly.
So, should you switch?
There's a nine in 10 chance that your phone is currently connected to one of the Big Three's networks, and over the years Rogers, Bell and Telus have built up extensive national networks that are fast pretty much anywhere, in any building and environment.
If you are to switch to Freedom Mobile's LTE network, you have to keep in mind a few things: it's not good for travelers. If you go outside Toronto or Vancouver on more than an occasional basis, you'll either have to live with Freedom's much-slower 3G, or one of its partners, which means paying not-so-cheap roaming fees.
Also keep in mind that the company's current LTE plan — and there is only one — eschews the built-in 1GB of U.S. roaming, which was traditionally one of Wind's most attractive bolt-ons.
Over the past week or so, I've had a pretty good experience on Freedom Mobile. Speeds have been reliably good on LTE, though signal strength in my home has been much weaker than any of the incumbents, likely due to the lighter concentration of towers around me. If you live right downtown Toronto or Vancouver, signal strength shouldn't be an issue, but it's not like I live in the middle of nowhere, either.
Then there's the question of device. You're going to be forced into spending at least a couple hundred dollars on a new phone if you want to partake, and the entry-level option, the ZTE Grand X 4, is most likely worth skipping. The LG V20, which I've been using in anticipation of Freedom Mobile's LTE launch, is an amazing phone, but it's also $800, and will likely only appeal to the most hardcore of early adopters.
If you're in Toronto or Vancouver, you may be tempted to switch to Freedom to cut down on your phone bill. I'd recommend most people wait until there is a wider variety of phones to choose from, and until the company's LTE network is a bit more mature. Outside of those two cities, hold tight: by the time LTE comes your way, the device selection — and network reliability — will be much, much better.
Your turn
Have you changed to Freedom Mobile LTE yet, or are you thinking about making the switch? Let us know!
Get the Android Central Newsletter
Instant access to breaking news, the hottest reviews, great deals and helpful tips.
Daniel Bader was a former Android Central Editor-in-Chief and Executive Editor for iMore and Windows Central.
Therein lies the problem. Pretty heavy entry-price for the V20 to access Freedom's LTE network with a flagship phone, even though Freedom dropped the price $200 from the original $999. I've heard that T-Mobile USA has areas with Band 66 and was wondering if any of their phones, unlocked, would work with Freedom. Not sure about the AWS-3 side of that though.

I wouldn't go back to Wind if the service and device were free. Living and working in downtown Toronto, the only location I could get a reliable signal was underground on a subway platform. Outdoors, I couldn't use any of my 'unlimited' plan.

I left wind mobile once I heard only two phones support there lte. Public mobile works just fine

I tried Wind for a month and it was the worst service ever. The signal was so bad, I would roam indoors. They called it "Wind Away" though, because technically I was in my coverage area and not roaming.

Wind Away, or 'Away' as it's now known was always used to indicate that that phone was roaming and not on Freedom's network. I used to get that a lot in downtown Toronto

I left Wind after being on the Network for almost 5 years. To Wind's credit, it has gotten much better over the years and I would have stayed with them if my phone was for only personal use. As a business user I couldn't afford dropped calls and poor reception in the outlying areas of Vancouver, in shopping malls or office buildings. In the end it comes down to you get what you pay for.

I definitely feel lucky in this regard to be living in Edmonton; never really had any reception problems, other than in one friend's basement which must be lead-lined or something because *everyone* seems to have reception problems there, regardless of carrier. Of course, on the flipside, we aren't getting this LTE rollout anytime soon here in Edmonton, but I'm in no great rush to get a new phone anyways, so I'm quite alright with 3G for now (and at least in the areas I normally hang out in, the 3G speeds are perfectly acceptable for browsing websites, downloading podcasts, etc etc).

Yup, here in Edmonton and Calgary, the coverage is superb. Then again Shaw who bought Wind and changed the name are headquartered in Edmonton. Also Telus is an Alberta company, tho their HQ is in Vancouver now.

I live in Parkdale, Toronto, and have zero problems with Wind. I've been with them for years and think they're great. I've only called customer service twice in 5 years. I used to have to call Fido near monthly and had repeated dropped calls.