Fortnite Season X: Where to find Window covered Containers for the Spray and Pray Mission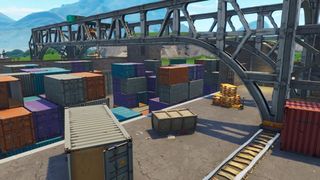 With a brand new season of Fortnite comes brand new challenges, and Season X has changed up the way players will be taking them on. For the recently leaked Spray and Pray set of missions, one of the prestige missions for this week will have you finding five different chests inside window covered containers. We've found the locations of them for anyone who needs to know where to go.
Knowing the challenge
This is one of the more tedious challenges this week, but players shouldn't have too much trouble. When the time comes, you'll have to find five different chests inside the containers. The "windows" that the game speaks of aren't actual windows, but spray painted ones, so don't get caught up looking for actual windowed containers. You won't need to find them all in one match, either, and we've found five of the containers so far, so make sure to refer to the map below for where they are.
Where to find window covered containers in Fortnite
Check the map below for where all of the gas stations can be located.
Two of the containers are located South of Pressure Plant, along the river of lava that flows at the base of the volcano. Check the rocks near the lava to find them.
Another pair of containers can be found South of Dusty Depot, with one being on top of a stack of containers, and the other being inside the large shipping yard that exists near Dusty.
The final container can be found South of Paradise Palms, in the location that many players refer to as Mini Junk Junction. This container is just outside of the facility, next to a dumpster.
After finding and searching a chest, you'll have ticked off one part of the challenge, and can move on to the next container. You don't have to do all five in the same match, but because of how many locations there are, it shouldn't be too hard to do so. Once you're done, you can begin checking off the remaining challenges for this week.
If you're looking for more challenges to do, you can always check out the full list of Spray and Pray Missions to see what you've missed, still need to complete, or simply head back to the main menu to prepare for the next challenge. There are tons to do this week, so you'll be busy for a bit!
Get the Android Central Newsletter
Instant access to breaking news, the hottest reviews, great deals and helpful tips.
Anthony Nash has been writing about games and the gaming industry for nearly a decade. When he's not writing about games, he's usually playing them. You can find him on Twitter talking about games or sports at @_anthonynash.