Fortnite Season 7 is an alien invasion as Superman and Rick Sanchez join the fight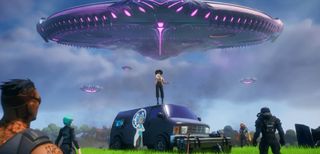 (Image credit: Epic Games)
What you need to know
Epic Games reveals the latest details about Fortnite Chapter 2: Season 7, and it's an alien invasion.
The latest characters to join the roster are Superman, Rick Sanchez, and Guggimon.
Fortnite's new Battle Pass lets you unlock rewards in the order you want.
Epic Games today revealed the new details about Season 7 of Fortnite, and it's swerving from the Primal setting of Season 6 into an alien invasion plot. The Fortnite map is being invaded by a mysterious force from space, which destroys the Spire, and several new characters hop in to repel the enemy.
The story trailer reveals little about the invaders, as the characters are as baffled by their appearance as the player. Fittingly for an alien invasion story, one of the new characters you can play is Superman. The story trailer shows Clark Kent in the Daily Planet's offices (with Batman on his desktop, by the way) watching the invasion take place. Another character who makes an appearance is Rick Sanchez of Rick & Morty fame, just in time for the fifth season of that show to come out.
In the game itself, players will be duking it out with the aliens using their own weapons and ships, as the UFOs can be hijacked and flown. They also drop crafting materials that can be used to craft "once vaulted weapons." Other unlockable characters include Doctor Slone and influencer Guggimon.
Fortnite is also switching up the Battle Pass system this season. Instead of unlocking items in a linear order, players will now earn Battle Stars when they level up. Those Battle Stars can then be spent on the rewards the players wants in the order they wish.
According to Epic, the first thing you unlock with this new season is a customizable Kymera outfit: "An alien specimen for you to sculpt. Through the season, collect alien artifacts to claim additional styles for Kymera. Mix and match different head shapes, eye colors, skin patterns, and more to create your own look." While it's not confirmed, one of the rumored skins coming in the season is The Foundation, who is shown in the story trailer dropping into the ocean after the Spire's destruction.
Rachel Kaser is an Android Central gaming contributor, who's been writing since 2013 and gaming since the age of five. She's covered everything from gaming news, reviews, and analysis -- if it exists in gaming, she knows about it. She also contributes to Future's other sites, iMore and Windows Central. If you want to hear her opinions on games, pop culture, tech, and everything in between, follow her on Twitter @rachelkaser
Android Central Newsletter
Thank you for signing up to Android Central. You will receive a verification email shortly.
There was a problem. Please refresh the page and try again.