Fluance Fi70 Bluetooth sound system review: A gorgeous conversation piece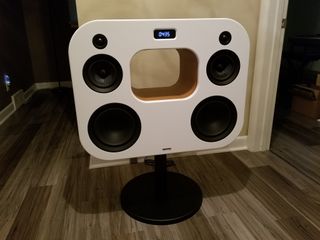 I don't like to gush in reviews; it comes off a bit tacky, and this is supposed to be an objective look at a piece of technology, but heed this warning: I'm going to gush (#phrasing). Like the lovechild of a vegan and a CrossFit enthusiast, I'm telling everyone about this thing and no one has asked. The Fluance Fi70 is an all-in-one sound system that's big, full-featured, and it sounds amazing. Also, the fact that Fluance is a Canadian company makes me super proud of the quality we produce here in the Great White North.
Without further ado, this is the Fluance Fi70 Bluetooth sound system.
I've been using the Fi70 for around two weeks after being sent the review unit (brand new) by Fluance.
See at Fluance (opens in new tab)
Get the look
Let's start this off by talking about the elephant in the room, and I do mean that somewhat literally. The Fi70 is HUGE. It's about 30 inches wide by about a foot deep, and if you attach the included stand and pedestal, it's about 18 inches at the base and around 3 feet tall (knock just over a foot off in height if you don't use the stand). It's 81 pounds. Yeah. 81. As far as I know, it's the biggest Bluetooth speaker in the world, and it's certainly the loudest.
This is by no means a system you put in the corner and hope it blends into your existing setup; it's a conversation piece unto itself and a fashion statement. It comes in three wrap options: black, walnut, and "lucky bamboo" (I have the bamboo version). Though it's a faux-wood wrap, it doesn't look it. In fact, I legitimately thought it was a real wood cabinet, and the center hole is wrapped as well, giving the Fi70 an all-over retro look with a very modern feel.
When I first took it out of the box, I imagined myself telling everyone "I have many leather-bound books, and my house smells of rich mahogany, and I have a Fluance Fi70." It's a perfect blend of old, new, and sophistication.
The front speaker cover is magnetic, featuring the smallest of Fluance logos on the bottom, giving this large sound system a minimalist feel. The display is perfectly positioned and big enough that you can see it from across the room, and the addition of a clock is a little bit of icing on this scrumtrulescent cake.
You can take the cover off to reveal the six-speaker setup: two 1-inch tweeters, two 5-inch midrange drivers, and two 8-inch woofers, and watch the woofers vibrate along with your tunes. The black and walnut version have a black face, while the bamboo flavor has a white face, just adding a little bit to that retro 60s/70s feel.
Given its size and weight, you'll want to have room for this beast, and it'll definitely stand out in your setup, but being self-contained, it's an awesome one-stop shop for all of your audio needs.
It also comes with a lovely remote that controls power, volume, and can even control Bluetooth playback, as well as treble and bass. The only thing it's missing is a mute button, which would be quite handy.
What's under the hood
There is a 280-watt amp in the Fi70. It's a three-way speaker with (as mentioned above) two 1-inch tweeters, two 5-inch midrange drivers, and two 8-inch woofers, with a frequency response of 30Hz-20KHz. I'll get to how that sounds in a bit, because that's where the money is.
In terms of input, you have Bluetooth that supports Qualcomm's aptX codec, which offers high-resolution audio wirelessly. There's also a 3.5mm headphone jack, a 2.1A USB charging port, an Optical port, and FM/AM radio tuners built in. The only thing it lacks to make it complete, in my opinion, is RCA input for a turntable. The touch playback controls on top are elegant and effective, and there's a satisfying click of the amp when you turn it on and off.
The Bluetooth range is excellent. I have a pretty small house, but I can walk around the whole thing with my phone in my pocket and audio doesn't cut out. I even went down into my basement the other day, forgetting I had my phone on me, and the audio only stuttered once (granted, my basement is unfinished).
This unit just plugs into a conventional 120V outlet, and you get a two-year parts and labor warranty, as well as lifetime customer support.
The sound: Like being kissed by thunder
I'm not being hyperbolic when I say that this is the best speaker I've ever heard. I put it together, waited it for it to warm up in the house for a couple hours, and then fired it up, put on one of my favorite songs (via Bluetooth on my Galaxy S8), cranked it, and was blown away. No joke, I got chills. I have a fairly small house (about 780 square feet), and when the bass kicked in, the whole thing rumbled. I actually had to turn the bass down to -4 and turn the treble up just a bit, and then what I heard was perfect. Every aspect of every tune shines through, and I actually heard vocal harmonies in one of my favorite songs that I've never heard before.
I was always skeptical of Bluetooth speaker sound quality until I started testing out some great ones, and the Fluance Fi70 sounds better than wired speakers I've owned throughout my life. The best part is that you hear the full sound spectrum no matter what the volume is, and there is absolutely no distortion at its highest volume. I don't usually just sit and just listen to music; I have it on while I'm cleaning or cooking or whatever, but when I first started using the Fi70, I actually just sat on my couch for over an hour, just listening. I have it on right now while I write this review.
Just to make sure it wasn't a one-trick pony, I went out to Best Buy and grabbed a digital optical cable and hooked the Fi70 up to my TV. I have an LG smart TV from 2015, and when I plugged it into the Fi70, it became complete. My wife has been playing Horizon: Zero Dawn since she got it for Christmas, and day one we cranked up the Fi70 and were floored. The stomping, roaring, and rumbling of the robotic animals and the delicacy of terse dialogue were both captured and presented beautifully. Even regular cable TV audio sounds amazing on this speaker; the big board hits in hockey games actually rumble, and the balance between the announcers and on-ice audio comes through perfectly.
You probably wouldn't normally use this as a home theater audio solution, since it has to sit beside your TV instead of right in front, but after a few minutes, you stop noticing that the sound is somewhat directional, especially if you have the volume up a bit.
My wife surreptitiously snapped the picture below. One of my favorite bands covered my all-time favorite band for a re-release of an album, and every single note sings and touches your soul when it comes out of the Fi70. Basically, everything you hear through the Fi70 is how everything should sound.
Should you buy it? Hell yes — if you can afford it
Being a complete soundsystem of this quality, the Fluance Fi70 doesn't come cheap. It's $500 ($650 CAD), so it won't be for everyone, but believe me when I tell you that this is not just a Bluetooth speaker. It's a complete sound system that replaces your multi-piece setup; you don't need a separate amp, subwoofer, and tower speakers — you only need the Fi70.
If you're not looking for something that stands out so much, then this certainly isn't for you. But it's perfect if you're in a smaller space where a full audio setup might not work, and it's even better if you want something stylish. And if you want something that sounds absolutely fantastic, then it's definitely for you.
5 out of 5
This is hands-down my favorite piece of tech of 2017 and unless something astounding comes my way in 2018, it might just be my favorite for a long time to come.
See at Fluance (opens in new tab)
Android Central Newsletter
Get instant access to breaking news, the hottest reviews, great deals and helpful tips
Mick is a writer and duty editor for Android Central. When he's not on the job, he can usually be found vacuuming up pet hair or trying to convince his wife that he needs more guitars.
This just rocketed to the top of my list. Past Google Home Max. $500 is a great price if it is as good as the article says.

I keep waiting on some veneer of awesomeness to disappear and it still blows my mind. And I listen to it every day.

Echo Dot + This Speaker > Google Home Max, and it's almost the same amount of money.

For that price, one would think they would have integrated wifi as well....Sounds like a nice product....Thanks for the heads up.

I agree, Google Cast would have been ideal, you can easily solve that with a Chromecast audio but should have been included for the price...

WiFi would be nice because aptX isn't widely supported by devices due to its licensing fee, and even then, it still uses lossy compression.

Pairing two of these together like Sonos speakers do (left and right channel) would be amazing

Really what is the point of stereo speakers that large in a package where the speakers are a foot apart.

Oh, you get really good stereo separation when you stick you head in the rectangle!

That looks... yeah, nope. haha Was it designed by Fisher Price or jungle-jim makers?

Seems that this really performs for the money. The size would be perfect for my small place. The curves and smooth surfaces would even compliment my minimal (empty) decor and reduce a lot of cable clutter except... That display is just too distracting. It's handy & somewhat necessary I guess. I think I would buy the unit if that dot-matrix-look display wasn't so prominent.

I think it looks really stupid :/ It's what they thought the 2000's would look like in the 60's.

It looks like a digital weight scale...

Just NO! It looks . . . Ugh! 1980's digital clock, in some weird Dyson fan. At this size and for the money it could have been a great pair of true stereo speakers. Where the hell are you going to put this thing? Unless you listening room is the size of a bathroom stall as shown in the last picture of the article it is just wasted potential.

wow.. I haven't seen such a passionate review. I'm more interested to see how it performs as a TV speaker, wonder if it's better than the Sony HTNT5. Will have to give it a try - Canadian made is definitely a plus!

That's actually not a bad price for what you get. It would be a huge step up for someone who has been used to bookshelf speakers or a small system. It will not replace a serious multi-component setup though.

I actually expected to see it in the $800 to $1,000 price range. That's actually a pretty good price if is it as good as touted to be.

C'mon now... what's the favorite band you're conspicuously not mentioning by name?

Yeah, I want to know that too! Hehehe

My all-time favourite band is Rush, and another of my all-time favorite bands (Canadian too!), Big Wreck, covered Closer to the Heart.
Android Central Newsletter
Get instant access to breaking news, the hottest reviews, great deals and helpful tips
Thank you for signing up to Android Central. You will receive a verification email shortly.
There was a problem. Please refresh the page and try again.