Fleksy gets even more personal with its new custom theme builder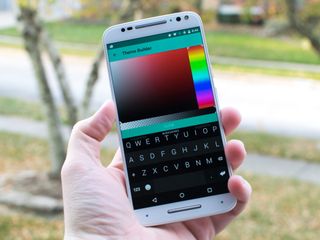 Fleksy, the popular third party keyboard for Android, has been updated with a major new personalization feature. Users will now be able to build their own custom themes and use them in any app in which they use Fleksy.
The Theme Builder in Fleksy is fairly straightforward. You're given a series of options for your keyboard, starting with a template, and from there you can choose everything from your background color to what shape your key pops take, be it rectangles, circles, or smiley faces. Once you've finished your theme, you'll find it above the other themes under "My Themes."
After you've create a theme or two, you can also share them with your friends if you want. Just select your theme, then tap the paper airplane icon to get a list of sharing options. If the recipient already has Fleksy, the theme will be installed just like any other.
You can download Fleksy from the Google Play Store (opens in new tab) right now.
Its a nice keyboard, but I want them to add swipe feature!!

You don't think that kind of takes away from the whole focus on gestures though?

I dont really use those gestures. But when I wanna type one handed swiping is much easier.

I use the gestures but yeah, there's no one-handed typing going on with this keyboard. I mostly just use imoji to send out of context pictures to friends.

Swipe typing (say, Swiftkey or Google keyboard) is more convenient, sure. But Fleksy is so much faster than swiping. I mean, sure, you'd need two hands but I punch the letters randomly, make a gesture, and the word I want appears. Posted via the Android Central App

I use fleksy primarily. It's awesome!!

Does this theme-maker let you change the key layouts? I kept moving away from Fleksy due to the bad access to question marks and the lack of a number pad layout.

No, unfortunately. It's purely cosmetic stuff like adding a background picture and changing the colors of various things. I definitely agree, I'd love to be able to change the layout. I love having a comma key like on Swiftkey, or having the ability to have symbols show on the main keys so you know where to long press to get a specific symbol.

I want to use this keyboard so so much purely because it looks sexy as hell but for sheer typing and overall convenience, SwiftKey is king. Sigh. Posted via the Android Central App

Fleksy is my favorite keyboard. For convenience alone and for sheer typing its better than Swiftkey where Fleksy is king. Yay Posted via the Android Central App From my Blackberry Priv where I am out of toilet paper

This thing is a memory HOG! Posted via the Android Central App

I agree about punctuation keys. Very nice keyboard, but access to punctuation keys is terrible.
Android Central Newsletter
Get the best of Android Central in in your inbox, every day!
Thank you for signing up to Android Central. You will receive a verification email shortly.
There was a problem. Please refresh the page and try again.